Best Hunting Boots: Our Top 6 Picks and Buying Guide
When shopping for the best boots for hunting, the wide range of options can make it difficult to narrow down the choices to your best option. However, that does not have to be the case if you know what to look for and have an idea of the best options available.
We highly recommend the  Danners Pronghorn 8" Gore-Tex Hunting Shoes for all your hunting needs across different terrain.
Read on for more details on why the Danner Pronghorns are our top choice for the best hunting boots on the market. We also review 5 other great options and provide a detailed buyer's guide to help you determine the best pair.
6 Best Hunting Boots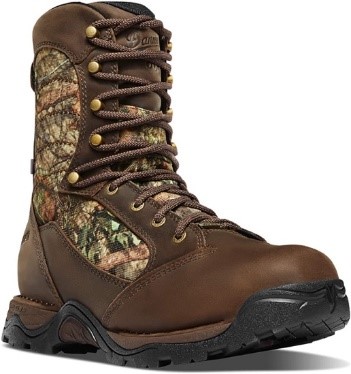 Key Features
Boot height: 8"
Upper Material: Leather and nylon
Waterproof technology: Gore-Tex lining
Outsole material: Vibram
Insulation: 400g/800g/1200g options
Why They Stand Out
Available in various specifications, including men's and women's models, 400g/800g/1200g insulation options, and a snake boot design.
Suitable for different hunting conditions. They can be your alpine hunting boots and rocky mountains hunting boots.
Designed to offer a good balance between support and comfort; and sturdiness and durability.
Available in various colors, including solid brown, Realtree edge, and Mossy Oak break up country camo.
Danner first introduced the pronghorn boots nearly two decades ago. The various generations of Pronghorns have built a reputation for themselves over the years, and the fifth generation of Danner Pronghorn is the most impressive model yet.
They are all-around hunting boots. Although they may not be suitable for extreme terrain, they do well in most hunting environments. Their Vibram outsoles provide adequate traction even in rough terrains. They are one of the best winter hunting boots on the market. To match your insulation needs, you can choose between 400, 800, and 1200g of Primaloft insulation.
They are waterproof, breathable, and offer a comfortable fit. They are built on the Terra Forcenext platform with internal and external shank systems to provide all-day arch support and torsion control. Their Vibram midsoles further ensure comfort, support, and maximum rebound.
We found that they break in easily, although their fit runs narrow. They have decent quality, and if you maintain them well, they will serve you for several years.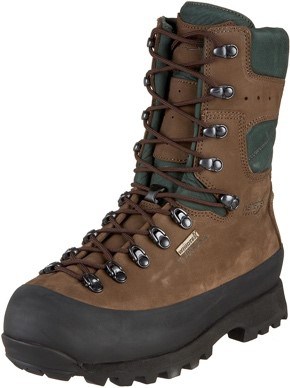 Key Features
Boot height: 10"
Upper Material: Full-grain leather
Waterproof technology: Windtex membrane
Outsole material: Rubber
Insulation: 400g
Why They Stand Out
Super durable. They are made in Italy using thick, premium, full-grain leather. The upper has a one-piece vamp construction with no seam for optimal waterproofness and to ensure no weakness lines. The rubber sole is reinforced to ensure it is abrasion-resistant.
Incredibly comfortable. These boots are surprisingly lightweight and fit comfortably. The tongue tucks into the boots. The sides fold easily, and they lace up securely for a secure fit.
100% waterproof. Their interior is lined with a Windtex membrane to ensure they are waterproof yet breathable. They do not let water in even when worn in extremely wet conditions. Their one-piece construction ensures no loopholes around the tongue for water to get in.
Suitable for the rugged terrain and severe weather associated with elk hunting. The rugged sole with deep lugs offers excellent traction on rocky mountainous terrains and snowy ground. They also have reinforced toe guards for optimal foot protection.
There are several essential features of elk hunting boots. The boots should be rugged and sturdy, lightweight, comfortable, and waterproof. The Kenetrek Mountain Extreme hunting boots fit the bill perfectly. They are also one of the best cold weather hunting boots and are ideal for deer hunting.
Their construction is reinforced with double or triple stitching to ensure they do not come apart. They also feature 7mm nylon midsoles that make the sole rigid for enhanced stability even when handling heavy loads and navigating rocky terrains.
We found the inner soles that came with the boots quite uncomfortable. However, you can replace them with store-bought, high-quality work boot insoles. They fit true to size. However, they may need 10-30 miles to break in, but they are super comfortable once they are broken in. The tongue is also stiff and may take some time to break in.
The 400g insulation keeps your feet warm. It is comparable to most 800g insulation on the market. The ankle support is adequate, and there is minimal heel slide even when walking in extremely steep areas.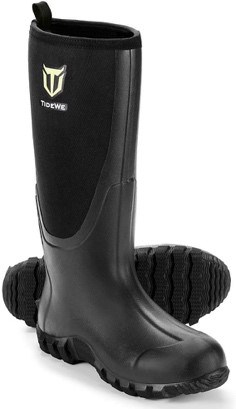 Key Features
Boot height: 7"
Upper Material: Rubber and neoprene
Waterproof technology: Rubber upper exterior
Outsole material: Rubber
Insulation: Not insulated
Why They Stand Out
Sturdy. Unlike most other rubber hunting boots on the market, the Tidiwe rubber boots are quite sturdy. They are fitted with a steel shank between the insole and outsole for optimal support. The rubber shell is also reinforced for extra protection on your feet and heels.
Multipurpose. These boots can be worn for a wide range of outdoor activities, including fishing, camping, hunting, or walking. The deep rubber treads provide adequate traction even on tough terrains. They are 100% waterproof.
Multi-season. They are suitable for a temperature range of -20C to 20C. Therefore, they are suitable for wearing during autumn, winter, and spring. You could wear them with thick wool socks for additional insulation in colder weather.
Comfortable. They are lightweight and flexible. The upper is made of rubber outer with an underlying neoprene layer, making the boot flexible and comfortable. The interior is fitted with a breathable mesh for adequate air circulation and temperature regulation. They have a pull-on tab for easy wear.
Variety of colors to choose from. These boots come in three color options – black, camo, and brown
Rubber boots offer several advantages as hunting boots. First, they are scent-free, so they never give away your location. They are also 100% waterproof making them easy to maneuver even on wet hunting terrain such as streams, swampy areas, and marshes. However, rubber can be quite stiff, making them uncomfortable.
The Tidiwe boots are an exceptional pair of rubber boots because their upper combines both rubber and neoprene to ensure they are comfortable. They also have a breathable insole for additional comfort.
At their affordable price range, they deliver great value – similar to boots that cost up to two to three times more like the Lacrosse Men's Grange Rubber Hunting Boots or the Muck Boot Wetland Rubber Premium Men's Field Boots.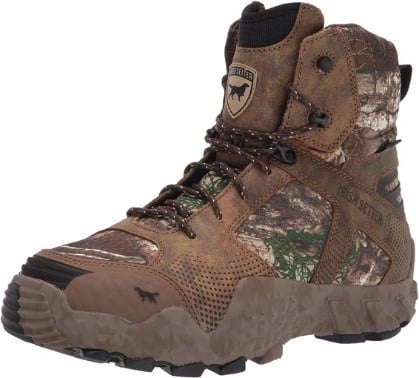 Key Features
Boot height: 8"
Upper Material: Full-grain leather
Waterproof technology: UltraDry waterproofing system
Outsole material: Rubber
Insulation: Not insulated (but there are options with 400g insulation)
Why They Stand Out
Lightweight. The Irish Setter Vaprtrek Hunting shoes are outstandingly lightweight. They are made using RPM composite material, which is engineered to deliver high durability and strength in traditional materials while significantly reducing the weight of the boots.
Durable. They are reinforced with rip-stop fabric in areas prone to wear and tear. Previous models of the VarpTrek Irish setter featured the ArmaTec abrasion-resistant rip-stop fabric in high wear areas. These newer versions feature Armatec XT, which is formulated to be more abrasion resistant to lengthen the life of the boots.
All-day comfort. They have a U-low cut design that enhances ankle mobility to ensure you do not get tired too quickly. The tongue has a special Cushion Comfort design to minimize pressure on your feet. They are fitted with an internal padded waffle mesh and nylon shank for premium comfort and flexibility when walking. The polyurethane footbed, RPM composite sole, and rubber outsole offer comfortable and sturdy support.
Feature the exclusive Irish Setter scent control technology that makes you undetectable by the game. The technology also kills bacteria to prevent the shoes from being smelly.
Ultra-dry waterproofing system. First of all, these shoes have a cement design that ensures no areas of weakness in the seams where water can penetrate. Secondly, they are made with full-grain leather waxed to enhance their waterproofness. Their interior has a moisture management lining for comfort and dryness.
If you are looking for an all-around hunting shoe, go for the Irish Setter Vaprtrek. They are suitable whether you are bird hunting or deer hunting. The boots will take you up the mountain for hunting, hiking, or backpacking trips, into the prairies and the uplands. They are also a great option for weekends in the field.
There is a wide range of sizes and color options to suit your needs and preference. The boots are available in men's and women's models. Color options include Mossy oak camo, Realtree camo, and brown.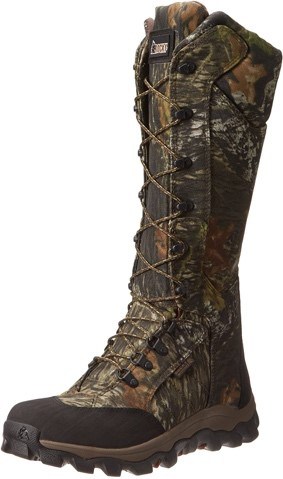 Key Features
Boot height: 16"
Upper Material: Cordura
Waterproof technology: Cordura
Outsole material: Rubber
Insulation: Not insulated
Why They Stand Out
Snakeproof. The upper is a snakeproof Cordura fabric that protects you from being bitten by venomous snakes.
Lightweight. Despite being knee-high boots, these lace-up boots are surprisingly light to ensure you get around with ease without getting tired too fast.
Tough. The fabric upper is tough and does not wear out easily. The rubber outsole offers excellent traction and aggressiveness in all terrains.
Super comfortable. They are fitted with a terra suspension polyurethane footbed that offers optimal shock absorption. The EVA midsole is also shock absorbing and compression-molded for extra comfort.
Easy to put on and off. Knee-high boots can be rather difficult to wear. However, these are designed for an easy put-on. They have a zipper on the side that opens up to the inner ankle to enable you to remove and wear them with ease. The lace-up system allows you to adjust the fit around your leg.
There is a wide range of hunting boots on the market, but few are specially designed to be snakeproof. The Rocky Men's Lynx snake boots keep your feet safe and are also waterproof. They are suitable if you hunt, hike, or backpack in areas that have snakes.
They are mainly designed for men. Sizes range between 8 and 13, with half sizes available. They mostly fit true-to-size.
They break in easily for a comfortable fit. However, they can blister your ankles quite a bit before they break in. We found that wearing some store-bought ankle supports prevents blistering as you wait for the boots to break in.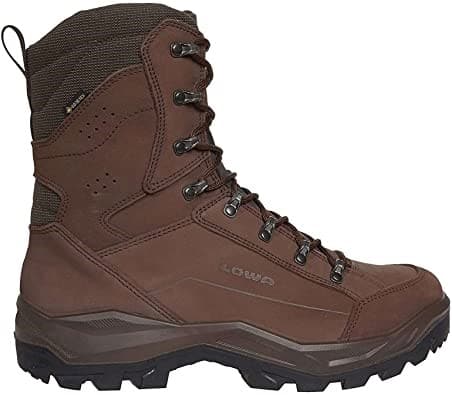 Key Features
Boot height: 8"
Upper Material: Leather
Waterproof technology: Gore-tex
Outsole material: Rubber
Insulation: Not insulated
Why They Stand Out
Durable. They feature high-quality leather upper. They have accented stitching along the toes and heels for reinforced attachment and enhanced water resistance. It also prevents the shoe from coming apart in high-wear regions. They have a durable and water-resistant foam midsole and lugged outsole.
Comfortable and easy to wear. They have a tactile lace-up system to enable you to adjust the fit. They have a meshed cushion collar for added comfort. The pull tab at the back ensures they are easy to put on. The interior is lined with gore-tex, which is waterproof and breathable, ensuring your feet remain warm, dry, and well-aerated.
Lightweight. These shoes weigh about 3lbs per pair, which is quite light on the feet, enabling you to maneuver easily across different terrains.
Excellent traction on mud and dirt. Their rubber outsoles feature 5mmm deep lugs to maneuver slippery and extremely loose terrains.
The Lowa Renegade II N GXT Hi TF are mainly hiking shoes, but they make excellent hunting boots. Notably, they are also certified work boots per the EN ISO 20347;2012 standards.
They have an extended shaft compared to the Lowa Renegade mid boots (such as the Lowa renegade GXT Mid) for optimal ankle support, comfort, and flexibility. They are most suitable for the early hunting seasons and bird hunting. On the downside, we found the arch support lacking, leaving our feet feeling sore.
Buying Guide: How to Choose the Best Hunting Boots
Below is a look at the key factors to consider when choosing the most suitable hunting boots.
Hunting Conditions
Hunting conditions vary depending on the terrain and weather as follows:
Cold Weather. You need insulated hunting boots for the cold weather; otherwise, frozen feet will make it impossible for you to hunt. The boots should also offer excellent traction for a firm grip even when walking on snowy and icy terrains. An insulation weight of 400g -800g is suitable during autumn and early spring, while 1200g is most suitable for the winter season.
Wet and Mucky Conditions. In this case, you need waterproof boots to keep the water away from your feet. Like cold weather boots, they should also have excellent traction to navigate muddy conditions. Muck boots are a great option for wet and muddy hunting, e.g., if you are a waterfowl hunter or a Midwest deer hunter.
Warm Weather. You need uninsulated, lightweight boots that have a sweat-wicking interior. Insulated hunting boots are not suitable in warmer weather as they may cause your feet to sweat excessively or blister.
High-Elevation. When hunting in high elevation areas such as rocky mountains, you need sturdy boots, excellent traction, and solid shock absorption. They should also have adequate insulation to keep your feet warm.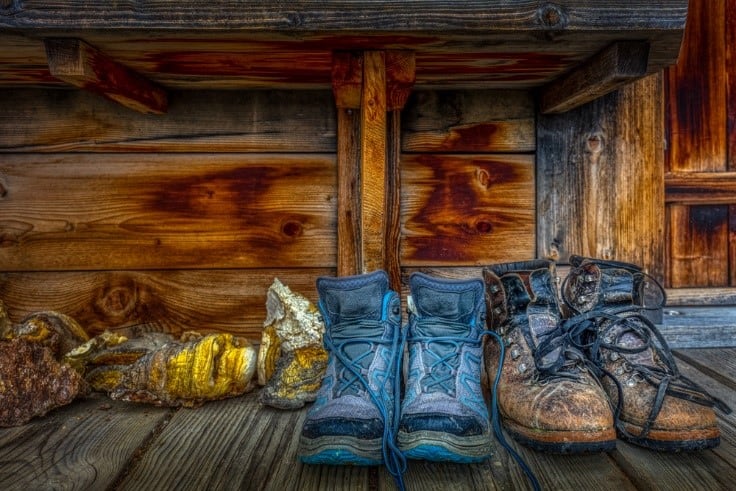 The Type of Animal You Are Hunting
The type of animal will determine the type of terrain, weather conditions, and the amount of distance you cover. For instance, you will have to cover more distance in rocky mountainous terrains when elk hunting.
Your boots should be sturdy but lightweight, so they do not slow you down. On the other hand, bird hunting will take you to the relatively flat prairies with less demanding terrain.
Hunting Style
If your hunting style involves stalking game at a close distance, you require hunting boots made of scent-free material and those that offer the stealthiest walking. Otherwise, you will send a buck you have been stalking running away with your steps or scent.
Presence of Dangerous Snakes
If you are hunting in an area with dangerous snakes, you will need snake boots. These have a specialized design that features snake-bite protection. They are relatively pricier and heavier than the general hunting boots but offer optimal protection.
Construction
The main considerations regarding the construction of your hunting boots include material, waterproofing technology, boot height, weight, and insulation level.
Material and Waterproof Technology
The most commonly used materials for making hunting boots are rubber, leather, nylon, Gore-tex, and mixed material.
Rubber is lightweight, durable, waterproof, and easy to clean. However, it is not breathable and does not break in easily. Therefore, rubber hunting boots are best suited for use over short distances.
Leather is tough, offering durability. It is comfortable on the feet and easily conforms to the shape of your feet. Leather boots are suitable for most hunting scenarios.
Nylon is most suitable for warm hunting conditions as it is lightweight and does not offer insulation. However, it is not breathable, so it may cause excessive sweating and blistering
Some manufacturers use a combination of materials to make their boots. The most common combination is leather and nylon, as it leverages the pros of both materials to produce comfortable, durable, and weatherproof hunting boots.
More and more manufacturers are opting to line the interior of their hunting boots with Gore-tex to ensure that they are 100% waterproof. Unlike other waterproof materials such as nylon and rubber, Gore-tex is also breathable. Therefore, it is the optimal material for keeping your feet warm, dry, and well-aerated.
Insulation Level
As mentioned earlier, the optimal level of insulation depends on the hunting conditions. The most common insulation options include no insulation at all, 400g for late September hunts, 800g for late season hunts, and 1000g+ when hunting in freezing weather conditions.
Boot Height
The boot height determines how much support the shoe offers and its ease of mobility. A calf-high boot is more suitable if scrambling over rough and steep terrain as it offers better ankle support. However, it makes the boot heavier, which can limit your mobility.
On the other hand, low-cut boots are lighter but offer less support. Therefore, they are more suitable for hunting in flatlands. Ankle-high boots offer a good middle ground between low cut and calf or knee-high boots.
Most are suitable for various hunting conditions. Knee-high hunting boots are best suited for mucky conditions or if you are hunting in the prairies or areas with snakes.
Boot Weight
You want to go for the lightest hunting boots without compromising durability and support.
Break-In Period
The break-in period mainly depends on the material of the boots. Nylon and rubber boots break in fastest, within 5-10 miles. Leather boots take the longest to break in, 10-30 miles. The break-in period for mixed material boots depends on the materials used, ranging from 10-30 miles.
It is best to wear your boots for everyday wear for the recommended break-in period before taking them hunting. Otherwise, they may cause major blisters, making it impossible to hunt efficiently.
Ultimately, the best hunting boots are:
Comfortable
Durable
Lightweight
Fit your budget
Suitable for your hunting conditions
Breathable
Break in-easily
Conclusion
Use the buying guide provided above to determine which hunting shoe category is most suitable for you per our reviews. The  Danners Pronghorn 8" Gore-Tex Hunting Shoes.
cut across different terrains and weather conditions, hence our best pick.
Go for the Kenetrek Mountain Extreme for elk hunting. The Tidiwe Rubber Boots with Steel Shank are our top pick for rubber hunting boots and the Irish Setter Vaprtrek Hunting Shoes for low-cut hunting boots.
If there are snakes in your hunting regions, the Rocky Men's Lynx Waterproof Snake Hunting Boots will keep your feet safe and dry. For a multipurpose pair of hunting boots, we recommend the Lowa Renegade II N GXT Hi TF.