The tiny house is the new fad in home design, as people everywhere are constantly looking for ways to downsize and reduce costs.
Tiny houses seem to be a better alternative to mobile homes, and they provide an economical and energy-efficient method of living life as a minimalist.
One of the most critical issues for the tiny house is heating and cooling.
The temperature can drop fast, especially in the winter, and your tiny home needs a heater to keep it functioning.
A fireplace is one option, but who wants to keep a chimney clean?
The best way to heat your tiny house is to utilize the benefits of small pellet stoves.
In fact, keeping a wood pellet stove or an electric pellet stove handy will ensure that your house stays warm, toasty, and draft-free.
You can purchase some of the best pellet stoves on the market online, so you can have them shipped straight to your house.
And since a tiny house only requires a small pellet stove, there's no need to worry about thousand-pound boxes showing up at your door.
Looking for the best small pellet stove requires you to know a few important things. Understanding heat capacity and heat output are critical and considering their energy efficiency and hopper capacity.
We'll talk more later on about how you go about picking a pellet stove. For now, let's look at the best small pellet stoves for tiny houses.
What's the best small pellet stove for heating a tiny house?
When it comes to small pellet stoves to heat up your cabin, rv, or tiny house, you can't go wrong with one of these highly-rated options:
ComfortBilt 2200 Sq. Ft. Pellet Stove
Castle Pellet Stoves Serenity Indoor Heating Pellet Stove
Ashley Hearth Products 2200 Sq. Ft. Pellet Stove
US Stove Company Wiseway Non-Electric Pellet Stove
Cleveland Iron Works Medium Pellet Stove
ComfortBilt
The ComfortBilt is an excellent choice for your tiny house heating needs. 
Covering 2200 square feet with up to 44,000 BTUs an hour, this little pellet stove is more potent than it looks.
It has a 47-pound mounted hopper that maintains 22 hours of burn time.
Enjoy the programmable thermostat, which can range from 61 degrees to 82.
You can use a remote control or the LED digital control board to find your perfect setting.
You'll always be comfortable with an adjustable feed rate and blower speed.
One of the best features of the ComfortBilt is its compact, European design.
This ensures that it won't take up too much valuable space in your tiny house.
But with its high-tech engineering, it will still heat your home effortlessly.
The top-mounted hopper design makes loading this puppy up the easiest thing you've ever done.
There's no need to fumble with hooks and latches that don't make sense.
When it's time to refill the pellets, all you have to do is open the top.
And because this piece is so efficient, you can trust that you're getting the most out of every bag of pellets you put into it.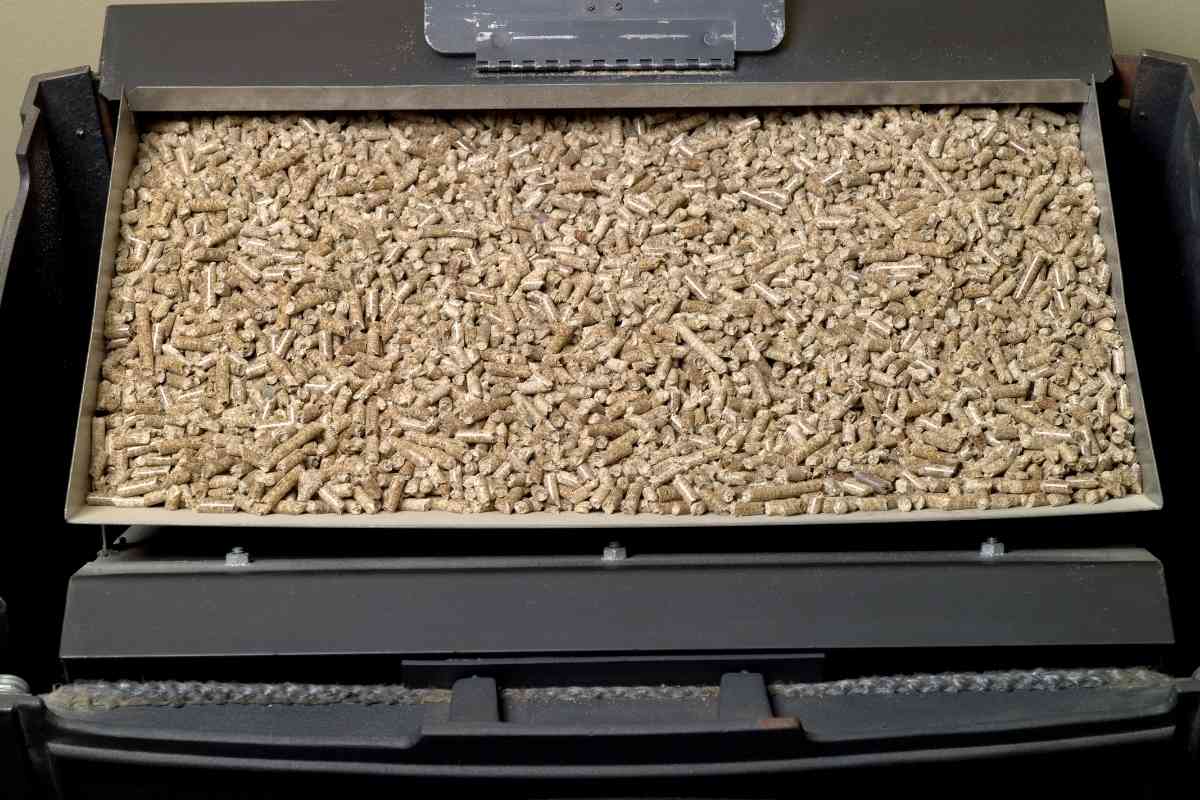 One of the best ways that this unit saves you money, in the long run, is that it burns slowly and effectively.
You won't have a problem cleaning the ComfortBilt: the removable ash pan only needs to be emptied every three weeks.
And the durable exterior can be wiped down effortlessly.
It also looks friendly with almost any home decor situation.
The ComfortBilt is one of the most efficient pellet stoves of its kind.
Its EPA certification states that it meets all US emission requirements, meaning that it's one of the most eco-friendly small pellet stoves you can find.
Castle Pellet Stoves
Next, we have the Castle Pellet Stoves Serenity option, complete with a smart controller and 1500 square feet of heating capacity. 
Castle Pellet Stoves delivers on a compact piece of equipment with phenomenal heat settings and intuitive design features.
The pellet stove is remarkably easy to clean and take care of, designed for your ease and peace of mind.
No disassembly is necessary to give it a good clean; you just remove the ash pan and fire pot, then sweep the exhaust pipe.
You'll finish before you know it.
Another great feature of the Castle Pellet is how easy it is to install.
It's compact, meaning it can fit in the smallest spaces in your tiny house.
You don't need to hire anyone to set it up: you can do it all on your own without any struggle.
Modeled after air-cooled engines, this stove is exceptionally efficient and cost-effective. You can burn less for longer, heating your tiny house in no time with almost no mess created from ash buildup. The wood pellets will seem to last for an eternity.
You have plenty of time to know if you love this stove with a one-year limited warranty before committing.
And since the fan is the only part that needs electricity, it can even run for a while when the power goes out.
Ashley Hearth Products
No products found.
With a 46-pound hopper that delivers 48,000 BTUs for 32 hours over 2200 square feet, what more could you possibly want in an Ashley Hearth Product Pellet Stove? This product takes home heating to a whole new level of comfort. 
You can easily control how quickly your pellets burn on this stove with an adjustable feed rate.
It's the perfect option for indoor use in your tiny home, and with a 90-day return guarantee, you have plenty of time to give it a test run.
The item comes with a blower, hopper, and remote control
It's easy to set up and clean with air-washed glass on the door.
That means there's no wasted time when you need to get your unit up and running.
Ashley Hearth Products has a unique modern design that maximizes combustion and allows you the best heating experience possible.
Even though it's a smaller unit, it heats like the largest pellet stove known to mankind.
This unit is exceptionally effective, but it's also lovely.
It will fit anywhere in your home, and it will look good.
You could hide this machine away if you wanted to, but you'll probably find that you'd rather display it for all to see.
The digital controls make this unit one of the most convenient.
You don't even have to get out of your chair if you want to adjust the temperature.
Just use the infrared remote control to turn it up or down.
US Stove Company
The Wiseway Pellet Stove is a non-electric stove that makes electricity almost irrelevant. 
Well, maybe not wholly irrelevant.
But you don't need it to power this gravity-feed system that relies on the forces of nature to help it complete its job.
The US Stove Company is an old stove company, in business for over 150 years.
Their primary goal is to keep Americans free and self-sufficient, providing services that allow hard-working people the necessary tools to care for their families.
That means that their products are tested and true.
Each stove is made to last and delivers on all its promises, including the Wiseway Pellet Stove.
This 40,000 BTU unit heats up to 2000 square feet with a 60-pound hopper that can last up to 30 hours.
It runs on a special silent operation, meaning it will never wake up the household with loud thuds and clanging sounds.
It's easy to install, and cleaning it has never been less complicated.
Each piece of the unit is designed for maximum efficiency, even down to the exterior color that blends in with its surroundings.
If a small footprint stove is what you're looking for, this is the right stove.
Not only is it physically small and compact, but it burns efficiently and without the use of electricity.
So you'll be cutting down on more than just your heating bill.
Cleveland Iron Works
The Cleveland Iron Works Medium Pellet Stove is a WiFi-enabled pellet stove with a 60-pound hopper capacity that can heat up to 1200 square feet for over 20 hours at a full pallet load. 
While the stove works for medium-sized living areas, it can effectively heat a tiny home with limited space interruption and maximum efficiency.
In fact, it might work even better in a tiny house because it can more rapidly heat the whole space, as opposed to a small portion of the room.
This is an EPA-approved high-efficiency piece of equipment, designed with steel and cast iron that's easy to maintain and simple to set up.
With a whisper blower, you can hardly hear the unit running at all.
With an 82% efficiency rating, this pellet stove is remarkably effective for anyone looking to lessen their footprint.
And since it's so easy to use, you don't have to be an expert to set it up in your tiny house.
So you won't spend any extra cash trying to figure out how it works.
Cleveland Iron Works has been around for a long time, tapping into a long history of iron and steel in the Ohio area.
And for decades they have been providing the highest quality wood and pellet stoves available.
Their goal is to improve the lives of Americans who work hard for their families, and this stove is one testament to that vision.
Which Pellet Stove is Best?
All the pellet stoves on this list are excellent choices for your tiny house.
If you need something that will heat the home thoroughly, each of these options have the BTUs to cover all the square feet of your small house.
What you want to look for when you're picking out a pellet stove is something that's simple to operate and easy to clean.
It shouldn't take a rocket scientist to get the unit installed, and it should save you a significant amount of money on your energy bill.
If we had to pick one as the best, our favorite would be the US Stove Company Wiseway Non-Electric Pellet Stove.
With a 60-pound hopper and the natural gravity feed, you can get a lot of heat capacity from a piece of equipment that hardly takes up any space in the house.
Not only is the Wiseway economical, efficient, and eco-friendly: but it's also an EPA-certified masterpiece that's easy to clean.
Unlike other wood stoves, the Wiseway is easy to manage and maintain.
The natural gravity system also ensures that less maintenance is regularly needed.
Where Can I Buy A Pellet Stove?
A pellet stove is an essential part of the survival kit for anyone looking to unwind, disconnect, and downsize.
Whether you're building a tiny house in the country or on the side of a mountain somewhere, you need to think about investing in a pellet stove.
Finding a good pellet stove means doing a little bit of research.
While the prices aren't exorbitant for the service that you receive, pellet stoves can be more expensive than other equipment you might need for your project.
As long as you're willing to spend a little bit of time and a little money on a good, quality stove, you should not have to worry about high maintenance costs or repairs.
So finding a good stove from a reliable store is essential.
Two of the best places to find a good pellet stove include Home Depot and Amazon.
You can order online at both of these locations and have the stove dropped right at your doorstep.
Not only are these two convenient options, but you can trust that you're getting the best quality at the best price.
How To Size A Pellet Stove?
Most homeowners use pellet stoves to heat small portions of their house.
Because a house is usually thousands of square feet and might be multiple stories, heating an entire home with a pellet stove could seem unreasonable.
But not when you're building a tiny house.
You can heat the whole space with the right pellet stove with a tiny house.
Typically, you need about 25 BTUs per square foot.
The average tiny home in the United States is just about 225 square feet, so a pellet stove that produces about 56,000 BTUs will be more than sufficient.
Why a Pellet Stove?
There are numerous benefits to opting for a pellet stove over other heating options.
They're so helpful because they're usually easy to install, maintain, and clean all on your own.
You need some extra expertise to take good care of the unit.
Another great thing about pellet stoves is that they're carbon-neutral, so they naturally produce a smaller footprint than other heating elements.
If you want your tiny house to be environmentally friendly, then a pellet stove is your best option.
They are carbon-neutral, but they're also low in particulate emissions
And they're extremely cost-effective, allowing you to save a fortune on your heating and energy costs.
And the cost of pellets has become fairly stable over the last few years.
You have to restock your pellets, but only during the cold months.
And finally, pellet stoves have exceptional performance ratings. When you find a quality stove like our list, you can exceed 85% efficiency.
That's better than the efficiency of a wood fireplace.
Are There Small Pellet Stoves?
Small pellet stoves are manufactured in abundance.
Small pellet stoves are easy to find and maintain, making them a great investment.
The stoves that we discussed are all small pellet stoves that fit perfectly in tiny spaces while producing a big heat output.
One of the reasons that pellet stoves are so effective is that they tend to be smaller than other heating options.
Wood-burning stoves are normally big and bulky, taking up lots of space and requiring extra maintenance
A small pellet stove is a different story.
Small pellet stoves are all the rage nowadays, especially for people interested in tiny houses.
So finding one of good quality doesn't have to be a struggle.
Who Makes the Smallest Pellet Stove?
There are a lot of small pellet stoves out there. In fact, small pellet stoves might be more popular than larger options.
Especially for the tiny house community, the small pellet stove is a much better option for heating needs.
Pelpro makes one of the smallest pellet stoves available.
The Pelpro Mini pellet stove is a variation of another pellet stove from the same company.
By scaling down the Home Heater, the Pelpro Mini is designed to produce about 13,000 BTUs and can burn for about 30 hours.
What is the Smallest Wood Pellet Stove?
The smallest wood pellet stove is hard to nail down.
Pellet stoves come in all shapes and sizes, and there are quite a few out there that are high quality without being very big.
The Pelpro Mini is one of the smaller wood pellet stoves out there, along with the Jamestown J1000 and the Ecoteck Francesca.
No matter where you look, you should be able to find a decent wood pellet stove that's not too big and fits into your space needs with ease.
Which Pellets Are Best for Pellet Stove?
Finding the right pellet stove is only a good day when you can also find the right pellets to go with the stove.
Fortunately, most stove brands will also sell a good selection of pellets that you can safely use in the product.
One of the best pellets that you can use in your pellet stove is the Flame Genie FG-P20 Premium Wood Pellets.
These pellets are highly affordable, burn long, and have a pleasant aroma that won't overpower your tiny house.
Small Pellet Stoves, Final Thoughts
When you're ready to get into your tiny house, you want to make sure that you have everything you need to keep you warm and comfortable when winter comes.
And a small pellet stove is, without a doubt, the best way to do just that.
Finding a good pellet stove that will heat your tiny house without increasing your costs too much is one of the best feelings.