What is the Right Boat Size for Houseboat Living?
There are many things to consider when purchasing a houseboat: What size is the right size for you? How much money should you spend? Do you want it to be a certain width or length? These questions and more will be answered in this blog post. We will also look at three good and affordable houseboat models that are able to cover most people's needs. Let's start with the basics:
How Big Is a Houseboat?
Far most houseboats measure between 30 ft and 100 ft in length and 8 to 20 ft wide. Some of the more popular houseboat sizes include the 40′ models, and the 50′. The square footage of a houseboat ranges from 8 to 36 sq ft per foot of length, depending on the layout and number of decks.
That's a pretty wide range, but there are also a lot of different manufacturers and millions of buyers looking for many different things in a houseboat. Some just need a little platform with a shack nowhere they can fish on the weekends. Others want a big houseboat with all the amenities of home and a lot to do on it.
Some homemade models have as little as 200 square feet of living space. Others offer up to 2000 square feet of floor space and sometimes even more. The total living space is a combination of interior and exterior spaces. A standard 40′ houseboat will have around 1200 square feet inside and out.
Houseboat Length
Most houseboats (as is common for any type of boat) are measured less by the size of their living space but rather in length. Therefore, many listings only mention the length of the boat, and not its width or square footage.
You will often have to contact the dealer for these details. But when going through many potential options, you may not have the time to contact them all individually. In which case, it's worth noting that each foot length typically equals 8 to 20 square feet plus up to 80% additional space if the boat has two floors/decks
The standard length for a luxury houseboat is around 50 feet, but some are even longer than that and smaller models can be as small as 20 ft in length. Almost 80% of houseboats available are somewhere between 30 and 60 feet in length, but a few reach up to 120 feet or more.
Based on houseboats for sale on boats.com, we get the following data:
Boat Size
Percent of
Available Houseboats
20 – 30 ft
2%
30 – 40 ft
22%
40 – 50 ft
29%
50 – 60 ft
28%
60 – 100 ft
19%
100 ft +
1%
When looking for boats, consider that most marinas charge per foot or they charge more for boats over a set length. That means you may be able to save a thousand dollars or more annually by getting a slightly shorter houseboat than you had planned initially.
Houseboat Width
Typically houseboats vary much more in length than in width. This is because many marinas can only accommodate boats 20 feet or less. Some marinas cater specifically to small houseboats and may only have room for boats less than 15 feet in width.
If you are looking to buy a boat, make sure it can be in your preferred marina. If you prefer the flexibility to move between marinas, you may be best off with a relatively narrow houseboat of no more than 15 or even 12 feet.
Draught
A boat's draught is the measurement of how deep the boat sits in the water. It's important that the boat's draught is less than the minimum depth of water at your preferred marina or pier.
The draught of a houseboat will vary depending on the size, shape, and weight of your boat as well as the weight of the load the boat is carrying. Because they are built as barges, houseboats generally have a very shallow draught compared to most other boat types. Although converted trawlers sit much deeper in the water.
For more information on drought and displacement, read How Much Weight Can A Houseboat Hold?
Do you Need One or Two Floors/Decks?
Some houseboats offer two or even three floors. This is a great way of utilizing the small hull to almost doubling your floor space. Multi-story houseboats will usually cost more, but they are worth it if you want more space, and a houseboat with multiple decks allows for the added benefit of private outdoor spaces.
One downside to having more than one deck is that it can be top-heavy – making it less maneuverable. While this won't matter much as long as you are firmly tied to the dock, it can be a challenge if you plan on moving it around on a lake.
What Size Houseboat Should I Buy?
The first step in buying any type of boat or houseboat is deciding what size would be best for you. Many factors come into play when determining this, including your family or group size and personal preference.
One primary factor is what you plan to use it for. If having a large living space and entertainment area is your priority, then you will want to go with the bigger houseboats. The same may be needed if you intend to live in your houseboat year-round. Whereas a much smaller vessel could be sufficient for weekend stays on the lake or for a couple who dream of downsizing their life.
All else being equal, families and groups of friends would need a 40-foot houseboat if they are to be comfortable and have enough room for necessities. But these are rough estimates that would depend on the layout of the boat. The best way to find the boat that suits you is by looking at available models individually. If you can rent the boat or a similar model for a week, that would be even better.
Then, of course, there is the matter of your budget. Houseboat prices vary greatly, with the smaller and older models costing just a few thousand dollars and luxury yachts worth several million. Many factors determine how expensive a boat will be, such as the manufacturer, whether or not it's new, and the quality of the materials.
Examples of Popular Houseboats
There are several great houseboat manufacturers in the US and elsewhere. Here are three boats that offer something unique at affordable prices.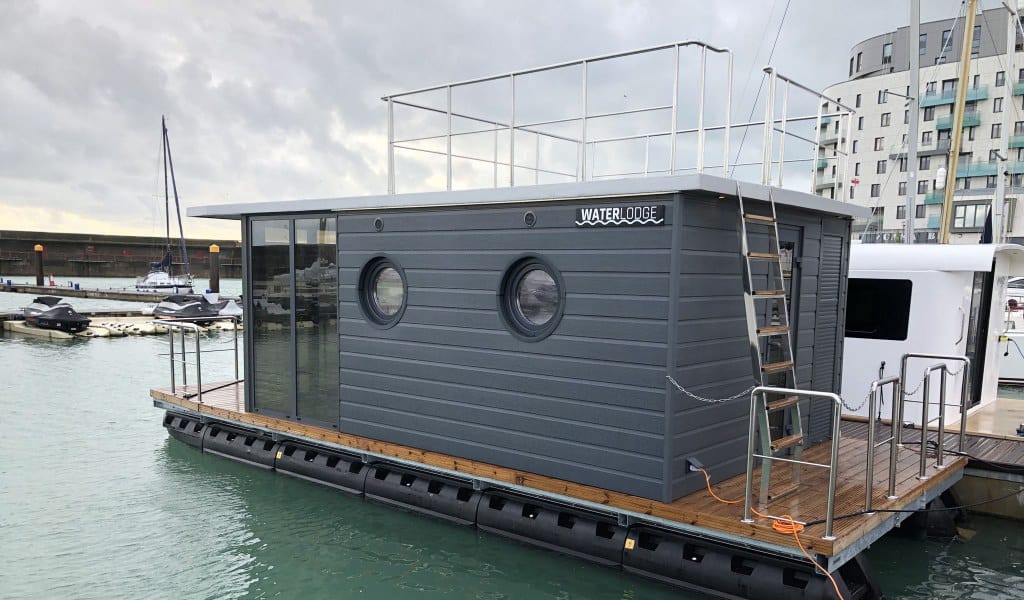 You want an apartment in the city, but all the places you can find are too small or too expensive? You don't need a penthouse suite – just the basics. It's called Waterlodge One and it has 183 square feet of indoor living space. That includes a bedroom, bathroom, storage/utility, and entertainment space in the lounge.
Outside there is more living to be done on either the lower deck area or roof terrace if you have one of those models. And then last but not least, there is the outdoor living space on either side of the boat. The design and layout mean you won't have to worry about cramped quarters or feeling like your personal space is being invaded by someone else's belongings.
The Waterlodge One movable houseboat has a lot going for it at an affordable price of £71,161 (about $100,000).
For Couples and Small Families: Harbor Cottage "Tiny" Boat
If you want to be free and live as if you're in a small house on land, this houseboat will have everything your heart desires. You can go for a swim or bring sketchbooks and pencils and sit around by the open-air deck upstairs while listening to birds singing in the trees by the lake.
For dinner, head inside where you'll find a fridge, dishwasher, cookstove combo alongside beautiful wood cabinetry. And when it's time to rest up from a busy day fishing or swimming – have no doubt that there is plenty of space on this little home on the water – either sheltered inside through tough weather or outside breezing through summer days.
This is a great houseboat for a small group. It has everything you need and starting at $149,000 it's an affordable full-time or vacation home.
For Large Families: Harbor Cottage 5 Bedroom Houseboat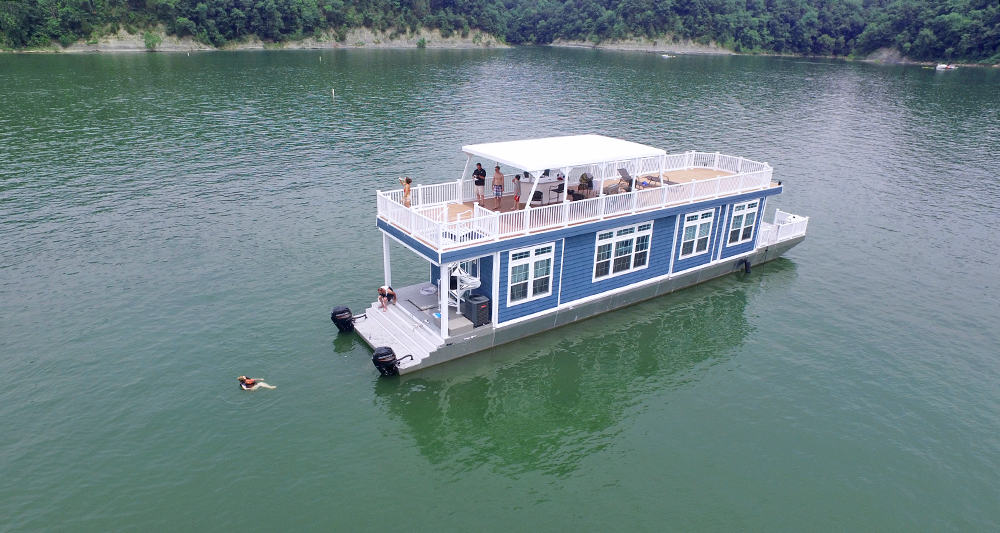 Imagine waking up in the morning and watching your family gather for breakfast on the upper deck of this huge houseboat. Or hosting a football party with a group of friends instead of trying to squeeze them all around a small dining table. With five bedrooms and enough space for two families to share, Harbor Cottage has a little bit of everything you could want or need.
You can bet the kids will enjoy having their own room on board as well as all the independent living offered below deck where they're out of sight and never in your way. Not to mention, so much to do outdoors on the deck or down by the water!
You'll feel like you could take off into open waters any time now that there are 1000 square feet of outdoor liveable space aboard this stately houseboat. Spend some time lounging about on the rooftop kingsize sunbeds, bbq'ing food to perfection in between dips in the sparkling water out back. And with a starting price of $179,000 this is a very budget-friendly houseboat.