17 Best Survival Water Filters For Preppers and Emergency Situations
There's no telling when disaster will strike; you can only prepare for it adequately. One way of doing it is to ensure you have clean water. Given that most disasters compromise city water systems, you would have a supply of contaminated water or none at all.
Finding ways of purifying and keeping the available water clean is a critical survival tactic in emergencies. A proven water treatment method is using survival water filters.
The best survival water filter removes contaminants, providing clean water for consumption. Having tested various water filters, we found these 17 products great options for emergency preparedness.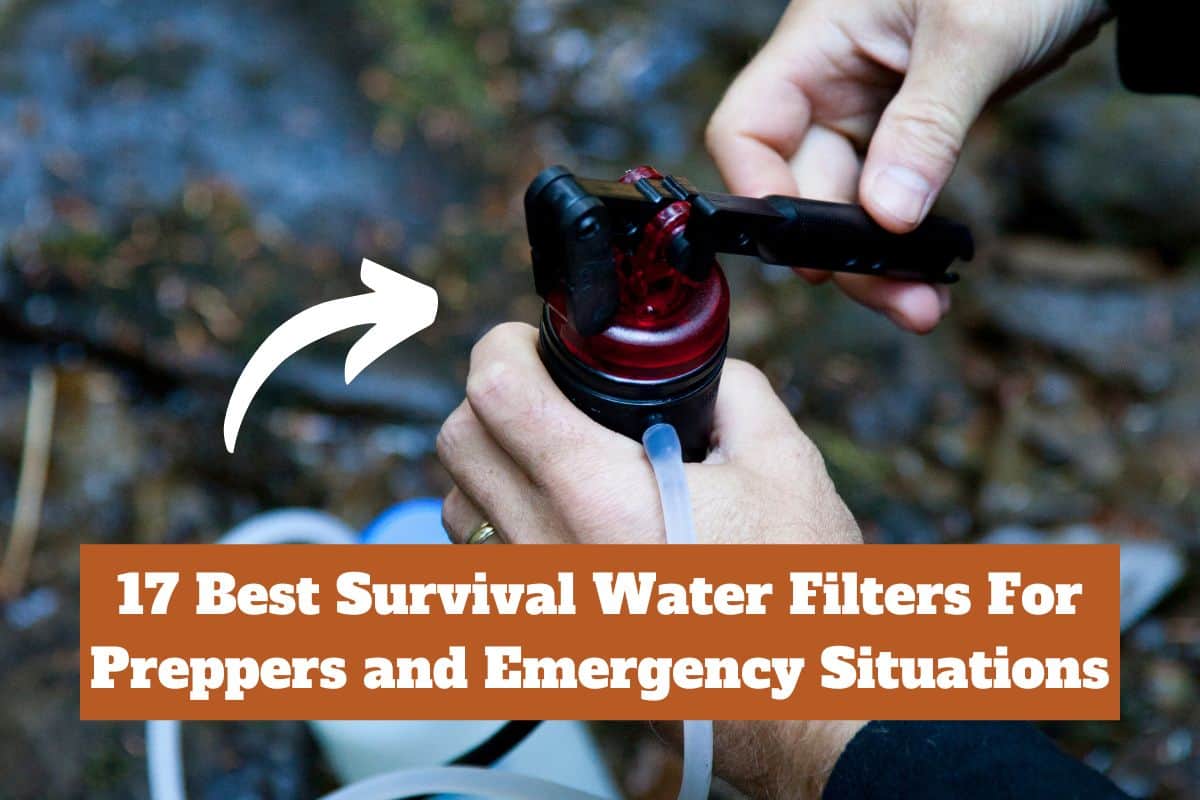 Best Survival Water Filters
Here are our top picks for water filters.
Big Berkey Gravity-Fed Water Filter: Best Overall
This water filter is the holy grail of all water filters in the market today, and for a good reason. It can filter up to 6000 gallons of water, making it a great option when filtering water for lots of people. Secondly, it can filter out over 200 contaminants in raw water, tap water, and untreated water sources like rivers and streams.
This water filter uses gravity filtration, which can be slow, but has a large capacity of 2.25 gallons, sufficient for a family of two to four people. Berkey provides two filters but can accommodate four filters. It can produce close to 7 gallons of water with four filters, which is a three-day water supply for small groups.
LifeStraw Personal Water Filter: Best Budget
This water filter is the best choice for people looking for a portable and budget-friendly water filter. It's pretty effective for its size as it removes 99.99% of waterborne bacteria, including salmonella, E.coli, and waterborne parasites.
It can remove microplastics as small as 1 micron, allowing you to filter water from any water source. As for the taste, this water filter leaves you with spring-like tasting water, sometimes tasting better than tap water.
Its miniature size makes it an excellent option for hikers and backpackers and quite handy during a disaster. Bring a wide-mouth bottle you can fill with water, and you're good to go.
MSR Guardian Water Purifier: Best Premium
The MSR Guardian Water Purifier is far from your average water filter. There's a lot to love about this water purifier, from its price to its construction and filtration mechanism.
It doesn't just strain out bacteria and dirt; it also filters out viruses. This handy feature makes it a good option for cleaning sketchy tap water and untreated water from other sources during a camping trip.
Its overall construction is well-thought-out, from the filter system to the automatic backflushing and purifier. The device has two thick tubes for backflushing and the other for intake. Once you pull water through the pre-filter, it travels into the pumping chamber, where it's pressed down to the bottom.
And with a high flow rate of 2.5 liters per minute, you're sure to filter lots of water within a short period. The pre-filter removes sediments, and with pore sizes of 0.02 microns, it strains out viruses. The cartridge has a lifespan of 10,000 liters which means you don't need to replace it for years.
Survival Filter Pro Water Purification System: Best Premium
You've probably used filters from various manufacturers but found them wanting. Well, this filtration system from Survivor Filter Store is near perfect. For starters, it has a sturdy construction that lasts a lifetime.
The filter is made from ABS material, Food-grade activated carbon, and polysulfone medical-grade ultra-filter, all known for durability.
It can filter 99.99% of bacteria, viruses, and heavy metals, leaving clean and safe drinking water. The filter has a dual hollow fiber membrane consisting of a carbon filter and an ultrafilter pre-filter that removes E. coli, algae, protozoa, and cryptosporidium.
On the other hand, the carbon filter removes heavy metals, pollutants, and chemicals like chlorine dioxide.
Another feature that stands out is the attention to detail. The clip for the inlet tube has a large hook that holds the filter securely on the threaded bottleneck. It also has a protective sleeve that functions as a cup and storage space for a few survival essentials.
Best Water Filter Bottles
Here are our top picks for the best water filter bottles.
This water filter is excellent for eco-conscious users, as it replaces up to 550 standard water bottles per person. Besides the eco-friendly factor, this water filter sure does its job. It can remove over 200 water contaminants, including viruses, chlorine, bacteria, lead, pesticides, etc.
Epic Nalgene OG is known for following EPA's and other water purification best practices. Their products go through independent third-party tests against five NSF/ANSI water filtration systems' standards, so you're confident it filters out all such contaminants. In addition, the water tastes way better than regular tap and spring water.
Epic Nalgene OG designs this water bottle to remove all the fluoride in the water, leaving you with tasty, sparkling water. The water bottle seems a little pricey for a regular filter, but it's well worth it.
It can filter up to 380 liters of water before it needs replacing and the fact that it's BPA-free makes it a top-dollar filter. You'll also love the handy water level measurement in oz and ml on one side and the wide-neck design that makes it easy to clean.
This water bottle helps you filter water from any source, making it safe for consumption. It's within the same range as the LifeStraw Go Water Filter Bottle, except it uses a four-stage process to remove impurities. It consists of a medical-grade hollow membrane, PP cotton, beads, and a coconut shell-activated charcoal filter.
This water bottle removes large and small contaminants and the fishy smell of raw water. And with a filtration accuracy of 0.01 microns, you're confident it can remove any impurity, however small. You may follow it up with tablets like Portable Aqua to ensure you have safe, drinkable water.
Purewell adds a straw allowing you to draw the clean water, and with the leak-proof lid, you don't have to worry about spilling water in transit. The bottle comes in a convenient size, making it easy to stash in a backpack or travel bag if you need to move to safe grounds.
Best Pump Water Filters
Here are our top picks for the best pump water filters.
This is another excellent all-weather water filter. It has an easy-to-use design for backpackers and preppers, and with a 0.2-micron glass fiber filter, the water filter strains even the smallest bacteria and dirt.
This water filter's integrated carbon core stands out because it makes water taste great. Cloudy water appears clear after using the Hiker Pro. Katadyn uses pleated glass instead of the regular hollow fiber filters. Typically, pleated glass doesn't break when it's freezing; this is one problem that renders most filters useless.
You'll also love the filtration rate, which remains solid even after years of use. It takes two minutes to filter a liter, even when filtering salty water. Be sure to clean the filter screen after use to keep the filtration rate at its peak.
However, the filter uses a pump mechanism, making the filtering process a little labor-intensive for larger groups.
Although the popularity of pump-style water filters has plunged in recent years, they remain the most relevant form of filtering water during disasters. This purification pump from MSR is elegantly designed to remove harmful contaminants from water sources.
Like other water filters, it comes with a hose, a floater, and a pre-filter to remove the muck. MiniWorks' pre-filter has a unique design as it's suspended from a foam float you can reposition to get clean water below a muddy surface.
You won't find this feature in other pump filters. Its filtration rate is also pretty impressive as it filters a liter of water per minute.
As for compatibility, this water pump works well with wide-mouth bottles and hydration bladders from Nalgene, MSR. The pump is also equipped with a ceramic gauge that allows you to measure the diameter of the ceramic sleeve.
A telltale sign that the filter element needs replacing is when the gauge fits the ceramic sleeve. This is usually after 30-60 cleanings or filtering 2000L of water, depending on the pressure exerted.
Best Gravity-fed Water Filters
Here are our top choice for gravity-fed water filters.
Lifestraw Family is the go-to water filter when looking for gravity-fed filters. However, when filtering large amounts of water, LifeStraw Mission Gravity-fed Water Purifier is a better option. It is available in 5-liter and 12-liter gallon sizes and provides a more practical alternative for processing water for large groups in the woods.
It comes with a large water bag for holding the raw water, a pre-filter for removing sizeable organic debris, and a water purifier for eliminating bacteria and viruses. The water bag is fitted with a hanging strap to make it easy to hang it from a stout tee.
Once you fill the water bag with water and hang it up, insert the hose connecting the bag to the purifier to start purifying the water. With the simple quick-release mechanism, you can easily disassemble and pack the hose.
Best Pressurized Water Filter
Here is our favorite pressurized water filter.
Portable filtration systems like straws and gravity-fed systems don't always put enough pressure to remove microscopic impurities. This pressurized water filter overcomes this limitation by using an automated filtration system.
It has a built-in dual filter that removes bacteria as small as 0.1 microns. The dual system has a combination of hollow fiber membrane and advanced activated carbon technologies to strain out pathogens, particulates, and other impurities.
The activated carbon module comprises a pre-filter membrane for removing large particulates and preventing them from entering the filtration media. Next is a mixture of ion-exchange microbeads and granular activated carbon for removing heavy metals, chemicals, and organic compounds.
The final stage of the filtration process happens in the Ultrafiltration module. It has dozens of hollow fiber tubes with microscopic holes to filter any bacteria and protozoa left in the water. The beauty of it is that the filter modules are easy to clean and can be replaced if they break down.
Best In-Line Filters
Here is our pick for the best in-line filter.
What stands out about this water filter is its versatility. You can use it as-is (inline filter) or as a straw, gravity, or squeeze filter. It's also compatible with 28mm reservoirs and bottles thanks to the threaded ends that connect the filter to the soda bottles.
You'll also note it has a faster flow rate thanks to its length and large construction. It can filter 1-1.5 liters of water per minute depending on the quality and clarity of the water and the amount of pressure used to push water through the filter.
The filter also has end caps to prevent water from leaking between uses and a transparent window that allows you to see when it needs backflushing. They are color-coded to make it easy to distinguish between input and output spouts. The blue cap is for clean water, and the gray end holds unfiltered water.
Best Straw Filters
Here are our top picks for straw filters.
This is a good water filter for the prepper, hiker, and avid backpacker. It sure makes an excellent investment when preparing for a disaster, from the camo color on the exterior to its pocket size. It comes in packs of 1, 4, and 6, so you can buy an entire collection for your family.
One feature that stands out about this water filter is its four-stage filtration process. Most water filters have a three-stage filtration process, but Membrane Solutions adds one more step. It has a coarse filter screen that removes large particulates and pp cotton for straining out smaller particles.
Next is a coconut shell-activated carbon that sweetens the water and a hollow fiber membrane for eliminating bacteria and viruses. The result is clear, sparkling water, free of odor and harmful contaminants.
Sometimes portable water filters are all you need in a survival situation, and this straw filter from Etekcity is an excellent choice. Not only is it lightweight (2 ounces), but it uses a three-stage filtration process to provide you with clean and safe drinking water.
The pre-filter removes dense particles while the ion-exchange resin strains out heavy metals, THMs, and chlorine. The third layer of filtration consists of activated carbon, eliminating the fishy odor in stream water.
Besides the standard components, Etekcity adds an extension hose that is handy when drawing water from hard-to-reach water sources. It measures 70 cm, enough length to extend to the desired area when lying down.
You'll also notice that the purifier comes with a refillable pouch outfitted with a clip making it easy to attach it to a backpack. Avid preppers can agree that being able to carry water in this pouch when looking for safer grounds is pretty handy.
Best Pocket-sized Water Filters
Looking for something small? Here are our top choices for pocket-sized water filters.
Small filters are handy during disasters as they provide the easiest way of cleaning untreated water. This Swiss brand has a history of producing the best water filters, and this pocket-size water filter is no exception. It has a heavy-duty construction designed to withstand the rigors of everyday use.
The upper part of the piston and the lower valve have an aluminum construction; the piston rod in the cylinder is made of steel, while the central cylinder has a robust PVC construction.
The filter also comes with two hoses: an intake and output hose to avoid cross-contamination. The intake hose is equipped with an adjustable floater and a pre-filter to strain out large impurities. On the other hand, the output hose has an all-purpose clip for connecting to the bottle when pumping the water. It is three feet shorter than the intake hose.
Most water filters develop bacteria growth after many uses. Luckily Katadyn equips this device with a ceramic water filter that prevents bacteria growth. It has pore sizes measuring 0.2 microns, good enough to eliminate algae, cysts, bacteria, and protozoa.
This water filter is a go-to option for preppers, hikers, and backpackers, owing to its ease of use. Even first-time users have no problems using this water filter. You only need to fill the pouch with the untreated water, attach the pouch threads to the water filter and squeeze the clean water into a bottle, mouth, or hydration bladder.
Its miniature size might coax you into believing it can only filter small portions of water at a time. But this tiny water filter strains out a liter of water in a minute depending on the condition of the water — muddy water may take longer.
The Sawyer Squeeze also lasts pretty long, as this water filter is rated to filter up to 100,000 gallons of water. And since there are no moving parts, you don't have to worry about using the water filter in freezing temperatures.
Best Mini Water Filters
Here are our top choices for mini water filters.
Sawyer is known for producing stellar products, and this filtration system is no exception. From its handy construction to its effective filtration system, there's no doubt that this water filter will get the work done.
The filter has 0.1-micron holes that allow water to seep through while making it impossible to pass through harmful bacteria, cysts, and protozoa.
You'll also love the miniature size that allows you to carry it by hand. It's also compatible with various items, including the drinking pouch, hydration packs, and disposable water bottles.
If looking to filter large amounts of water, you can use a 700 ml, 1L, or 2L water bag. They all screw onto the filter ideally without allowing air into the filter.
If you've tried Sawyer's mini water filter straw and it was a disappointment, this one from Miniwell could be a better pick. It's also gravity-fed water filterable to filter up to 2000 liters of water. It's easy to set it up with a plastic bag, bottle, bucket, or collapsible bottle. You can also drink the water directly from the straw.
The setup is so straightforward that you might not need to use the hose to increase the pressure of the height. Simply screw the blue bag directly to the clean side and the orange bag to the dirty side and hang it from a tree.
It fills up pretty fast, allowing you to filter as much water as possible. Miniwell points out that it has a flow rate of 600ml per minute, but it could be much faster when filtering slightly dirty water. In addition, you don't need to squeeze the bag to get the water flowing as with other filters.
How to Choose the Best Survival Water Filters
A water filter makes a great addition to a survival kit in emergencies, especially if chemical treatment is out of the question. It provides you with clean and drinkable water using minimal effort.
Simply squeeze or pump in the contaminated water through the filter, and you have clean water within minutes. Like any other product, knowing what to look for when buying survival water filters is critical. Here are the features we found the most important:
Types of Water Filter
There are different types of water filters, and understanding their differences is critical when shopping for one:
Pumps
A water pump is the best survival water filter for those who don't mind operating it by hand as they put out a liter or two of water in a minute.
The filter is enclosed in housing and connected to two tubes and a pump. One tube end is placed in unclean water, and when the pump is pressed, filtered water flows from the other tube.
Straw Filter
A straw filter is ideal for hiking, camping, and during a disaster as it's incredibly light, portable, and easy to use. Simply submerge one end in dirty water and use the other end to drink water.
You can stash it in your backpack or pocket and whip it out when needed. It allows you to drink straight from the source or collect water in a container and use the straw to filter it.
Gravity-fed Filter
This filter relies on gravity to allow water to flow through the filter. It has four components: a filter, a dirty water bag, a clean water bag, and a connecting tube. Water is poured into the muddy water bag and connected to the clean bag using the filter and the tube.
Bottle Filter
A bottle filter is an all-in-one filter for collecting or filtering water as it has a built-in filter system attached to the mouth of a bottle filtering the water as you drink. Some bottle filters come with bite valves, while others use a coffee press mechanism you can drink from.
There are two types of bottle filters: the regular water filter bottle and the UV water bottle. You must tap the bottle lid to activate the UV sterilization feature with the latter.
Inline Filter
This kind is popular due to its versatility. It has an input and output point compatible with bags, bottles, and straws. An inline water filter also produces high volumes of water per minute if used with a bottle or squeeze bag. This is an excellent feature for households that need water for washing or cleaning too.
Output
The filter's capacity is another essential thing to consider when buying the best survival water filter. Do you want a filter that provides water within seconds or hours? Water filters like inline and filter straws are great portable survival water filters but have little capacity if filtering water for group use.
They also have a faster flow rate because they use a pumping force to send water through the filter. Pump and gravity filters could be a better buy because they can filter gallons of water in minutes.
UV Water Purification
Some water filters have a UV feature that aids in the purification of water. The UV light kills microorganisms in water and prevents their reproduction by disrupting their DNA. The good news is that UV rays hardly interfere with chemical changes in the water.
Best Survival Water Filter: Final Thoughts
You're now well on your way to finding the best survival water filter. The bottom line is to purchase a good survival filter that provides you with clean, drinkable water for a long time.
Besides looking for filters from reliable brands, assess your family's needs, and possible water sources in the event of a disaster too. Check out our website for additional survival tips.