One of the most crucial outdoor and survivalist skills is learning how to light a fire safely. A good fire can light up your campsite and gives you a place for warmth and the chance to cook. You need to have a reliable fire starter in your gear to accomplish all these things.
We review the best fire starters on the market and provide a buying guide for choosing the right one for you.
Best Fire Starters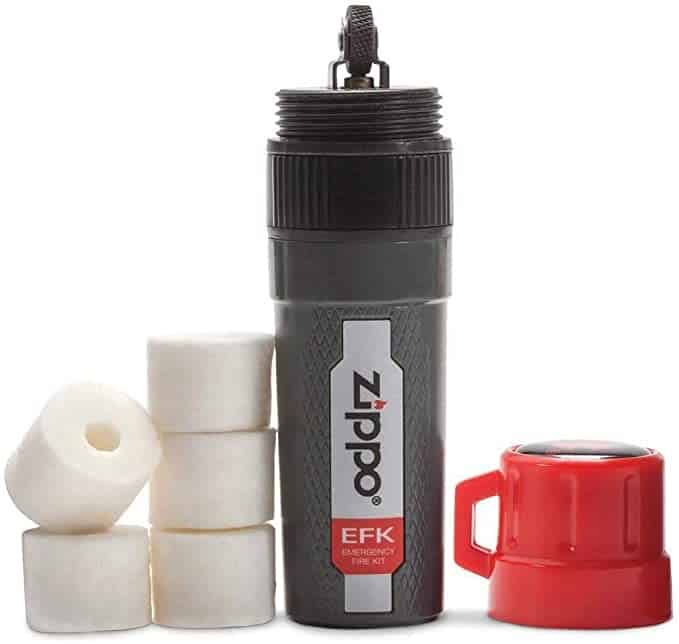 Why It Stands Out
Complete kit. It contains the essentials you require to start a fire, including a reliable flint wheel spark lighter and 5 easy-to-light, paraffin-wax coated tinders. The fleet wheel is designed to produce up to 1,700 sparks efficiently. It sparks reliably in all weather conditions. Once the flint wheel has done the indicated number of sparks, you can replace it separately without buying an entire kit.
Waterproof. The fire-starting essentials come packaged in a water-resistant kit. Zippo understands that while exploring the outdoors is fun, it also poses the risk of your kit falling in water or water spilling on it. Therefore, they designed the kit with an O-ring seal that keeps the tinders dry. The kit also floats in water.
Ergonomically designed. The kit is made using reusable ABS plastic. It has a textured grip to enable easy handling even if your hands are wet.
Easy portability. Aside from keeping the fire starters dry, the compact unit is lightweight and easy to carry around. It has a lanyard hole that you can attach to a lanyard or clip on your backpack.
We found this kit quite easy to use. Simply attach a tinder securely to a twig or stick. Push it through the stick to ensure it does not fall off. Use the flint wheel to spark the tinder. Place the ignited tinder into the fire. The spark tinder burns for up to five minutes.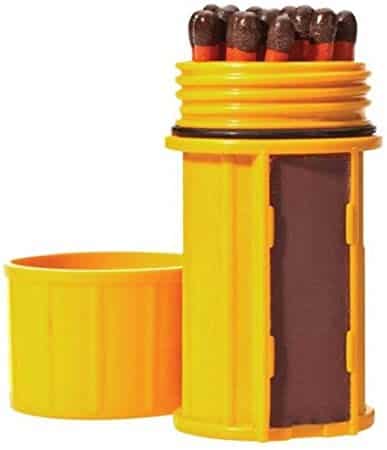 Why It Stands Out
Submersible. The most outstanding feature of these matches is that they are submersible. Once you have lit the match, you can submerge it in water, and it will reignite automatically immediately you remove it from the water.
Windproof. The UCO stormproof matches continue to light and burn for up to 15 seconds, even in extremely strong winds.
Waterproof casing: The matches come packaged in a durable ABC container that is waterproof and can float in water to keep the matches dry. The casing has vertical ribbing that offers a firm grip even when handling it with wet hands.
Replaceable strikers and refillable matches. If the pre-fitted strikers on the casing wear out or get wet, you can replace them with new ones without buying another kit. The kit comes with two spare strikers that are stored within the case. You can refill it with UCO Stormproof Matches, sold as a single park of 25 matches or a twin pack of 50 matches.
Extended length of the matches ensures that you do not burn your fingertips.
One of the major cons of the regular match sticks is that they come in cardboard boxes that are prone to water spillage, which renders the striker and combustible head useless. They are also difficult to use in wet and windy conditions.
We like that this kit has been designed to overcome these challenges. It includes 25 matches, 3 strikers, and can hold up to 40 matches. The matches are stormproof, windproof, and waterproof.
If the matches get wet, wipe them and then light them. If the striker gets wet, allow it some time to dry, and it will be good to go. The matches can last for years as long as they are kept dry. The manufacturer backs up this kit with a 1-year warranty.
Best Flint Fire Starters
3. Best Flint Fire Starter Overall: Fire-Fast Trekker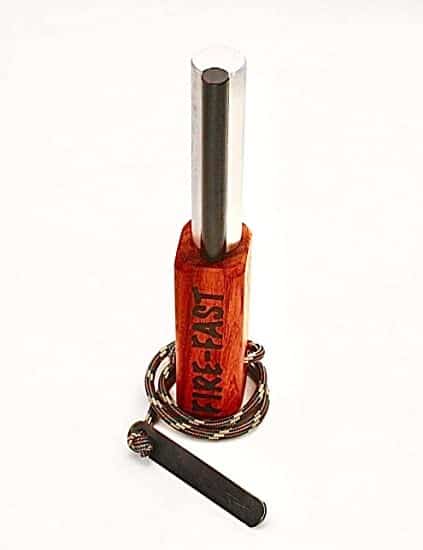 Why It Stands Out
Superior craftsmanship. This flint rod is made of real ferrocerium and military-grade magnesium. The ferrocerium incorporates superior technology and craftsmanship to deliver the highest quality Ferro rod. It is made of 76% rare earth metal, 20% iron, 2% anti-corrosives, and 2% magnesium.
Produces intense heat. The flint easily ignites the military-grade magnesium rod to produce an intense burst of flames and heat, starting a fire even in extremely cold conditions. Furthermore, the striker is made of hardened steel that creates numerous sparks.
Ergonomic handle. Its design includes a hardwood handle that offers a firm grip.
The fire-fast trekker magnesium-Ferro rod is a must-have in your survival kit. It is compact and durable and can be used in various settings, including camping, bushcraft, backpacking, and hiking.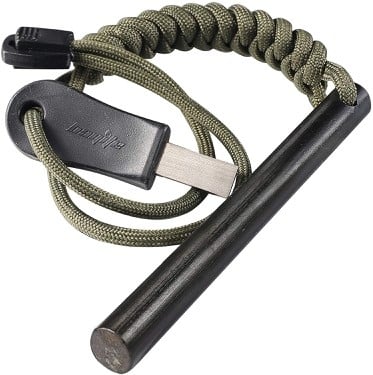 Why It Stands Out
High quality. It is made of tool-grade HSS Steel, which offers exceptional hardness to maximize the number of sparks produced. Therefore, it starts fire instantly.
Waterproof and weatherproof. You can use this flint fire starter in any setting and weather conditions including in high altitude areas, under the rain or snow, and in windy environments.
Comes with a 5ft paracord. The paracord ensures that you have a good grip on the fire starter. The Bayite striker ensures you are ready to start a fire at any time.
The survival fire starter is versatile as it can be used outdoors and indoors. It can be used for hunting, fishing, camping, hiking, and light wood stoves, grills, and roasters.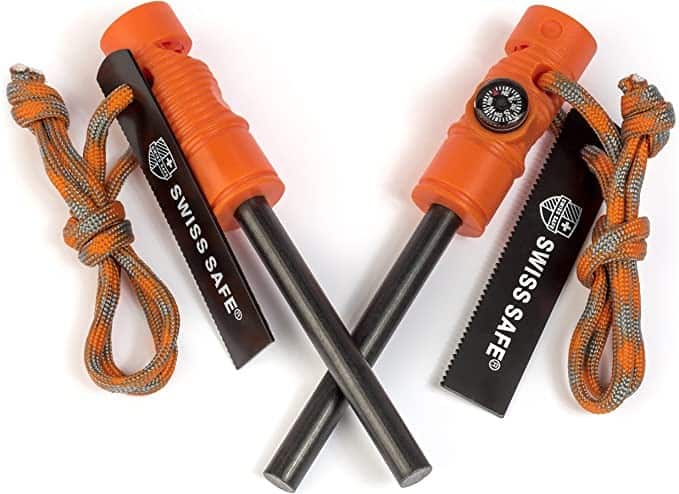 Why It Stands Out
Great value for money. The Swiss Safe 5-in-1 Fire Starter is sold affordably and offers 5 tools in one.
Starts fire instantly. Its magnesium rod delivers over 16k strikes at 5,500F, ensuring that you can light a fire in any weather conditions. Each package comes with 2 fire starters to ensure you are good to go at any time.
Multifunctional. It has a multi-tool design with a built-in 150dB whistle, steel scraper, 450LB 8core paracord, compass, and rod.
Compact and lightweight. It is much lighter than other flint fire starters in the market as it weighs less than 2 ounces.
We particularly like that the flint has a saw-tooth edge on the steel that ensures that the magnesium scrapes land on the tinder, increasing the number of sparks to improve the chances of a fire starting.
Best Fire Starter Sticks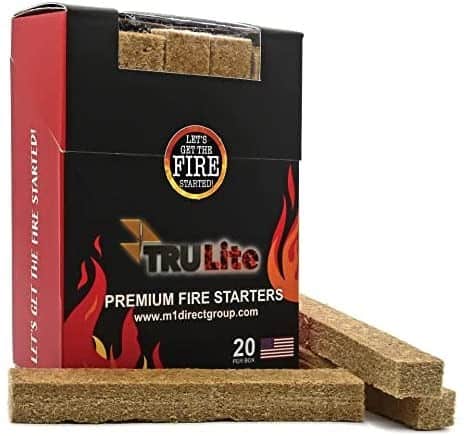 Why They Stand Out
Instant lighting solution. Each 5″ fire stick lights easily and quickly with no need for special skills.
Can light all types of fires. The Trulite premium fire starters can be used to light all types of fires, including indoor and outdoor fires. For example, campfires, fireplaces, fire pits, wood stoves, bonfires, pizza ovens, and grills. They do not leave any mess, and the flame is odorless.
Environmentally friendly. These fire starters are purposely made to be eco-friendly. They are made with 100% natural and clean renewable materials. They are made with recycled wood and paper chips compressed in food-grade wax. The fire logs are untreated to ensure that the fire is smokeless, odorless, and tasteless.
Suitable for all weather conditions. It doesn't matter if it is sunny, rainy, windy, or snowy; you can count on this fire starter.
Superior quality. The TRUlite fire starters are made in the USA. They are expertly developed, tested, and manufactured to meet strict quality and safety standards.
They come as a pack of 20 sticks to last you throughout your camping, backpacking, fishing, or hunting trip. We like that they are of high quality and are affordably priced. The only thing is that they are much thinner than we expected – less than half an inch thick. Nevertheless, they light your fire fast and conveniently.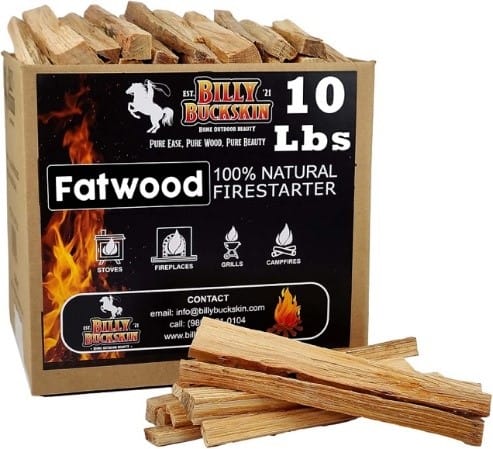 Why They Stand Out
Burn incredibly well. These fatwood fire sticks are made of resin-rich pine trees. The resin catches fire and burns well. However, it produces black smoke. Do not be alarmed, as the smoke is harmless.
Eco-friendly. The fatwood is made from dead tree stumps collected from jungles in Mexico. As such, there is no deforestation involved in making these fire sticks. The fatwood is 100% natural with no chemical components.
Burns even in wet conditions. The high resin content makes the fire sticks combustible even in wet conditions. Therefore, you can use them to start a campfire even if it is snowing.
Variety. The Billy Buckskin Co. fatwood fire starter sticks come in various options, including 2lbs, 10lbs, 40lbs, and 50lbs.
We used 2-3 sticks to light a fire. Allow a few seconds for at least one of the sticks to catch fire. Depending on their resin content, some sticks take slightly longer to catch fire.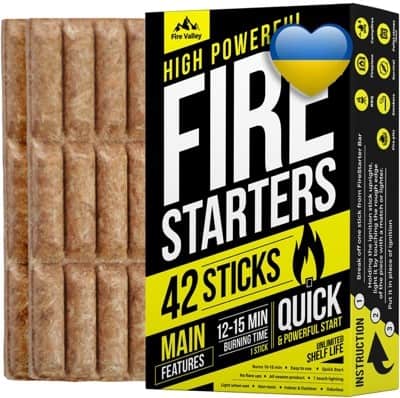 Why They Stand Out
Quick and easy to use. Like the Billy Buckskin Co. fatwood fire starter sticks and TRULite Premium Fire Starters, these too light fire easily. You do not need accelerants or other kindling materials such as lighting fluids or paper.
Environmentally friendly. The sticks are made from 100% natural recycled pine wood and wax. They have low carbon monoxide emissions and do not cause dangerous flare-ups.
Food-safe and non-toxic. Aside from being suitable for starting survival fires, they can also be used to light grills, meat roasters, and barbeques. Their flame is tasteless, odorless, and smokeless.
Weatherproof. They can be used in all types of weather conditions, including wet and windy conditions.
The sticks come in a pack of 42 pieces. We like that each set came in a compact and sealed waterproof film for safe and convenient storage and transportation. Each stick burns consistently for 12-15 minutes allowing the fire to catch on.
Best Fire Starters Buying Guide
Below are the key factors to consider when choosing fire starters in the market.
Types of Fire Starters
Depending on their operating mechanism, there are different types of survival fire starters. Below is an overview of the most common ones:
Wood Friction Fire Starter. These are the earliest form of survival fire starters. They rely on friction to work. By rubbing two pieces of wood together, you generate enough heat to cause combustion. They include hand drills, bow drills, fire saws, and fire plows. This method requires patience and mastery of technique to light a fire. They're not suitable for use in wet environments.
Flint and Steel. Also known as Ferro rod strikers or flint starters. They date back to the early iron age. They consist of a rod of flint that you strike against a sharp surface or ground to produce sparks. Most modern versions use ferrocerium alloy to produce sparks more easily and for longer. Some have a spring mechanism for easier operation. They are quite light and work well even in wet conditions. On the downside, they require a bit of technique to light the fire.
Fire Pistons. Also known as slam rod fire starter or fire syringe. Their design consists of a thick-walled tube that is open on one side. A combustible material (tinder) is inserted into the tube opening. A rod that perfectly fits the tube is then inserted into the tube. As it is pushed to fit in the tube air tightly, it compresses the air, generating heat, which ignites the tinder. Fire pistons are easy to carry as they are light and have a compact design. On the downside, the rubber or seal gasket wears out easily, causing air to escape, hence compromising the piston's ability to generate heat.
Magnifying Lens. Used to focus sun rays on the tinder to ignite it. This method only works if there is bright and unobstructed sunlight. It also requires patience to get a narrow point of light.
Matches. They have a simple design of a highly combustible chemical impregnated on the stick. You strike the combustible end against a rough patch (striker) on the side of the matchbox or kit to ignite it. While matches are convenient to use and easy to carry, they do not work well in wet and windy conditions unless they are designed as stormproof, weatherproof, or waterproof.
Lighter. This is a high-tech fire starter. Its design constitutes a mechanical striker that is thumb-operated to ignite a flame used to light the fuel source. Some stormproof lighters operate well, even in wet and windy conditions. Generally, lighters are easy to operate. They are light and easily portable. However, if the mechanical parts get damaged, they are rendered inoperable. They also have a limited fuel source that gets used up over time. Some manufacturers solve these issues by designing the lighters with an electrical striker mechanism.
Battery and Steel Wool. You require a fine fiber steel wool and a 9v battery. Touch both contacts of the battery with the steel wool simultaneously. A simple circuit will be formed, generating heat that smolders the steel wool. However, the steel wool does not produce a real flame, so you will need easily combustible tinder on standby to light the fire.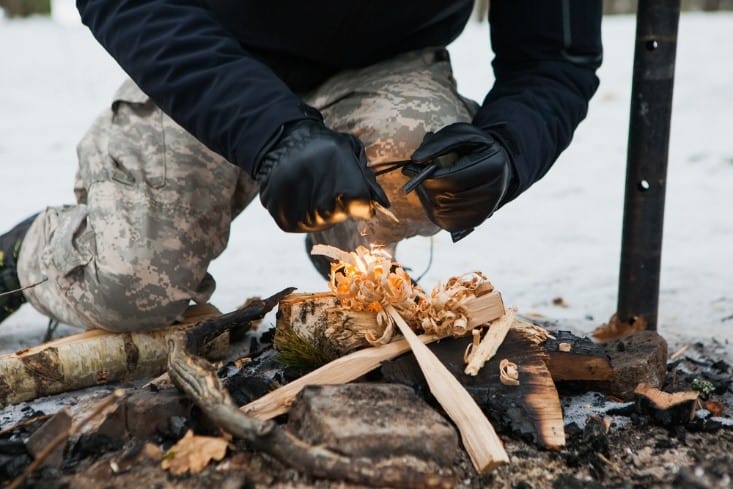 Type of Fire Accelerant Available
Having a survival fire starter is not enough; you need an accelerant to turn the fragile frame from the starter into a big fire. The most common accelerants include wax and fiber, gauze and hand sanitizer, and pitch and fat wood.
Reliability
You want a fire starter that you can count on to start a fire at any point regardless of the weather conditions; electric lighters are excellent options. Flint and steel strikers, particularly Ferro-rod ones, are also a great option.
Burn Time
A longer burn time allows you ample time to establish the fire.
Eco-Friendliness
Go for fire starters made of or that utilize environmentally friendly materials like sawdust, recycled paper, waste textile fibers, and non-toxic was, among others. These emit minimal carbon monoxide and particulates to the environment.
Ease of Use
The best fire starter is easy to light, e.g., electrical lighters, matchboxes, and flight lighters to ensure you are ready to go even in emergency situations. If you are keen on convenience, go for a combination kit. It has an ignition system and a fuel source.
Conclusion
Advancements in technology have made it easy to start a survival fire. You do not have to use a magnifying glass or wood friction fire starters. Numerous fire starters available on the market today are easy to use and start a fire instantly.
Go for the Zippo Emergency Fire Kit or UCO Stormproof Match Kit. Other great options include Fire-Fast Trekker for flint fire starters and TRULite Premium Fire Starters for fire starter sticks, among the other options discussed above.