Are you in the market for a hunting knife? There is a wide selection to choose from. They vary in design, type, blade and handle construction, and price range. We did extensive research to find you the best hunting knives in various categories.
If you are short on time and want to know the best hunting knife overall, it is the Buck Knives 120 General Pro Fixed Blade Hunting Knife. Otherwise, check out our top 8 picks and why they stand out.
We also provide a detailed buyer's guide to help you determine the best hunting knife according to your needs, preference, and budget.
6 Best Hunting Knives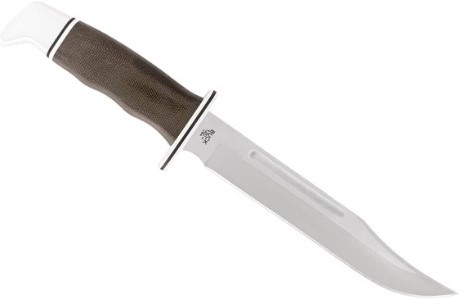 Specifications
Blade Length: 7-3/8"
Blade Point: Clip point
Blade Material: Alloy steel
Handle Material: Phenolic with Aluminum guard and pommel
Sheath: Leather
Why It Stands Out
Elegant design. The Buck Knives 120 General Fixed Blade Knife is equally elegant as it is functional. You can use it effectively as a hunting knife for deboning, skinning, field dressing, or simply as a collectible.
Solid construction. Its blade is made of 420HC steel to offer excellent strength and corrosion resistance. The handle has a full tang construction with an integrated finger guard. These two design features give the knife a solid and sturdy for balanced handling.
Superior edge retention. The blade features the Edge 2X blade technology for enhanced edge retention. Its manufacturing process involves an elaborate heat treatment procedure that Paul Bos developed. It is a three-step process involving heating, freezing, and reheating to ensure the cutting edge is super-sharp straight of the box and stays sharp for a long time.
Luxurious handle. This knife's handle is one of its most outstanding features. It is a traditional black phenolic handle with curves and palm grooves for a comfortable, secure grip. The aluminum pommel adds a beautiful dimension to the knife and ensures that it does not slip off your hands even when cutting aggressively.
High-quality sheath. Unlike other knives in this price range that come with a cheap sheath, this one comes with a high-quality leather protective sheath. It is durable and provides convenient carry and storage. The sheath also has a snap fastener and integrated belt loop for a secure attachment.
Lifetime warranty. Buck Knives company has been making high-quality knives since 1902, and this 120 General Fixed Blade Knife upholds its reputation. The hunting knife is made in the USA. It is backed by a lifetime warranty against material and workmanship defects.
The Buck 120 General is suitable for both novice and seasoned hunters. Its excellent quality and performance provide great value.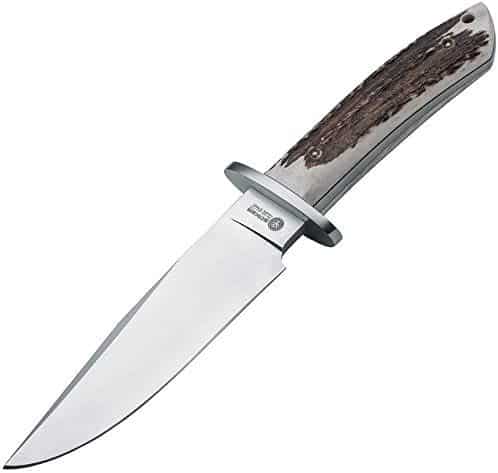 Specifications
Blade Length: 3-1/2″
Blade Point:
Blade Material: N695 stainless steel blade
Handle Material: Stag
Sheath: Leather
Why It Stands Out
Handcrafted superior quality. Each piece of the Boker Arbolito Esculta Stag hunting knife is elaborately handcrafted to the highest quality. The knife is a great representation of the exceptional Boker Arbalito quality and innovation for over 145 years. The stag used to make the handle scales is hand-picked. The stonewash blade is not only sturdy and is rust and corrosion resistance, but it also gives the knife an elegant and classic look.
Comfortable grip. It has a notched thumb ramp for stability and control even under adverse conditions. The premium stag scales and tapered tang offer a comfortable and balanced grip for easy handling and optimal control. The protruding handguard is stainless steel for a reliable and sturdy feel. It also adds to the refined appearance of the knife.
Limited lifetime warranty. Like other Boker knives, the Esculta Stag is backed by a limited lifetime quality against craftsmanship and material defects.
Comes with a high-quality leather sheath for easy storage and carry.
In our opinion, this is one of the most beautiful and highly functional hunting knives on the market. It is a more compact version of the Boker El Ginante. If you are keen on acquiring a quality hunting knife and willing to pay a higher price for it, go for the Boker Arbolito Esculta Stag. Its premium quality warrants the high price. This knife has a timeless look and offers high utility value. As such, it is also highly sought after by collectors.

Specifications
Blade Length: 4"
Blade Point: Drop point
Blade Material: High carbon steel
Handle Material: Plastic
Sheath: Leather
Why It Stands Out
Affordable price. If you are tight on budget but still want a decent quality and high-performing hunting knife, the Bucklite Max is a great option.
Versatile. It is a drop point-style knife that can be used for various tasks, including skinning, cutting, and field dressing.
Has a gut hook. It also features a gut hook to enable you to open your game easily for field dressing.
Upholds the Buck quality and craftsmanship standards. Although it is cheaply priced, it still upholds Buck's high-quality standards. It is razor-sharp out of the box.
A low price does not always mean inferior quality, and this Buck knife is proof. While its quality and durability are not as high as other higher-priced Buck knives, it is pretty decent and gets the job done.

Specifications
Blade Length:4.5
Blade Point: Drop point
Blade Material: 5Cr15MoV stainless steel blade
Handle Material: TacHide Onlay
Sheath: Nylon
Why It Stands Out
Ready to use out of the box. It comes well sharpened and ready to use. It can be used for various hunting functions, including field dressing, skinning, and slicing meat.
Easy storage and carry. It comes with a nylon sheath. The sheath is easy to open and close with one hand. Even without the nylon sheath, it folds into a small size that you can carry in your hand or pocket.
Easy and comfortable to handle. This knife is lightweight and offers an excellent grip. It has TacHide Onlay grips and large finger grooves that provide non-slip hold even in wet conditions. Therefore, it is suitable for hunters who hunt in colder and wet weather.
GERBER Freeman Guide is our favorite folding hunting knife for its small size, easy carry, and excellent performance. It is best suited for small game. We found it a great option if you plan a camping trip that will involve catching small game or fish for your meals. It is a good hunting knife as well as a survival knife.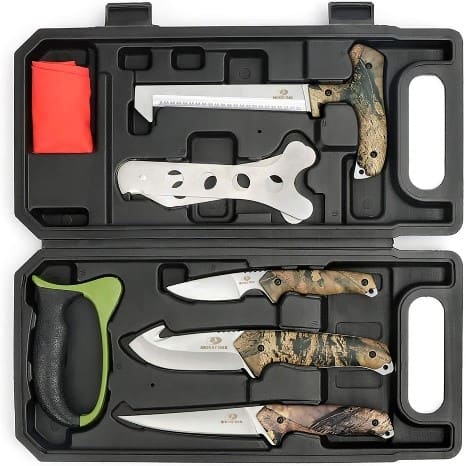 Why It Stands Out
Contains essential hunting knives. The MOSSY OAK Hunting Field Dressing Kit is an 8-piece hunting knife set that constitutes of the following:
8-3/4″ Wood/Bone Saw
Steel Stick/Brisket Spreader
7.5″ Caping Knife
9.5″ Gut Hook Skinner
10″ Boning Knife
Tungsten Carbide V-Sharpener
Red Game Cleaning Gloves
Each of the pieces is designed to deliver optimal functionality. The bone saw has a cleverly-designed blunt hooked tip to ensure you do not puncture the organs when field dressing. It also has a T-handle for easy handling and control. The capping knife has a fine point that is most suited for smaller game. The gut hook knife doubles up as a skinner and can make easy and efficient cuts.
High-quality design. All the blades are made with 3CR13 stainless steel. The Mossy oak camouflage handles have a full tang design for easy control.
Convenient storage and transportation. The various pieces come packaged in an easy-to-carry, sturdy black suitcase. The compact casing has dedicated latches for each item so that you do not have to worry about pieces becoming loose or falling out when you open it. The top of the casing can also be used as a cutting board.
We like that the Mossy oak field dressing kit is quite affordable. The pieces herein are enough to ensure that you process your game from the field to the freezer. All the knives work well and are adequately sharp.
Besides, the sharpener ensures you have a quick and convenient tool to sharpen your knives when needed. The only challenge we encountered was using the bone saw on a flat surface due to the protruding hooked tip.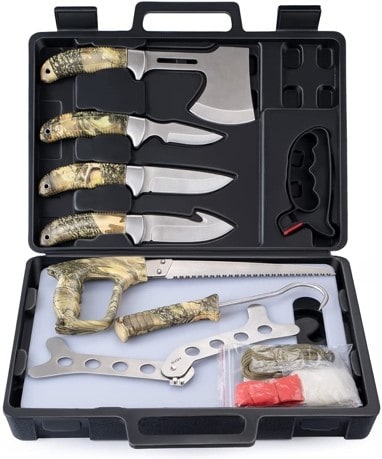 Complete hunting kit. Like the Mossy Oak field dressing kit, the GVDV Hunting Knife Set contains most of the essential hunting knives. However, this one has even more items, including:
0″x3.8″ Axe
8.8″x1.0″ Caping Knife
9.6″x1.2″ Butcher Knife
9.3″x1.3″ Gut-hook knife
5.4″x2.8″x0.7″ Carbide Sharpener
13.5″x1.3″ Wood/Bone Saw
9.6″x2.0″ Fishing Hook
7.1″x2.8″ Ribcage Spreader
9.8″x13.8″x1.4″ Cutting Board
Game Cleaning Gloves
Nylon Rope
Cable Ties
Colored Ribbon
15.0″x10.6″x2.7″ Carry Case
High quality. All the blades are made of 5Cr15MoV high carbon stainless steel. They are heat-treated for excellent hardness, durability, rust and corrosion resistance, and edge retention. The blades are sharp out of the box and are easy to sharpen with the sharpener that comes with the set.
Ergonomic handling. All the handles are economically designed to offer comfort and control from any angle. They have grooved surfaces for a firm, non-slip grip. They have a camouflage color for easy visibility, even in dimly-lit conditions.
Versatile. Aside from hunting and field dressing, this set can also be used for other purposes. For instance, the T-handle and one-hand ax can be used for cutting wood. It also has a high-quality fishing hook that can be used to catch large fish.
If you're looking for the ideal gift for the person in your life that loves to hunt, this set is a great option. It contains the essentials and comes packaged beautifully in a sturdy carry case. Like the Mossy Oak set, it is affordably priced and delivers great value for the money.
Buying Guide: Factors to Consider When Choosing Hunting Knives
Below are key factors to consider when deciding on the best hunting knives for you.
Type of Hunting Knife
They are different types of hunting knives depending on the specific function they perform. While some have a specialized design to suit their specific function, others are designed to be multi-functional. Below is an overview of the most essential hunting knives.
Gutting knife. It is used to open up an animal's gut without damaging the organs. It usually has a hook that makes the initial insertion on the skin and tears it along.
Bowie knife. This is a classic hunting knife designed by James Bowie, hence its name. It stands out for its bone handle and a fixed blade with a raised tip. It is mostly used for gutting game.
Dagger. The hunting dagger has its history in medieval times. It is used to kill game, particularly deer and boar, by piercing the heart without damaging the rest of the organs.
Buck knife. It is a multipurpose knife used for various hunting tasks, including cutting, boning, and skinning.
Skinning knife. Also known as a skinner. As the name suggests, it separates the skin from the flesh without puncturing either. It stands out for its thin and sharp blade with a pointed tip.
Boning knife. It's designed to separate the flesh from the bone. It is thick, stiff, and has a short blade.
Bone saw. It is a serrated knife that is used to cut through the bones. Bone saws are available in different sizes and serration patterns to suit the size of your game.
Butchering knife. It is mainly used to cut up meat either for cooking or storage.
Since hunting involves a range of tasks, you need various hunting knives at any one point. While you could buy each one separately, the best option would be to buy a set. Generally, sets are cheaper and come in convenient packaging for storage and transportation.
Design
Hunting knives either have a fixed blade design or a foldable design. Each presents pros and cons when performing specific hunting tasks.
Fixed blade hunting knives are usually stronger and more durable as they have fewer points of weakness. They are also easy to clean as you do not have to worry about dirt hiding in the moving parts.
On the other hand, folding knives are easier to carry as they easily fold into a small size that fits your pocket. Some come with multiple blades that enable you to switch seamlessly for different tasks. However, they are less sturdy and more prone to breaking apart. They also require much more detail when cleaning.
Blade Point
There are five main types of knife blade points in hunting knives, and they vary in functionality:
A clip point blade is the most common because it can penetrate easily and make fine cuts. It is characterized by a clipped front section with concave or straight cutting areas.
A drop point blade is easy to control and makes bigger cuts. This type of knife blade is mostly found in multipurpose hunting knives. It is also common in field dressing knives for small game. The blade has a convex spine with a curve starting from the handle to the tip.
A spear point knife blade can be sharp on either one or both sides, with the point symmetrically positioned along the center line of the knife. This point is strong and suitable for knives that involve thrusting, like dagger knives.
A spey point has an edge that is mostly flat but starts to curve towards the tip to form a sharp point. The blade has a short belly and broad tip to ensure precise cuts without accidental piercing.
The trailing point blade spine curves towards the front to form a tip that is slightly more elevated than the handle. This results in an oversized blade's belly, suitable for tasks such as slicing, filleting, and skinning.
Blade Material
The best material for hunting knives is steel. However, the grade and quality of the steel vary from one knife to another. Below is a look at the various steel grades and the impact on the performance and quality of your hunting knife.
S30v. One of the most premium types of steel. It offers exceptional corrosion and wear resistance and retains sharpness for a long time.
VG10. Also offers high wear and corrosion resistance.
154CM. Commonly used in small knives that have thin blades.
420HC. Most affordable type of steel. It has high corrosion and rust resistance, but it is not as sturdy as more premium qualities.
Blade Length
The suitable blade length mostly depends on the size of your game. The bigger the game, the longer the blade should be, and vice versa.
For the big game, consider a blade length of 6-inches and above. For a medium-sized game such as deer, go for a 4-5 inches blade length. Finally, smaller animals such as rabbits and squirrels go for 3 to 3.5 inches blade lengths. Remember that the specifications may vary according to your preference and the specific hunting task.
Handle Material
The options for handle materials are limitless, including hardwoods, synthetic materials, and metal.
Hardwoods such as cherry, walnut, and birch give you a nice timeless look and a comfortable feel, but they require specialized care to prevent the handle from breaking or rotting.
Metals provide sturdy handling but may make the knife heavy. Synthetic materials such as nylon-reinforced fiberglass are great because they are easy to maintain, affordable, and offer ergonomic handling.
Budget
You can expect to pay from $20 to $200 and above for a hunting knife. A wider range of knives is available at lower price points but fewer options at prices above $200.
High-end hunting knives have a premium quality whose construction uses the best steel blades and rare handle materials. They also come with high-quality sheaths and are backed by a warranty.
Mid-range hunting knives sell at around $100-$200 and deliver better quality and performance at a relatively budget-friendly price. You can expect good quality steel that is durable and retains its edge well. They also come with a sheath backed by a satisfaction guarantee or warranty.
Low range hunting knives usually cost $100. While they may not have a premium quality build, most get the job done pretty well. However, they are less durable and more prone to rusting and corrosion due to lower quality steel, such as high carbon steel. With proper use and maintenance, they can serve you well for some time.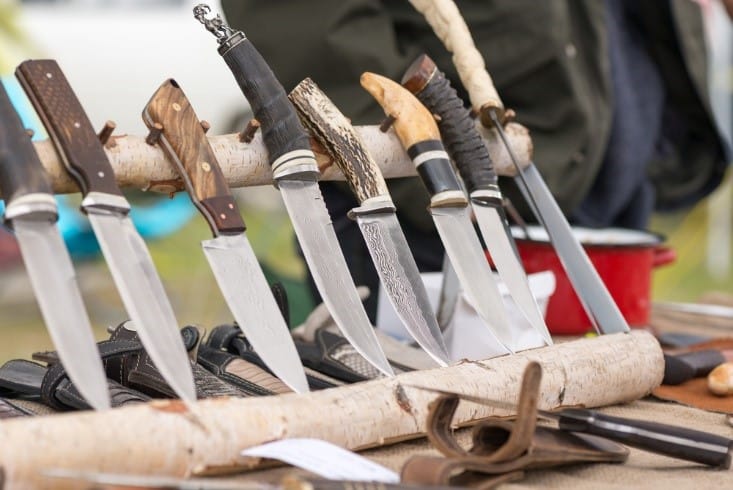 Conclusion
Our pick for the ultimate hunting knife is the Buck Knives 120 General Pro Fixed Blade Hunting Knife. It has an elegant, luxurious design with solid construction. If  you are willing to spend a bit more for a premium-quality, unique, handmade knife, go for the  Boker Arbolito Fixed Blade Knife
However, if you have a tight budget, the Buck Bucklite Max II is a better option. It features a gut hook for 2-in-1 functioning. For a foldable knife, go for the Gerber Freeman Guide Folding Knife. It is sharp out of the box, offers a comfortable grip, and folds into a small and compact size for easy carry.
If you are truly invested in hunting, you will need a set of hunting knives to ensure you have all the necessary tools whether you are hunting small or big game. We recommend the Mossy Oak Hunting Field Dressing Set and GVDV Hunting Knife Set.
They are among the best quality yet affordable hunting knife sets on the market. They contain essential knives and additional hunting tools to make your hunting trip hassle-free and successful.