The Best Small Bathtubs We Found for Tiny Houses (At the Cheapest Price)
Just because you live in a tiny house doesn't mean you can't enjoy a soak in the tub.
Whether you're taking a bath in a tub to get clean or to relax, there are small bathtubs for a tiny house that will let you do both.
What are the best bathtubs for tiny houses?
The best bathtub for your tiny house will mostly depend on how much space you have available for your tub. Some of the best tubs for tiny homes are:
Kohler Rectangular Tub
Vanity Art Slipper Tub
Woodbridge Oval Tub
Vanity Art Rectangular Tub
American Standard Cambridge Porcelain Alcove Bathtub
FerdY Bali Freestanding Bathtub
Don't bother searching the internet for "small bathtubs for a tiny house," because we have a roundup of the best small bathtubs for a tiny house, all at affordable prices.
Form and function blend in these tubs that add style to your tiny house bathroom while making the most of a small amount of space.
They're also perfect for small apartments or second bathrooms in attic lofts.
How Big Is a Tiny House Bathroom?
Bathrooms in tiny houses differ in size, but they generally cover 25 to 50 square feet.
That's not a lot of room, so every inch of the bathroom has to perform.
Small bathtubs for a tiny house must fit in small spaces while they must also be functional for showers or soaking.
Another shower option is to add an outdoor shower with a shower curtain.
An outdoor shower is a smart addition for tiny homes near beaches and lakes so owners of tiny homes can rinse off sand outside before entering the tiny house.
Tiny house bathroom ideas can make the most of open space to make a tiny bathroom into a tiny spa.
The Best Bathtubs for Tiny House Bathrooms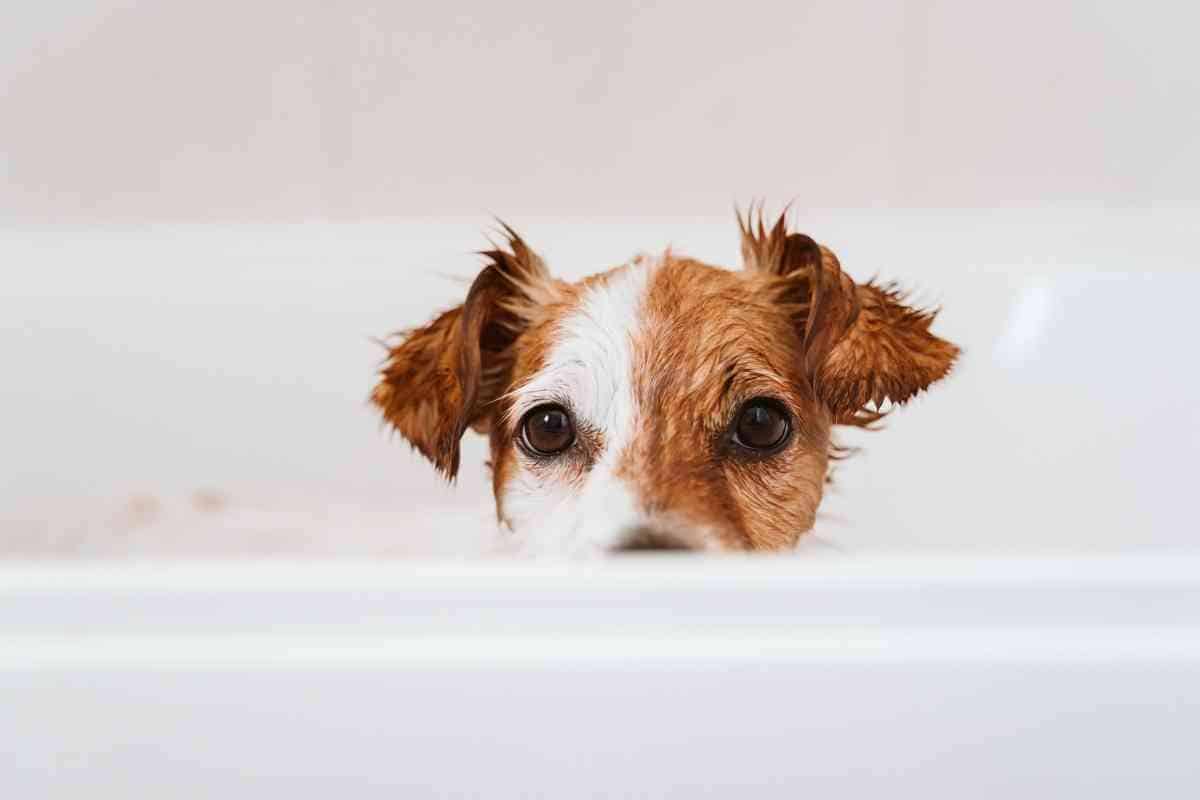 Finding the best tiny bathtubs at the best prices for small spaces isn't easy.
These tiny tubs hold gallons of water but take up far less space than a standard-sized tub.
We curated this collection of tiny tubs with price in mind to provide the best value for tiny house living.
Kohler Rectangular Tub
A 60-inch tub with a 19-inch step-over height, this tub will fit nicely in a small bathroom alcove.
Even with the 19-inch step-in height, it has a soaking depth of 21 inches.
Its shape lends itself to the placement of glass doors as well as a shower curtain.
Key features of this tiny tub include a slotted overflow for deep soaking, molded lumbar support for comfort, and acrylic construction.
If you're someone who loves to soak for long periods, the lumbar support will be your favorite feature.
Something to keep in mind with this tub is that it requires a K-7271 or K-7272 Clearflo slotted overflow bath drain, which the seller supplies separately.
Pros
An Internal flange prevents water from getting behind the bathtub
Molded lumbar support for comfortable soaking
Easy to step into
Cons
One reviewer complained this tub doesn't sit completely flush into an alcove
Vanity Art Slipper Tub
This tiny tub adds beauty and elegance to any tiny bathroom.
Measuring just 55 inches by 28 inches, this is one of the smallest mini tubs we reviewed.
The water capacity with this Vanity Art slipper tub is only 47 gallons, less than others on our list.
It is 29 inches deep, which requires a big step in, so a small child or senior adult might need help.
This tiny tub is excellent for those who don't mind the big first step, love to soak, and are watching their small house construction budget.
You wouldn't realize how affordable this tub is at first glance since it's luxurious.
Pros
Affordable price
It works well with any modern or other bathroom design
Glossy white acrylic finish
Cons
Reviewers said this mini tub design is difficult to install
Woodbridge Oval Tub
If you need a small tub but have more open space available, consider this 67-inch tub from Woodbridge.
Its oval freestanding shape offers style as well as functionality.
People love that there are several options for the color of the hardware on the tub.
You can choose from elegant options like brushed gold or nickel, matte black, chrome, and oil-rubbed bronze.
At 22 4/5 inches deep, this tub is easier to step into and long enough for stretching out.
Tiny house and small house approved, this is a tub that, though more prominent than other options, still fits into a small space.
It's an ideal bathtub in smaller homes with taller individuals.
Pros
Holds 60 gallons of water
Sloping sides fit the contours of the body, making for a relaxing soak
Acrylic construction is easy to clean
Cons
Some reviewers report that the tub came damaged during shipping
Vanity Art Rectangular Tub
A freestanding soaking tub, this acrylic option will also fit snugly into an alcove of a tiny house or small bathroom.
The water capacity with this Vanity Art tub is 48 gallons which should be more than enough.
Non-slip and easy to clean, this low-maintenance tub has dimensions – 59 inches by 30 inches – to make the most of available space.
Its sleek looks add immense style to tiny house bathrooms.
While the tub looks stunning and maximizes your space, you'll need to think of storage spaces for your soap and other bathing necessities.
Pros
Acrylic durability and easy care
Affordable price
Holds heat for long, warm soaks
Cons
It may not be suitable for larger individuals
Woodbridge Freestanding Contemporary Soaking Tub
Woodbridge has the reputation for producing stunning bathtubs.
This Contemporary soaking tub features an oval shape and a non-slip design.
They craft this freestanding tub with the highest quality acrylic and then reinforce it with resin for longevity.
The water capacity with this Woodbridge tub is 55 gallons, and the dimensions are 54 x 29 x 29 inches.
One of the main attractions of this tub is that there are several color options.
You can choose from brushed nickel, gold, chrome, matte black, or oil-rubbed bronze.
Pros
Several finish options
Non-slip design for safety
Stain and scratch-resistant
Cons
Some reviewers report that the tub cracked after a few uses
American Standard Cambridge Porcelain Alcove Bathtub
If you're looking for a more traditional alcove tub for your tiny bathroom, this American Standard Cambridge porcelain tub is a good option.
This rectangle tub will fit seamlessly into your bathroom while maximizing the space. It has room for placing shampoo and other bathing necessities.
The tub can hold 60 gallons of water and has dimensions of 60 x 35 x 21.5 inches.
It comes with a non-porous yet glossy finish that makes it exceptionally easy to clean and resistant to scratches and damage.
They use Americast backing to insulate the tub properly.
This allows your bath water to stay warmer for longer.
You'll receive padded carrying bars and a leveling grid to make installation easy.
Pros
Excellent heat retention
Larger water capacity than other small tubs
Padded carrying bars and leveling grid come with a purchase
Cons
The finish on the tub may not be as strong as other options
FerdY Bali Freestanding Bathtub
For an elegant yet straightforward small bathtub, the FerdY Bali freestanding bathtub needs to be one that you consider.
This tub comes with a brushed nickel drain and is oval-shaped. The dimensions of this freestanding oval tub are 55.12 x 27.95 x 22.83 inches with a 15-inch soaking depth.
The brand uses 100% white acrylic and reinforced fiberglass to make the tub as sturdy as possible.
All the products at FerdY are cUPC certified and use non-toxic materials.
Every purchase provides you with a step-by-step guide on how to properly install the tub.
Pros
15-inch soaking depth
cUPC certified
It has reinforced fiberglass for strength
Cons
There is only one drain finish option
Tiny House Bathroom Design FAQs
You may still have questions about tiny house bathrooms and design.
These frequently asked questions and their answers may give you more insight.
Does a Tiny House Have to Have a Bathroom?
While a bathroom may feel like a must, a tiny house does not have to have a bathroom.
Some homeowners see a bathroom indoors as wasted space. You can always create an outdoor bathroom to save space within your tiny home.
Why Are Acrylic Tubs Good Options for Tiny Homes?
Acrylic tubs are durable, lightweight, affordable, and easy to clean, making them great options for tiny house owners.
Acrylic tubs reinforced with fiberglass can take many shapes and styles – rectangular, oval, slipper, or even that of an old-fashioned clawfoot tub which allows you to customize your space.
What Fixtures Should a Tiny House Bathroom Include?
Fixtures you should consider when looking for inspiration include tiny bathtubs, counter space, bathroom sinks, vanities, and composting toilets.
Before designing your tiny house bathroom, pare down your toiletries and decide how much of a tiny house bathroom you want.
Once you know how much storage space you need, and the fixtures in your tiny house bathroom layout, you can decide on other questions such as the type of faucet your tiny house bathtub will have.
What Can Make Stepping into a Tiny Tub Easier?
For those who don't want a big step into a tiny tub, there are small tub options that are shallower and don't require a big step to enter.
Some tiny house owners design a counter around their tiny tub so a bather can sit and then swing their legs over for easier entry.
Can a Tiny House have a Water Heater?
If you're adding a mini tub to your tiny house, you'll want to have hot water.
Water heaters in tiny houses work similarly to those in standard-sized homes.
A water-heating system will take up valuable space, so use the smallest option available.
A plus of acrylic tubs is that they can hold the heat of the water, making for a long, warm soak.
Living Large
With floor space at a premium, a tiny house bathroom needs a tiny tub. These options, all available on Amazon, provide a bathing experience that's large on luxury while taking up a tiny bit of floor space.
Tiny house bathroom layouts are important, but so are tiny house bathroom budgets. The suppliers have priced each of these small bathtub options for under $1,000 to make the most of your funds.
They may be small, but each is long in value. You'll enjoy using any of these tiny house bathtubs to get clean or relax after a long day.