If you love the small house trend, you may be wondering how you can have your own tiny home!
Believe it or not, you can get a tiny house without selling your home base.
Instead, it can be an addition to your property for a place to get away and relax.
You also don't need to call in a professional construction team to make this happen.
If you feel like you're handy, you can buy a DIY tiny home kit and build it on your own, or with the help of some handy friends.
Another fact that surprises many is that you can acquire one of the fun kits for under $5,000. 
What are the best tiny house kits under $5,000?
There are a ton of different tiny house kit options, even with a slim $5,000 budget. Ultimately, the best of these depends on your plans for your tiny house, but one of the following tiny house kits is sure to meet your needs:
Writers Heaven
Sugar Shack Cabin
Pond House Cabin
Backyard Retreat
Arched Cabin
This list is a roundup and review of the nine best tiny house kits under $5,000.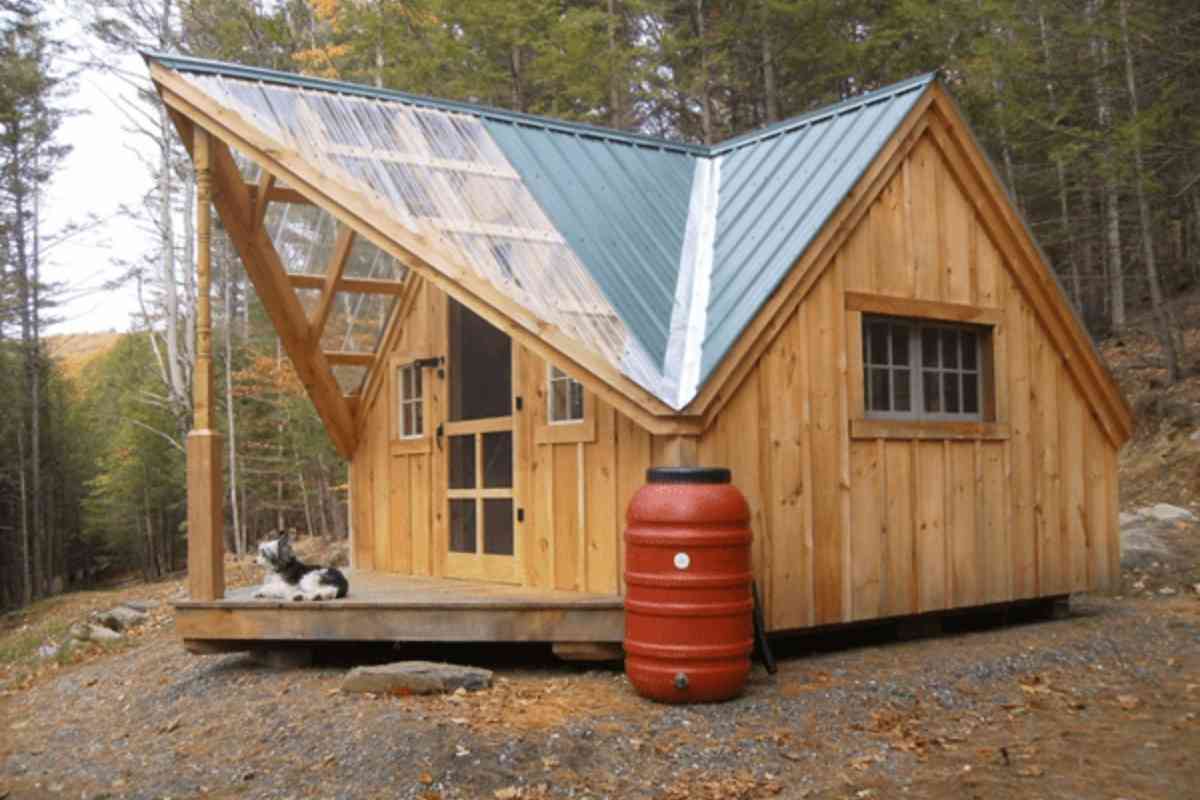 This tiny home is super unique and stylish.
It is the perfect spot for a writer or painter to escape from the hustle and bustle and find some peace where they can create.
There is a translucent roof panel and plenty of well-sized windows, so you get loads of sunlight to inspire you.
The instructions for building it are clear and concise, and it takes around a week of full workdays with two people to get it done.
But if you do it by yourself it can take closer to three or four weeks to construct.
Features
Gable roof style
Metal roofing
Built-in daybed
Built-in Desk30
Built-in wooden dowel rack
Hand-blown artisan glass roundel
Flying V covered porch
160 square ft
10 feet high
Pros
Appealing aesthetic
Clear instructions
Outdoor porch
Built-in features for writers/artists
Plenty of sunlight
Cons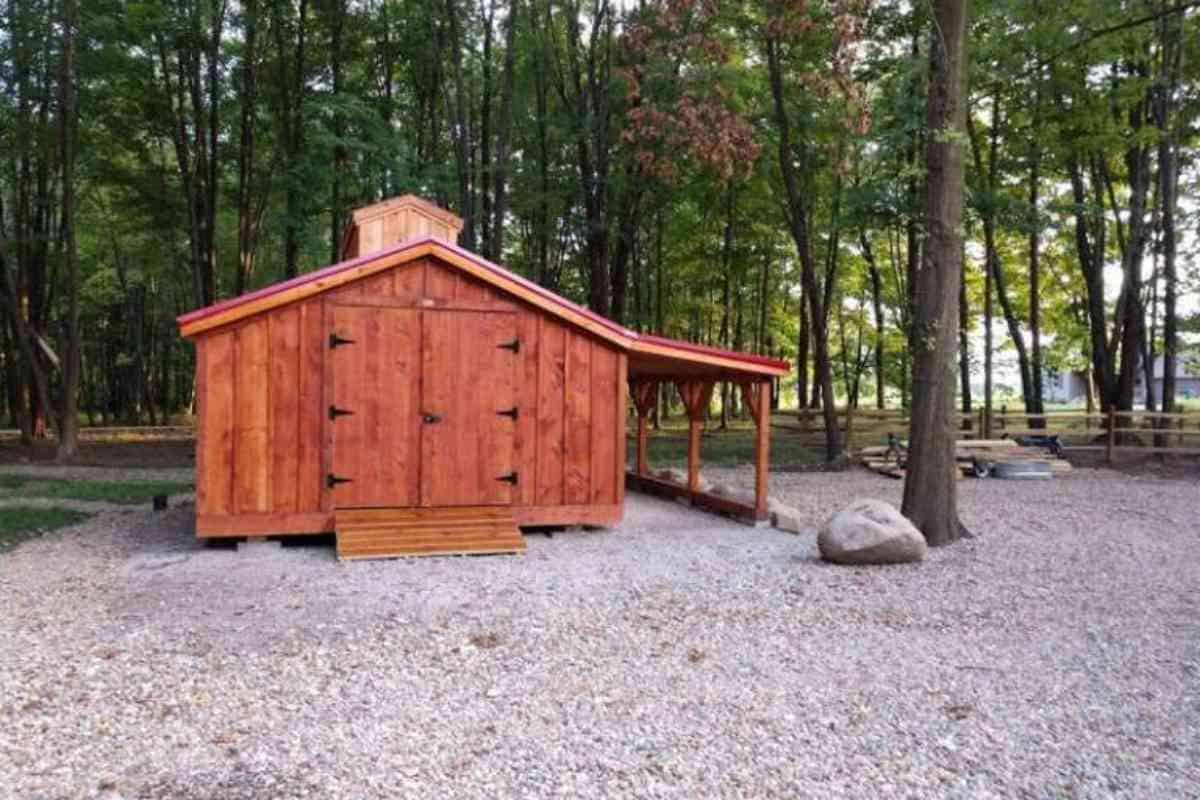 A Sugar Shack cabin is often for boiling maple syrup and other activities that people don't want to do in their homes.
his could be smoking meat or curing something, which would cause an intense smell in your main home.
The Sugar Shack kit has a classic New England design that is endearing and attractive on any property.
If you want a beautiful cabin with natural wood and a classic design, you can't go wrong with this Sugar Shack.
It can take up to 48 hours of work to build, but most owners feel it wasn't difficult to build and came together quicker than expected.
But if you have help, you can get it done in just a few days.
Features
Gable roof style
Metal roofing
Pine double doors
Pressure-treated ramp
Hinged barn sash window
Wood louvered vent
80 sq ft
12 feet tall
Pros
Sturdy structure for storage and activities
Heavy-duty ramp for rolling in large objects
Attractive raw pine look
Spacious interior
Built-in storage boxes
Cons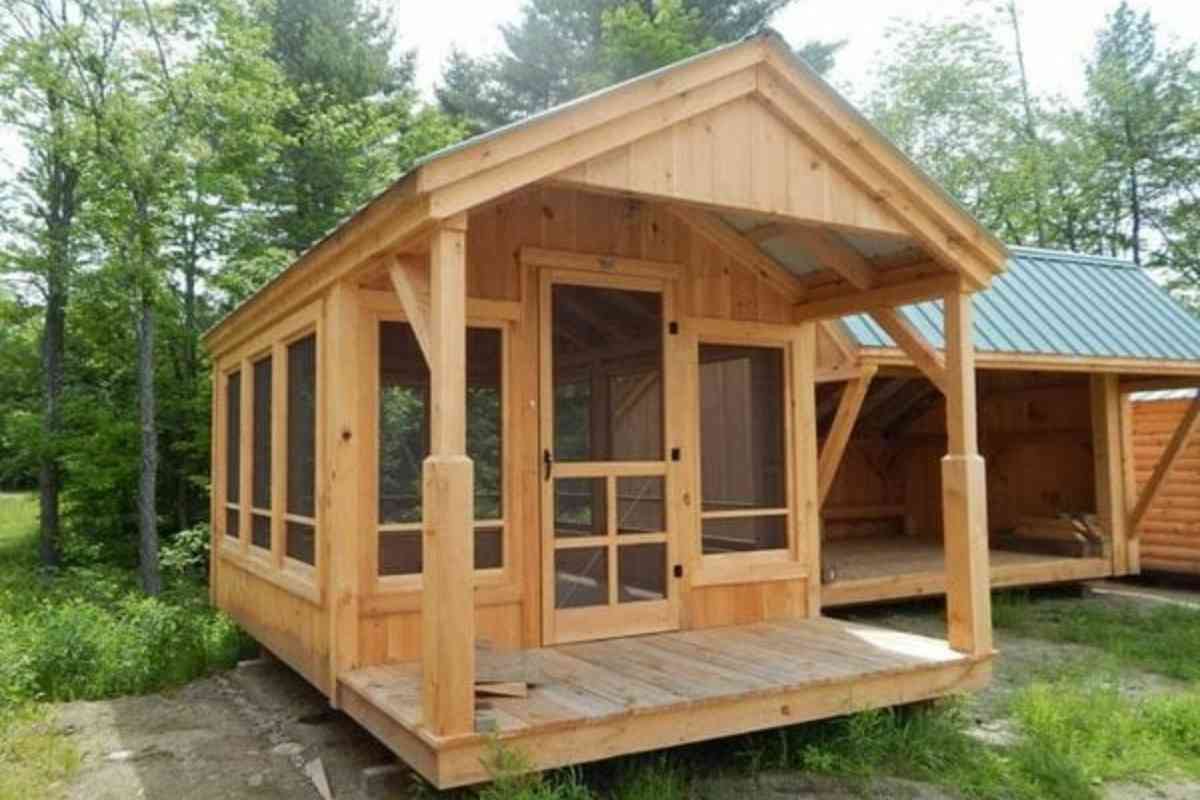 If you want a tiny home that doesn't look like a shed, but truly looks like a tiny home, you'll love the Pond House Cabin tiny house kit.
There is a precious porch, and the design is flexible.
While it can be used as storage, the house is so pretty you'll want to hang out in it.
Many people paint this cabin to make it even more charming, and it makes for a wonderful getaway spot for people that need a break from their main home.
The small porch out front is begging for a rustic rocking chair and a tired puppy.
Features
Porch area
Gable roof style
Metal roofing
Hinged barn sash window
Fixed barn sash window
Wood louvered vent
140 square feet
10 feet tall
Pros
Short build time (20 hours)
Stylish and classic look
Easy to paint and customize for your needs
Super affordable (under $4,000)
Ideal for hobbies and relaxation
Porch with railing for safety and aesthetics
Lots of sunlight
Cons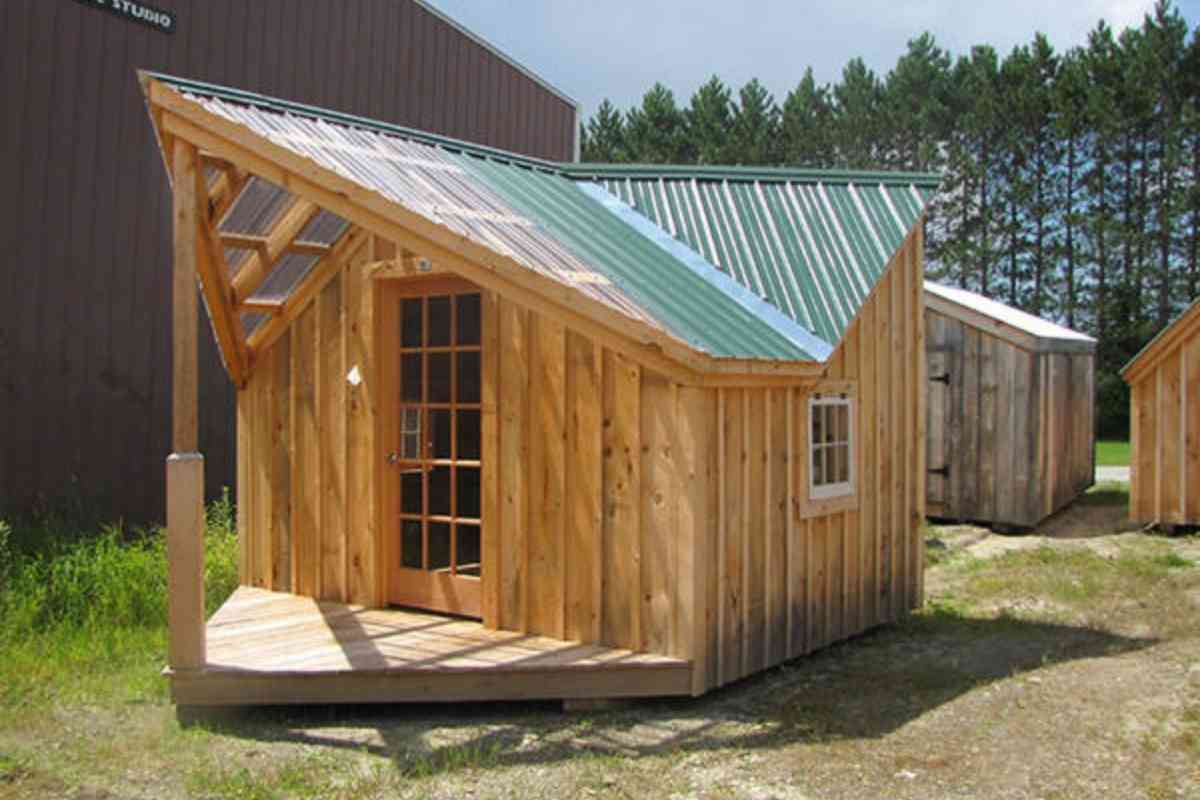 This small Backyard Retreat home has a natural feel as if you chopped the wood yourself.
It has a v-shaped porch, which is popular in tiny homes because it's a space saver.
There are plenty of windows so it lets in lots of sun.
This little cabin is ideal for someone that wants to 'camp' sans the tent.
You can roast marshmallows just outside the cabin and then retire to this quaint little structure and get away from modern life.
Features
Plywood floor decking
Gable roof style
Roof shingles
Hinged barn sash window
Pine single door
V-shaped porch
156 square feet
12 feet high
Pros
Spacious porch
Spacious interior
Rustic and charming aesthetic
Option for shingled roof
Unique design
Functional for storage, hobbies, or camping
Cons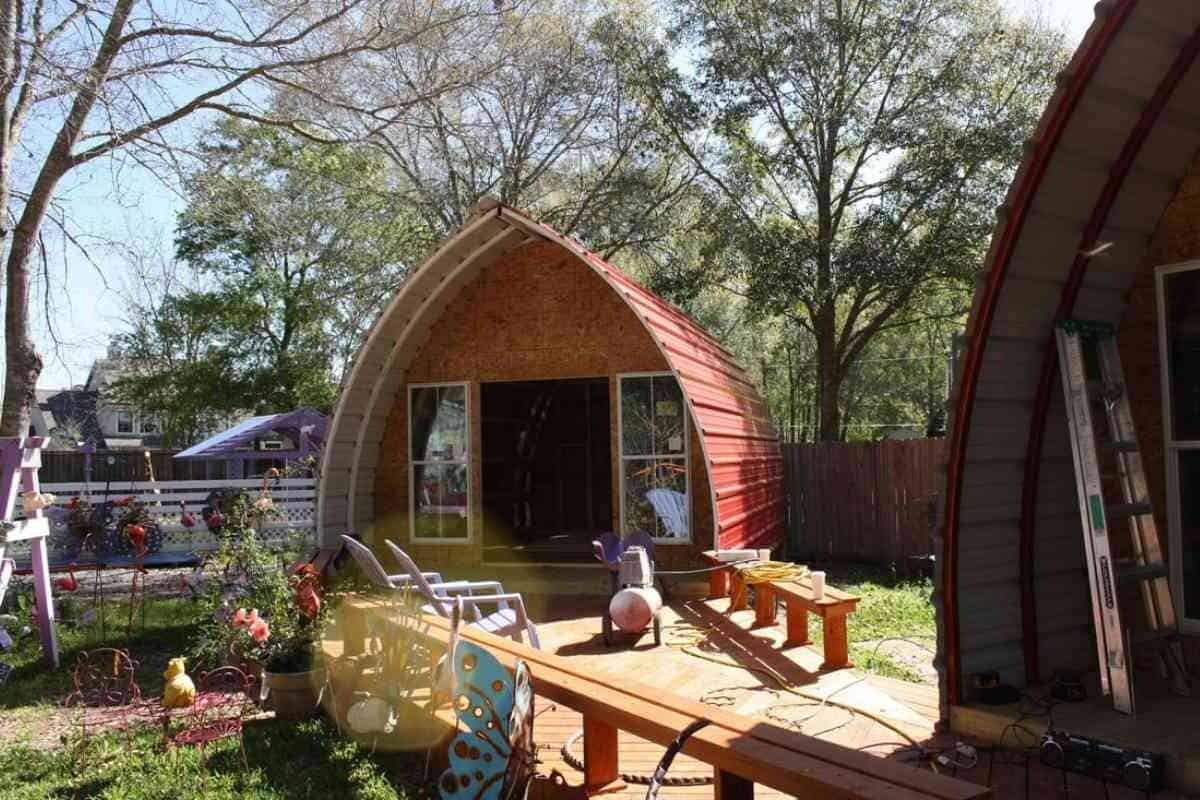 If you want something different, you can opt for one of these Arched Cabins that can be super inexpensive.
The arched cabin design is easier to set up and more affordable due to the fewer materials needed for a stable structure.
If you want something that will be eye-catching and doesn't look like a boring, old shed, this is a great option.
While some people want the charming little cottage-esque tiny home, there are also more funky options.
Many people think the arched roof gives the building a soothing yet futuristic feel that makes for the perfect addition to your property.
The square footage of this small home is much larger than other tiny homes, which can be a win or a loss, depending on what you want.
Features
Array of sizes
Curved roof
Metal roofing
Small staircase with railings
Small rectangular porch
144 square feet,
10 feet tall
Pros
Super high ceilings
Size and color options
Very affordable
Spacious interior
Modern and unique design
Raised a foot or more off the ground
Cons
Large exterior compared to other tiny homes
Tiny House FAQs
If you have more questions, you can refer to the tiny house questions and answers below!
How much is a tiny house kit?
Tiny home kits come in a wide range of prices and quality, but you don't always get what you pay for.
Affordable kits as low as $2,000 can be incredibly sturdy and functional.
But some kits can cost tens of thousands of dollars and have the same quality as the ones on this list.
Can you build a tiny house for $5000?
Yes, as this list exemplifies, there are plenty of tiny home kits for under $5,000.
Many of these kits have add-on options that will cost more, but the basic frame kits will be under $5,000.
Some of the kits on this list cost as little as $3,100!
What is the smallest house you can legally build?
You must build tiny homes on at least 320 square feet of free space, and the house has to be a minimum of 120 square feet.
Where can I buy a tiny house kit?
Places like Home Depot and Lowe's sometimes have a limited selection of tiny home kits, but most people go through companies that specifically design tiny home kits.
You can usually order them online and have them delivered.
Conclusion
Whether you want small cottages for crafting, a cozy yoga studio, or an artist's getaway, there is a tiny home out there for you.
The most exciting part of choosing a tiny home is imagining all of the wonderful things you can use it for, even if that's just simple storage.
People use them as a pool house or a crafting studio, so let your imagination run wild with these tiny home kits for under $5,000.