The Two Best Wood Stoves for Cooking AND Heating
Do you want to cook your best recipes while heating up the cabin or home? If so, then a wood-burning cookstove is an excellent option. With a wood stove made for cooking and heating, you can have all that a person needs: food and warmth.
There's nothing like cooking your favorite food on a wood-burning stove. It's the closest thing to a campfire you can find in your kitchen, and it smells so good. But not all wood stoves are created equal. That's why I spent a week visiting three different sellers and trying out several friend's stoves before choosing the best wood-burning cookstoves for my homes.
I this article, I will recommend the two best wood stoves for cooking and heating – one is perfect for general use and the other for smaller cabins. The best part is that they're both reasonable affordable for that they offer. But first, let's talk about what defines a good woodstove.
What Makes a Good Wood-burning Cookstove?
A good wood-burning cookstove needs to fulfill several criteria. Some are a lot more important than others, but they are all worth noting.
Quality and Durability
This is the most important thing to consider when looking for a wood stove. You want something that will last and not break, so you're spending your money wisely. The best wood stoves are made out of thick cast iron or steel, which guarantees durability.
A good-quality cookstove should be able to survive decades of use with very little maintenance. This means it will have good build quality – including thick metal panels or cast iron that is less likely to crack over time like thinner metals would do.
Efficiency
A good cookstove will be efficient in its fuel usage, burning less wood for the same heat output compared to other stoves. Don't look past how good a stove is at conserving fuel – it can make a huge difference in the long run. Even if the price tag is a little higher.
Safety
It's important to make sure that your stove doesn't pose a fire hazard. So look for models with safety features such as adjustable dampers, automatic ignition systems (in case you've got an emergency), durable construction materials, heavy-duty steel doors/flue pipes, and easy-to-read controls.
It's also important that the stove does not expose you to a high risk of getting burned. Many stoves are made from cast iron which is a great material. It is tough and retains heat long after the fire has gone out. But it also gets very, very hot to the touch and can burn you (or your children) very badly in seconds. This is why many wood stoves are made from steel or from cast iron in steel encasing.
Easy to Use
You want a wood stove that is easy to use. This includes stoves with simple controls and settings, or better yet: automation features that will do most of the boring part of the work for you.
What's particularly important is that it's easy to start the fire and maintain the desired temperature. Most modern wood cook stoves have an oven thermometer to help you keep the oven at a specific temperature. While this is not absolutely essential, it is a great help.
Many modern stoves also have thermostatic control that automatically adjusts the air intake to ensure efficient operation. The thermostat control helps with maintaining your oven temperature and heating the house. It will also ensure a nice temperature throughout the night. Some people prefer the old-style stoves with manual controls, but I love being able to set the temperature and let my stove do the work.
What Are Your Heating Needs?
How large is your home or cabin? How many square feet do you need to heat?
It's important that your stove's heat output is proportional to the size of your home or cabin. Get a stove that best suits your needs.
A large home will need a stove with a high heat output to keep you warm in the coldest of winters. If your stove is not able to heat the entire home, you will have to supplement more expensive and less environmentally friendly heating, such as electricity. You may also be tempted to stuff the stove with too much wood in an attempt to heat up the home faster, but that can lead to overheating and damage to your stove.
A small cabin will need a stove with lower output. It may be tempting to get a big, powerful gas stove and just dial down the air intake for slower combustion, but this is not an ideal solution. Every wood stove is built for a specific heat output range. If you keep a large stove in a small cabin, you are likely to use more wood than necessary, and your home will be too hot for comfort. Or you use too little wood, resulting in an inefficient burn, which leads to creosote buildup in your chimney.
A wood stove's heat output is measured by BTUs (British Thermal Units) per hour. For your house to stay warm through the winter months you need a stove that can produce an adequate amount relative to the size of your house. Read more about how to calculate BTUs for your house in this article.
What Are Your Cooking Needs?
Another important consideration is how much cooking space you need. Do you want a stove that can accommodate every conceivable need, or are you content with something smaller?
If you will be cooking for a large family, you'll need a stove with a big cooking area and plenty of room in the oven. It's a good idea to consider your specific requirements when deciding which wood-burning cookstove will suit your needs.
Consider the type of cooking you are most interested in. Do you prefer one-pot meals over fancier fare with several ingredients and complicated steps? Do other people often come into your home unannounced around dinner time?
How about during the holidays? Is it important to have a stove with more than one oven space when cooking for large family gatherings and holiday guests?
Most standard household stoves have four burners with a 30" wide by 29" high by 24" deep (12.08 ft³) oven. With wood cookstoves, we don't have to count burners, as the entire cooking area gets hot, but it still matters how large that area is and how many pots you can use at the same time.
The Overall Best Woodburning Cookstove: Pioneer Princess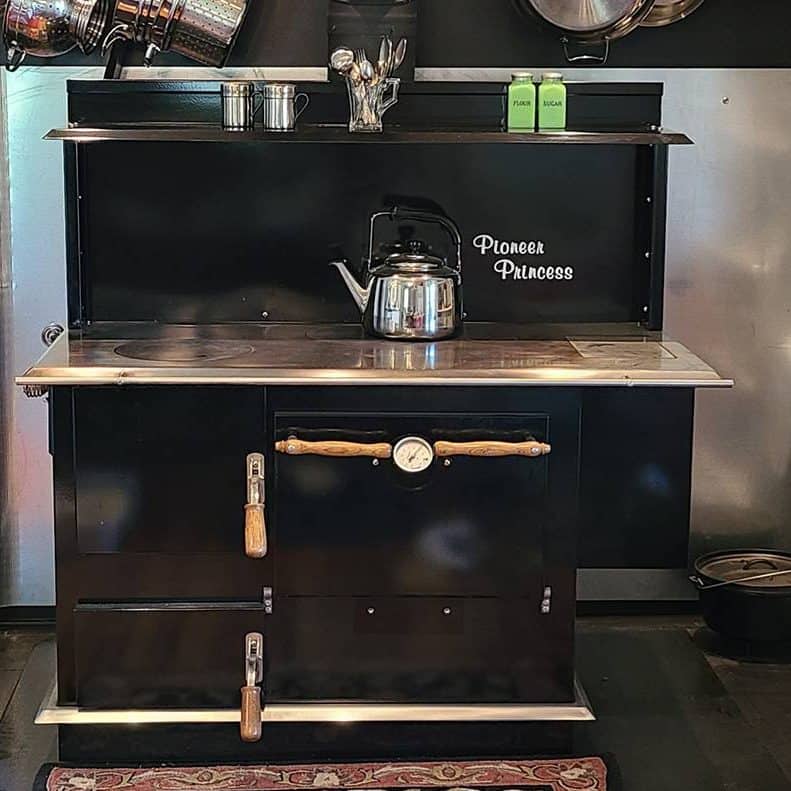 While there is no perfect wood stove that will fit every need, my absolute favorite is the Pioneer Princess. Cooking with wood has never been easier or more fun with this stove.
The Pioneer Princess stove is handmade by Amish craftsmen and features a thermostat control so you'll have more even heat and prevent overheating. This is a wonderfully well-built, versatile stove. When you're off the grid, life can be hard without an efficient oven to warm your bread and bake your pizzas. That's why the Pioneer Princess is such a great choice.
With 2000 sq ft of cooking space, this stove will keep your family fed, from breakfast to lunch. If you enjoy baking, this stove is also a great option. It has a roomy oven with space for lots of bread, pies, and cakes. And with a warming oven on top to keep it all warm until it's ready to be served. The Pioneer Princess also has a large firebox, which means you can put wood in before bedtime, and when you wake up in the morning, your house will still be warm and the stove is ready to cook breakfast.
The Pioneer Princess is available in two sizes, the larger of which has a water reservoir on the side. This way, you will always have hot water plus an additional 20% cooking space.
The Pioneer Princess is one of the best stoves I have ever used. It's very durable and well-built, and it heats up quickly and cooks efficiently. In my opinion, this is a great option for anyone who needs a quality stove that will last.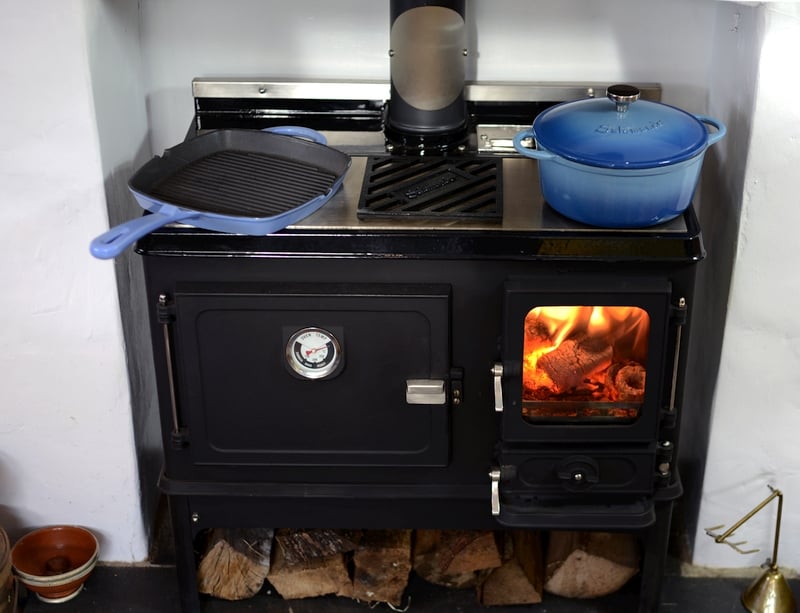 Not everybody needs a large wood stove if all they need to do is heat a small cabin and do a bit of cooking for one or two people. The best option for this lifestyle is the Salamander Small Range stove.
This stove is everything you need to stay warm and cozy throughout the winter. Built with the durable, reliable stainless steel and cast iron construction that Salamander is known for, it's a perfect match for your cabin. It's small yet powerful: best of all worlds.
The Salamander Small Range is also a great option for those who want to cook meals at home but need to save on their fuel usage as it uses much less fuel than the larger stoves. It is an economical choice when it comes to fuel consumption and reliability – not only will it keep you cozy, but it'll also help you save money and energy by using less firewood.
I have in a small cabin far out in the woods with only one bedroom, so I need something that can accommodate such a small space. The Salamander Small Range is perfect because it has a great heat output for its size. It also cooks well and will run for a long, long time on one cord of wood. Personally, I'm really happy with this stove.