Most yurts today come with a wide range of modern features and amenities. But do yurts have showers?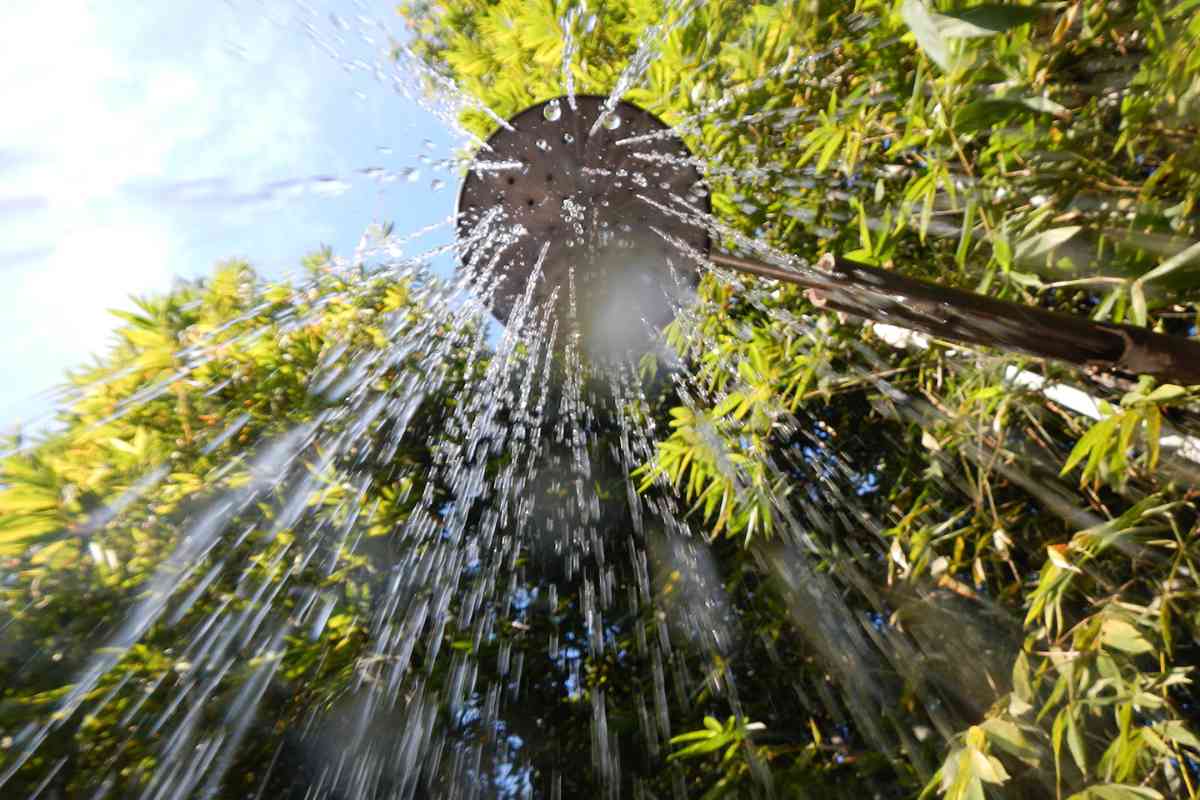 Do yurts have showers?
Yurts don't come with inbuilt showers. However, you can add a shower into the yurt if it has adequate space. You just need to install the plumbing for bringing in fresh water and taking out dirty water, install electricity, add shower privacy and then vent the shower area.
Yurts are semi-temporary living structures that resemble a large circular tents. They are easy to assemble and disassemble, and this explains why nomads have used them for hundreds of years as their preferred form of shelter.
But over the last couple of years, yurts have gained massive popularity across the globe as off-grid dwellings, rental properties, vacation homes as well as primary dwellings. The reason behind their growing popularity today is that they provide a cost-effective and environmentally friendly option to building a conventional house.
And unlike the older types, most yurts today come with modern features and amenities. For instance, they may have things like kitchens, among others. But, do yurts have showers?
Do Yurts Come With Showers?
Yurts don't come with showers attached to the frame. However, they come with full plumbing provisions, meaning you can add a shower inside the yurt. So, if your yurt is big enough, then you can add a separate shower inside.
How to Add a Shower to a Yurt
As we've mentioned above, yurts don't come with showers. But, you can add a shower to the yurt, as long as it is spacious enough. Here are the steps to follow when it comes to adding a shower to a yurt.
Review Local Building Codes
Before you proceed to install a shower in your yurt, it will be highly advisable to review the local building codes first. In some areas, adding plumbing to a yurt is prohibited. And if you proceed to do so, you may end up facing legal challenges.
And in case plumbing is allowed, you may be required to obtain applicable permits before you can proceed. A local builder or contractor can help you obtain the necessary permits needed for this type of project.
Install Plumbing
Once you've acquired the necessary permits, you can now commence the work. And, the first step will be to add the necessary plumbing for the shower.
For the plumbing works, you will need to install pipes for bringing in fresh water for the shower as well as pipes for taking dirty water out of the yurt.
The pipes for bringing in fresh water for the shower will be connected to a private borehole, public water supply or external water storage like rainwater. It all depends on the water supply that you have on-site.
As for the wastewater pipes, they will run from the shower and dispose of the dirty water to a septic tank or public sewage line. Again, this will depend on the amenities that you have at your location.
It will be highly advisable to hire a professional, licensed plumber for this job, especially if you are not a skilled plumber.
While there are several videos out there detailing how you can do it yourself, there's a high chance you will end up making some mistakes. And, such mistakes can prove to be extremely costly.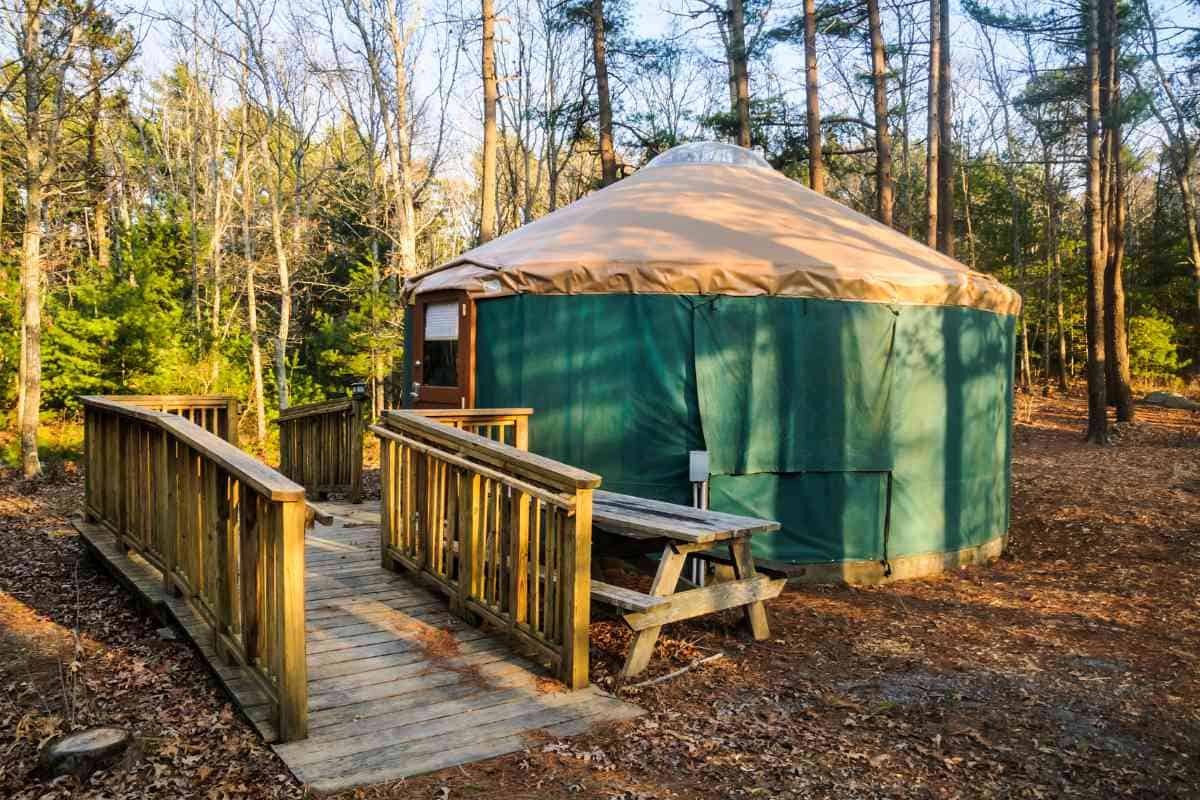 Install Electricity
If you intend to have lights, an electric water heater or ventilation fans around the shower place, then you will have to install electricity. However, this will depend on the availability of an electrical hook-up.
If there's an electrical hook-up in your location, then you can proceed with the installation. The cables will run under the yurt's floor, thus helping to eliminate any dangers.
In case you are living off-the-grid and an electrical hook-up is not available at your site, then you can consider other alternatives like solar power. There are great off-grid solar systems out there that you can purchase for your yurt.
Again, it's recommended to hire a professional electrician to do the electrical installation, if you are not an experienced electrician.
While hiring a certified electrician will cost you some money, you can rest easy knowing that the job will be done right, the first time.
Having witnessed first-hand the damage that poorly-done electrical wiring can do, I strongly recommend hiring a professional electrician for this work. But if you insist on doing the work yourself, you should strictly adhere to the manufacturer's installation requirements and specifications.
Add Shower Privacy
As much as you will be spending the majority of the time in your yurt by yourself, you just never know when a family member or a friend may decide to pass by. In light of this, it will be highly advisable to add some level of privacy in the shower area.
The most cost-effective option is building a wall frame that will section off the shower area. You will need at least two wall frames to section off that area. Alternatively, you can simply use a shower curtain, if you can't afford to install solid wall frames. As for the top area, you have the option of leaving it open or covering it.
Add Ventilation
Once you incorporate a shower into your yurt, there's a high chance there will be condensation inside the yurt.
And this moisture can cause considerable damage to your valuables. For instance, it may lead to the growth of mildew and mold.
To this end, you need to vent the shower area to ensure adequate ventilation. And, there are several ways of doing this. Adding down-flow vents will be the easiest and cheapest option. Also, remember to keep your windows open throughout the day to ensure adequate airflow and ventilation.
Key Takeaways
Yurts don't come with inbuilt showers
You can incorporate a shower into the yurt
Incorporating a shower into your yurt will make your living more comfortable