How Much Are Off Grid Trailers?
Off Grid Trailers are top-notch, off-road travel trailers that are perfect for any explorer.
They're designed for the backcountry, with cutting-edge technology and a warranty.
So, how much are Off Grid trailers?
How Much Are Off Grid Trailers?
Off Grid Trailers is a top manufacturer of travel trailers. It offers two alternative designs of all-metal teardrop trailers. The Pando, the company's iconic teardrop, starts at $25,900. The Expedition, the square drop military-inspired version, costs $23,900.
Each trailer model has its own features and build, which makes it distinctive. Today, we will be discussing the main Off Grid trailers and their prices, along with how exactly the company manufactures these renowned pieces of transport.
Teardrop trailers come in different forms, with numerous options.
Off Grid Trailers offers two alternative designs of all-metal teardrop trailers.
The Pando, their iconic teardrop, starts at $25,900. The other one is the square drop variant which costs $23,900.
Both versions come with a vast variety of options for customizing your setup.
Off Grid Trailers sells directly to consumers, meaning that, unlike vendors who add delivery charges to the amount of the invoice, they pay you directly for shipment.
The trailer purchasing process is entirely open and transparent.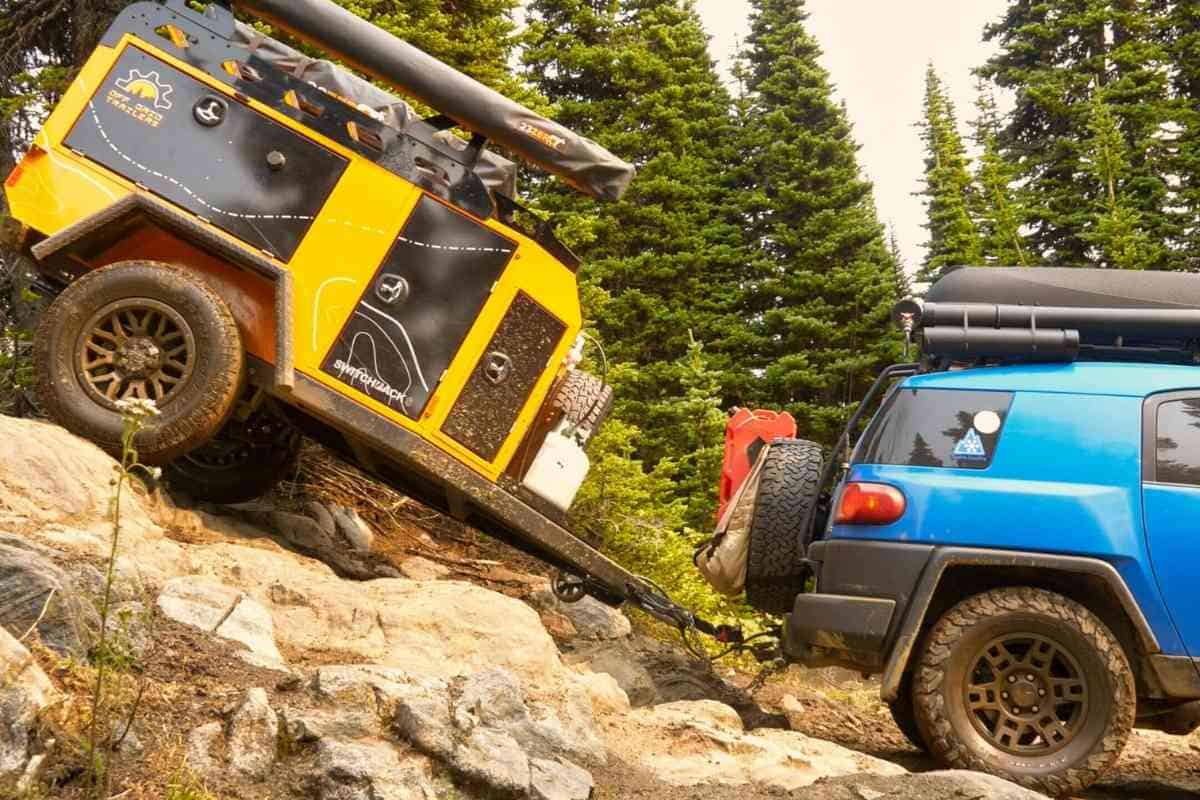 Where are Off Grid Trailers Built?
Off Grid Trailer was created and constructed in Canada by Canadians.
They are known to be adept at handling cold, and their trailers are no exception.
OffGrid Trailers allow you to explore the forests, the backwoods, and the vast open spaces.
The first three Off Grid Trailers were manufactured in a garage, but once they hit the road, they drew notice and quickly became popular.
The trailer layout was enhanced for the next iterations, with minor tweaks to increase both quality and utility.
What is the Cost of the Pando 2.0 Trailer?
Off Grid Trailers are available in two different styles.
Both models have lately been re-engineered and updated in response to consumer feedback.
Both have a tough all-metal structure.
The Expedition 2.0, which has a military-inspired square drop design, is their most famous camper. The Pando 2.0 has a more traditional teardrop form and a galley kitchen in the back.
As mentioned earlier, its price starts at $25,900, and it can go up to $32,000.
Let's have a look at some of the Panda 2.0 trailer's features.
The Pando 2.0 by Off Grid Trailer has a much more conventional shape than the Expedition, but it's just as solid, resilient, and rough.
The trailer is made entirely of metal and composite materials, making it mold and fungus resistant
Off Grid takes pleasure in this as a manufacturer.
The structure is completely encased in all-weather solid foam insulation. This is further boosted with a climate-controlled interior, which is essential given the winter in Canada, where these trailers are produced.
When it comes to storage, the Panda 2.0 offers 12 cubic feet on the inside and spice racks in the back galley pantry storage.
Cleaning and maintaining a camper is a vital part of ensuring that it lasts a long time, and it will also ensure that your excursion runs well.
The Panda 2.0 boasts a stainless steel counter with a smooth backsplash that makes cleaning a breeze.
But that's not all.
You will also have on-demand hot water for a relaxing warm shower at the conclusion of the day.
Some Additional Features
A 4-inch C-channel frame
3500HD Suspension Timbren
265/70R17 Toyo Open Country ATII off-road tires on Pro Comp Rockwell 178.5 rims
Freshwater availability.
Tank capacity: 31 gallons
Aluminum front box, with the dimensions: 36x26x52, and is powder-coated
Outside shower box with powder-coated aluminum
Group 31 dual 12V rechargeable lithium batteries
Dual USB outlets on both sides
Display of a digital voltmeter
LED illumination on both the inside and outside
Roof vent and fan with multi-speed reversible operation
The Shore Power Charger, which is a dual 10 ampere on-board bank charger, is included
Modified Sine Wave Inverter of 1000Watts
The front box of the Zamp Solar Ready Port is mounted.
10-pound propane tank mount made of aluminum in cylinder form
Dometic twin burner propane with glass top
Dometic hot and cold sink featuring foldable faucet and glass top
Refrigerator or freezer Dometic 57L
1.2lb. Memory foam mattress with just a zipped fabric top and a vinyl bottom
It's one thing to design and speculate.
However, getting off the grid and needing to repair or maintain your equipment might be a hassle.
Off Grid Trailers has taken the time to listen to customer comments and has found a way to make every part easily accessible for maintenance and upkeep.
The 31-gallon tank of the Pando 2.0 features full panel accessibility for removal.
The water pump and drainage are also accessible from the back storage cabinet panel.
For routine maintenance, the two-piece fenders can easily be removed.
For the greatest service across all trailer models, the tail light protectors on the rear bumper are also removable.
How Do You Make an Off Grid Trailer?
You can customize an Off Grid Trailer to meet your specific requirements.
Off Grid has the finest accessories and modifications accessible for factory installation, from how it appears to what you could do with it, and if you can't find what you're looking for, they can locate it for you.
To make your own customized Panda 2.0, there are several steps to follow, which are given on the Off Grid website.
After choosing your trailer model, there will be the option of choosing your wrap.
You can choose from various options and colors such as black terrain, bold range mountain, aurora Borealis Mountain and many more as per your requirement and aesthetic appeal.
You can also choose custom wrap during the build process to color fit your tow truck or entirely customize the outside graphics for an additional charge.
Next up you can choose the tents and accessories.
The options available are Awning 180 for $749, Awning 270 for $999, Tent for $1999, and more accessories which include the shower, boot bag, gear loft, and more.
You can choose anything as per your convenience and can also skip items if you do not require them.
With so many options to make an Off Grid trailer, you truly get the best quality and customizations for a unique experience!
The Exterior options that you can choose from include a Bluetooth Stereo System for $399, a 360-degree max coupler hitch tow vehicle adapter for $339, a fridge or freezer for $1499, and many other options for you to choose from.
Not just the exterior but the interior of an Off Grid trailer can also be made the way you want it to be.
Choose an LED TV for $499, a bed upgrade is for $699, and there is also a Maxx fan update for you to pick from.
After choosing all the options, your final price will be displayed, and the steps for making an Off Grid trailer will be finished when you place your final order.