Living in a Tent Year-Round: Your Ultimate Guide
What is the most affordable living option? Yep, it's tent living. But can you live in a tent year-round? This is the question that many people are asking themselves these days. If you're looking to simplify your life, save money, and escape the rat race of modern society, then living in a tent might be for you.
In this article, we'll discuss how to live in a tent year-round and how to survive winter in a tent. We will also talk about how to choose the right tent and how to make it livable. Finally, I will recommend three very different types of tents that are all great for long-term living.
Over the years, I have been camping for weeks in various types of small and large tents in the great Scandinavian wilderness. I hope my experience will help ensure that your home away from the so-called civilization is as well-prepared and comfortable as possible.
Can I Live in a Tent Year-round?
It is possible to live in a tent year-round. There are many people who live successfully outdoors all the time and do so with only a few pieces of camping gear. But it requires preparations and the right equipment.
The most important thing to do when living in a tent permanently is to get a quality tent. You want a permanent home that will stand up to the elements and provide you with protection from rain, wind, hail, snow, and whatever else mother nature will throw at us.
A good permanent tent is not cheap, but it does not have to be wildly expensive, either. You can find quality tents for $500 – 1,000. You'll also want to make sure you have a good sleeping bag that is suitable for the temperature, and any other camping gear necessary to live out of your shelter all year long. The better prepared you are when living in the great outdoors, the easier it will be on both yourself and your budget.
Staying dry
The first thing you need to know about living in a tent year-round is how to stay dry. You'll want to make sure that your shelter has good ventilation or else water vapors may pool inside creating condensation on the roof or walls. When this happens, you'll be dealing with wet a floor and everything inside your shelter will become damp and cold.
Ideally, your home should have a protective cover at all times to avoid water dripping through. If you live in an area that doesn't get much rain or has mild weather patterns, this won't be as big of an issue for you and you might not need a waterproof shelter.
Staying Warm
You'll also want to make sure it stays warm enough inside even when the outside temperature drops. This is crucial during wintertime living because if your tent gets too cold, you're going to have a very bad time. Buy a small heater to stay warm, and use a sleeping bag rated for the coldest season.
On really cold days, the best way to ensure you don't freeze during the winter is to never leave your tent open. Make sure you always close it up so cold air doesn't come inside and cool down the interior of the space, making for a very uncomfortable sleeping environment indeed.
How to live in a tent?
We will go through choosing a good tent, selecting the right spot to set up camp, and the practicalities of setting up camp.
Choosing Your Tent
Get a high-quality tent from a reputable brand. A canvas tent is heavier and more expensive than comparable nylon tents, but most people will opt for canvas tents because they are more durable, better for winter camping, and provide more protection from the elements. Another significant benefit of a canvas tent is that this material can breathe and is less prone to trap moisture that will cause an unpleasant indoor environment and can lead to mold.
A nylon tent is great when you are camping for a week and just want something affordable. They are also preferable if you plan to travel a lot with your tent and need something lightweight.
Regardless of which material you choose, make sure the tent is waterproof and of good quality, if you can afford it. A tent used for fill-time living will need to be durable and able to withstand heavy winds and rainfall. You don't want your tent to leak in the middle of winter and leave you exposed.
Weight may or may not be an issue for you, so make your own decision based on how often you will be moving your new home. If you plan on staying put for long periods of time, a heavy tent will be more sturdy and provide more protection. If you plan to hike or backpack, a lighter tent is better because it will be easier for you to carry and set up.
Choose the Right Tent Size
You should also think about how many people the tent must accommodate, as well as any specific features that are important for your needs. Will you need a large tent to support all your long-term needs, or is a small one sufficient?
A four-person family might prefer a six-person tent with mesh windows in order to provide better ventilation while camping during warmer months. Whereas a single person may want something much smaller, but remember that you probably will want more space than you would if this was just a tent for the occasional getaway. Whatever size you choose, make sure it is large enough to fit all of your gear and supplies. Smaller tents also get dirty much faster when you drag dirt in from the outside.
Tents used for full-time living will need a good amount of interior storage, too. A tent that doesn't come with pockets or other places for your gear is going to be frustrating and inconvenient when it comes time to pack up camp. The more features you find in the right size, the easier it will be to have everything you need.
Many tent models also come with a vestibule, which is an extra area outside the entrance that can be used for storing gear or cooking outdoors while still being in cover. Also, consider if you want windows or not. Windows can make the tent feel more like a home and bring in light (and a view), but some people prefer to live without windows for privacy and slightly better insulation.
Finding the Right Spot
The location of your tent is hugely important. You need to make sure that you are camping in an area with plenty of space and a clear, flat surface for you to be comfortable. Find a site that has good drainage and a few hundred feet from water sources. You don't want to camp in an area where you may be flooded with water or have mud dragged in every time it rains.
Your new home should be sheltered from the wind or rain if possible but not too shaded; this will keep your campsite warmer during the day. In temperate regions, you will want as much sun exposure on your campsite as possible to stay warm. If it gets too hot during the summer you can open up your tent to let the air circulate.
If you will be living on public land and there are people around when you set up camp for the first time, ask if they can recommend good locations nearby. They may also be able to tell you about any local camping regulations in the area like how long you're allowed to stay at one location and what types of vehicles are permitted.
Setting Up Camp
When you have found the perfect location, clear the spot of roots, stones, and sticks underfoot for the most comfortable setting. Another good idea is to set up a raised tent pad (if you own the land) to keep your site dry and clean.
When you set up the tent, place the entranceway facing south for optimum sunlight and ventilation. If you are living as a group, designate one or two persons to set up the camp while everyone else unpacks their gear so that your site is ready when it's time to move it in. You never know when rain may come.
When setting up your tent, follow these four basic steps:
stake down the corners of the tent and stretch out guy ropes to hold it in place. Make sure this is done properly.
attach tie-outs on all sides of the rain fly (if you have one) and raise them so that they will be tensioned over time by stretching or tying off at a nearby tree branch
secure each pole with its corresponding hook located at the top center of every side panel.
After the tent is properly set up, it's time to move your belongings inside.
Moving Into Your Tent
If possible, do not sleep on the ground unless you are using a sleeping pad as well as some sort of bedding like blankets or sheets (depending on how cold it'll get at night). I highly recommend you use a comfortable air mattress. You should also insulate the floor of your tent with blankets or other materials to keep the cold and moisture from seeping in from the ground.
Install tarps around your tent site for extra protection from rain or snow. Make sure they are anchored securely so they don't blow away. You may also want to set up a tarp or some other kind of makeshift roof over your tent if you're in an area with a lot of precipitation.
Also, consider how to set up your lighting. When it gets dark in the wild, it gets very dark. It will be very difficult to see and navigate within your tent without adequate light like flashlights or lamps. If you're using a gas lamp, be sure to use one that is rated for indoor use. Put it on some kind of protective surface and away from the tent walls. You could also use solar lights that charge during daylight hours and automatically turn on when the sun goes down.
Can You Survive Winter in a Tent?
People have survived winters in their tents for thousands of years and with modern technology, it is easier than ever. With the right preparations, a tent can stay warm enough to not only survive but be comfortable during cold weather.
The key to staying warm when you live in a tent during the winter months is to reduce heat loss and maximize heat production.
Minimizing Heat Loss with Insulation
The first step to reducing heat loss is getting a tent that is rated for four seasons. For canvas tents, that means it has to be made with thick fabric that will slow down the heat from escaping the tent. For a tent made from other materials, it will need to have insulation built-in or attached.
The next step is adding insulation to the inside of your tent. Some people use a variety of natural insulators like wool or down bedding while others prefer foam pads. These all work well because they reduce the amount of heat that escapes through the tent walls.
You can also add radiant heat barriers made from two layers of mylar with foam insulation in between. These are a great way to prevent heat loss as they reflect the heat back towards its source.
Of course, the more insulation you use the heavier your setup will be, and the less space will you have. Therefore, many people opt to focus less on minimizing heat loss and more on generating more heat. And as long as there is no draft, you can stay warm under most circumstances.
Heat Sources
Tents will always have a higher heat loss than most houses, but their small size also means they require less heating. This means that a relatively small heat source can keep you warm.
There are multiple ways to create heat in your tent. The most common way is by using a wood stove or propane heater, but you can also use electric space heaters if you have a generator or access to the grid
Most people who live in tents for extended periods of time, prefer to use a wood stove for heating. Wood is renewable, easy to find in most areas, and it can keep you warm all winter long without having to pay for propane and going to the store to refill the tank. Quality wood stoves, like the Fltom Camp Tent Stove, are affordable and easy to use.
One thing to consider when choosing a heat source is how it will affect your tent. Wood stoves need more clearance than most heaters, so if you have a smaller tent (especially one that is not designed for winter camping), this could be an issue.
Is It Hard to Live in a Tent?
Living in a tent is harder than living in an apartment or house. Exactly how hard it is, depends on how you set up your tent and how well prepared you are. You can rough it, or your can spend more time, money, and weight on being comfortable. It's to a large degree up to your wallet and how much you want to bring with you.
If you are interested in living out of a tent throughout the year, it is worth giving some thought to what will make for the most comfortable experience. Living in any tent is going to be much more primitive than a house and it will be a miserable experience if you are not prepared to downgrade to this lifestyle.
If you plan well enough and prepare mentally ahead of time then your experience will be much more pleasant than just surviving. Some of the challenges you may come across living in a tent year-round are:
No running water
Limited access to power
Limited space
Less privacy if you live with someone else
Lack of access to a kitchen, refrigerator, and other appliances
No bathroom
Seasonal weather changes will be much more noticeable
Most of these challenges can be solved with a bit of preparation. If you need more space, get the largest tent you can find. If you need access to electricity, set up your tent in a place where you can find power. If you need easy access to fresh water, find a place with an outside faucet, etc.
Living in a tent is not for everybody and only those who don't mind sacrificing some modern conveniences will find this appealing. If you dream of living affordably but prefer a higher level of comfort, check out these articles on yurt living:
These tent-like structures are heavier and more costly than a tent, but they are also bigger and can offer all the comforts of a small house at a much more affordable price.
Three Great Tents For Year-Round Living
Here are three great tents that will make permanent tent living possible without sacrificing too much in terms of comfort.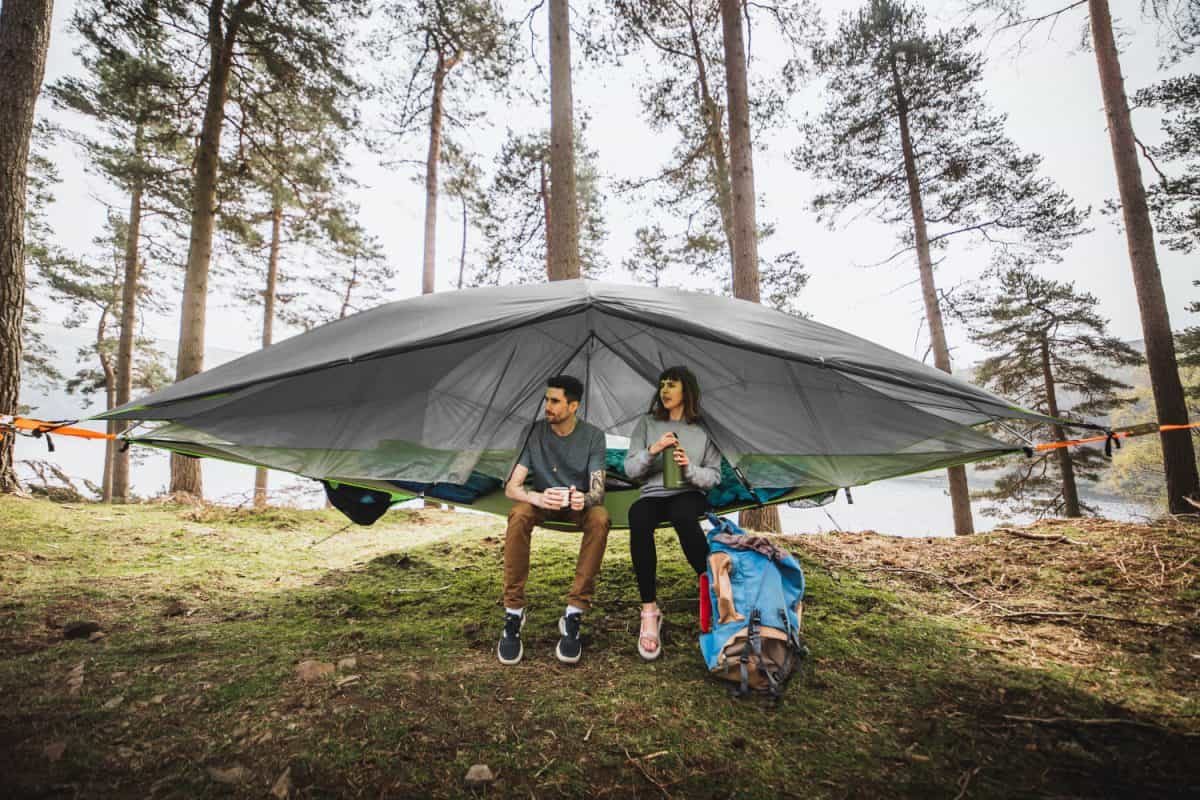 The original tree tents. Without a doubt, these will make you rethink your camping past. Lifts you up and away from the cold ground and wild animals by suspending in between tree trees.
The Tentsile offers the benefits of a hammock combined with the advantages of a tent to create comfort that is sure to impress you for years on end. You can even add several stories for extra storage room or living space.
This tent is not made of canvas and is less insulated, making it a good choice for residents that live in warmer climates. However, being off the cold ground makes it a great option for all climates, too, provided you are willing to add insulation or dress according to the season.
The Tentsile is also an excellent option if you are looking to live with friends or family, as their largest model can accommodate up to six people at a time and offers ample space for activities such as watching movies or board games in addition to sleeping comfortably.
A tent that's anything but average – make it your home for the next big adventure. The Teton Sports Sierra has all of the amenities you need to stay protected and comfy in any season.
Ideal for living full-time or a quick weekend retreat, this sturdy tent has conveniences like easy power access ports and an ultra-protective weather-treated canvas, which is guaranteed not to allow moisture into the tent.
TheSports Sierra comes in three sizes for 10 person, 12 person, and 16 people camping. The interior is spacious with tall ceilings so there is no cramped feeling even with a bigger wood stove installed. The Teton Sports Sierra is perfect for people that have a lot of gear and need more space.
Fit your whole life and all the gear for it inside your truck bed. Utilizing durable 100% cotton canvas, the Kodiak truck bed tents keep you dry and off the ground – a must for living an active full-time tent dweller.
The tent comes in three sizes to accommodate any truck bed size and features a convenient access window to the cab for safety and convenience. Say goodbye to hassling with tarps that need stakes or finding shelter from the rain as this tent is waterproof, fast to set up (you only need 10 minutes), and easy to pack away.
Pitch camp anywhere your vehicle will take you: near beautiful rivers or secluded mountaintops. The Kodiak truck bed tent is a great investment for the nomadic soul who doesn't want to miss out on the world's beauty.