If you've considered living in a tent for more than just a camping trip, there are certain tents that are going to be better suited for this than others.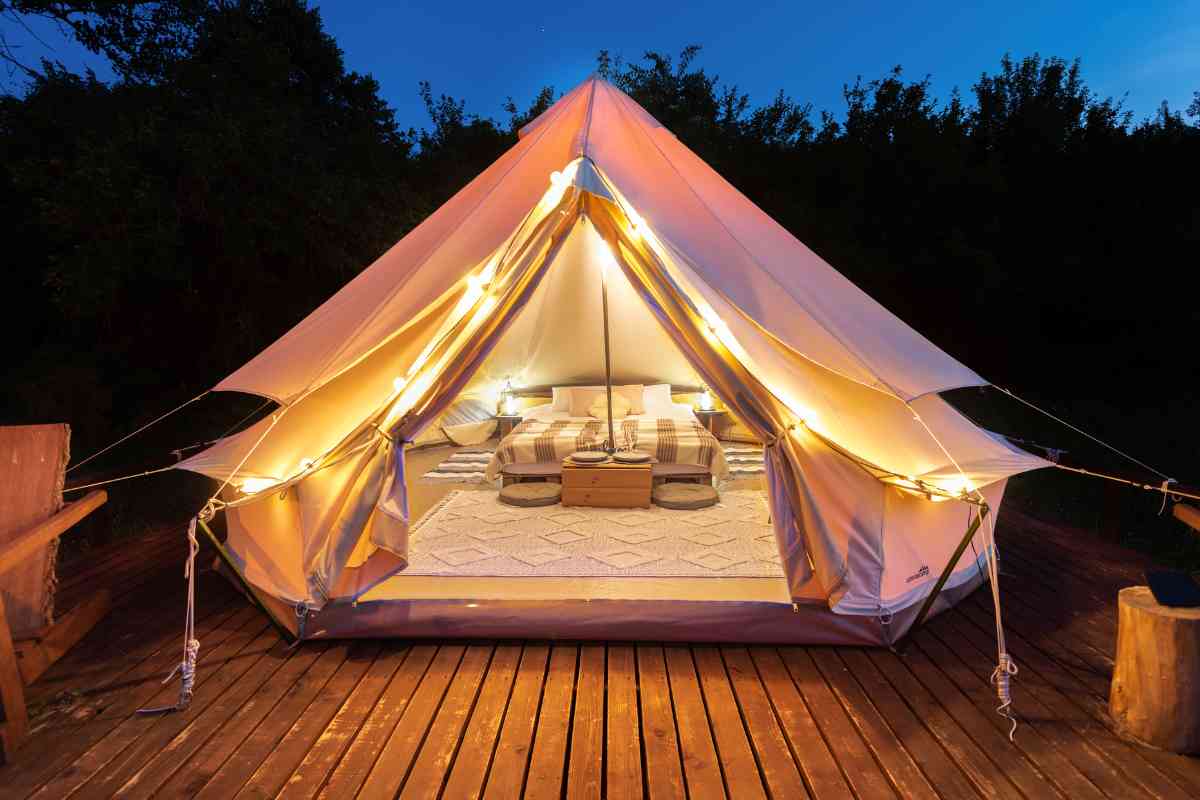 What tents can you live in full time?
The best three tents you can live in full or part-time, depending on your needs, are:
The Unistrengh 4 Season Large Waterproof Tent
The Coleman Weathermaster 6-Person Tent with Screen Room
The Whiteduck Avalon Canvas Bell Tent
Anyone who knows me knows what a huge fan I am of tent camping. There's nothing quite like spending a night (or a few!) sleeping in my tent outdoors.
And though I love the idea of sleeping in my tent for more than just a weekend, I've realized I really need to upgrade my living quarters in order to do that
Hopefully, my research on tents that I could live in full or part-time will help you if you've been considering the same thing.
The 3 Best Tents for Living in Full or Part Time
Before the 1950s, tents weren't really used for just recreational purposes.
Tents have long been forms of shelter for various populations and for various reasons.
Whether a tent is used as a home for military personnel or is set up as housing for evacuees after a natural disaster, tents are often used as temporary housing for people in situations where shelter and warmth is needed, but not necessarily long-term.
Even refugee camps – which can sometimes house individuals for months, or even years at a time, are not necessarily supposed to be any sort of permanent housing.
That said, there are some great options for tents that are meant to be able to provide for people who need more than just a weekend getaway around a campfire.
In fact – because of the desire to find affordable housing, or just live more off the grid – more people are starting to consider the idea of living in a tent full time, or at least for part of the year.
To do that, though, a tent is going to have to be equipped with certain things that aren't always necessary when you are just pitching one for a quick weekend getaway into the great outdoors.
Depending on whether or not you are planning on camping during only certain seasons, or are wanting to do it year round, one of the first things you'll have to prioritize is temperature control.
Having the ability to heat or cool a tent that you are living in regularly is going to be highly important.
Another factor in tent living for more than a weekend or week is going to be space. Even if you are living in the tent by yourself, you're going to need to be able to do more than just sleep in your quarters, if you want to be able to really enjoy it.
And finally, you'll want to consider having a way to prepare food, store it, and maybe even keep it cold when you are tent living. Unlike regular camping, if you are hoping to live longer term in a tent, you'll need to have a way to have food readily available.
These are just a few of the things you will need if you decide to live in a tent either part time or full time. Based on your own wants and needs, there may be other things you want to add to this list.
Let's look at some of the best tents for part or long time living and see if they mesh with your needs, wants and budget.
1. The Unistrengh 4 Season Large Waterproof Tent
The UNISTRENGH 4 Season Large Waterproof Cotton Canvas Bell Tent is a definite contender for anyone who is considering spending more than just a quick camping trip inside a tent.
Made from a cotton and canvas material blend, this tent is an ideal option if you are considering living in a tent for a long period of time. The material is designed to be waterproof, and the tent definitely seems to live up to that, even in harsh weather environments.
With the ability to sleep up to 10 people, you are not going to have a hard time finding room for everyone in th Unistrengh. There is a center pole that allows the tent to be 12 feet high in the center, more than enough space for even your tallest family members.
The total dimensions of the most popular model of this tent measure at about 13 square feet, though you can purchase it in other sizes. The door frame for the standard, 13 square foot size is just over 5 ft high.
Any tent that's designed for long term living should have a heat source, and the Unistrengh has an exceptional one.
The chimney pipe is located on the far left side of the tent roof and can easily be hooked to a stove. (There is also a cotton flap that easily covers the hole when it's not being used.) The material surrounding the chimney pipe is all flame retardant and waterproof as well.
The Unistrengh 4 Season Large Waterproof Cotton Canvas Bell tent sells for between $450 and $1,000 depending on which size you are looking for. Shipping is possible, but the total tent weighs in at around 35 pounds, so check with your local carrier to make sure there isn't an added expense because of the weight.
2. The Coleman Weathermaster 6-Person Tent with Screen Room
Coleman has long been a name associated with excellent, high-quality camping gear, and the Coleman WeatherMaster 6-Person Tent with Screen Room is definitely no exception.
This tent is a great choice for anyone who is considering living in a tent for more than just a vacation. That said, if you want it for more or less than that, it's worth exploring why and what you truly want it for, since it's not an inexpensive purchase whatsoever.
Though this tent is only really recommended to sleep six people, it actually feels like significantly more roomy than that.
Part of the reason for this is the dual door option and the room divider (that can be added, or taken away as you wish.)
Because of the dual door setup, when you enter the Coleman WeatherMaster tent you will feel as though you've entered two separate living quarters.
When the room divider is is place, each space can serve as a separate living quarter, or you can designate one side to be for sleeping and one to be for meal prep and/or entertainment.
Both sides can accommodate a queen size bed, if needed.
The Coleman WeatherMaster is also great for long term use because it can accommodate people up to six feet tall and has ample space to move around without feeling at all claustrophobic.
Part of the reason for this is the multiple windows (that have rain flaps when needed) and the dual doors that allow for plenty of ventilation when they are open.
This tent is easy to assemble and take down, which may make it ideal for those who might want to live in it part-time and plan on moving it a bit more frequently.
It also doesn't have a chimney pipe, so it may not be the best tent for someone who is hoping to be able to cook inside of it.
But – if you have outside access to a stove or campfire, this tent is going to serve you well.
Made from a vinyl/polyester blend, the Coleman WeatherMaster is great for all seasons, as it is not only waterproof but is also great for providing warmth, thanks to the unique blend. This type of exterior material is made for multi seasonal use and can be counted on to weather all sorts of situations that Mother Nature may throw at it.
3. Whiteduck Avalon Canvas Bell Tent
The WHITEDUCK Avalon Canvas Bell Tent will definitely make you feel like a diva if you decide that tent living is the right lifestyle for you.
Starting with the breathable canvas fabric, not only will you stay dry and cool, you'll also not feel as though you are living in a tent since the smell of the canvas is very neutral and does not retain moisture like some canvas fabrics have a tendency to do.
Not only is it fire resistant, but it's UV protected and waterproof as well.
The Whiteduck Avalan Canvas Bell Tent is in an A-Frame design, which means that the tent feels open and spacious when you are inside, walking around.
It also means that you'll have plenty of ventilation, and the tent will never feel stuffy or uncomfortable. Obviously, this is a huge plus if you are planning on living in a tent for more than just a couple of nights in a row.
Another great feature of the Whiteduck Avalon Canvas Bell Tent is that there is a detachable zipper floor.
Some may not understand why this is a big deal, but anyone who is trying to live full time – or even spend part of the year in a tent – they'll understand why having a detachable zipper floor can actually be a huge perk when it comes to tent living.
A big reason is this…being able to unzipper the floor and clean it independently of the rest of the tent is huge. For people who live in their tent for a big portion of the year, or maybe even year-round, it is occasionally nice to be able to remove the bottom and give the whole thing a much-needed scrub down, or even put it into a heavy duty washing machine.
Key Takeaways
Before the 1950s, tents were used more for function than fun.
In order for a tent to realistically be a place you can sleep in year-round or at least for part of the year, it's going to need certain things.
The best 3 tents you can live in full or part time are the Unistrengh 4 Season Large Waterproof Tent, the Coleman Weathermaster 6-Person Tent with Screen Room and the Whiteduck Avalon Canvas Bell Tent.