Are dome tents a great choice for family camping? Here's what a dome tent is and why you want one for family camping.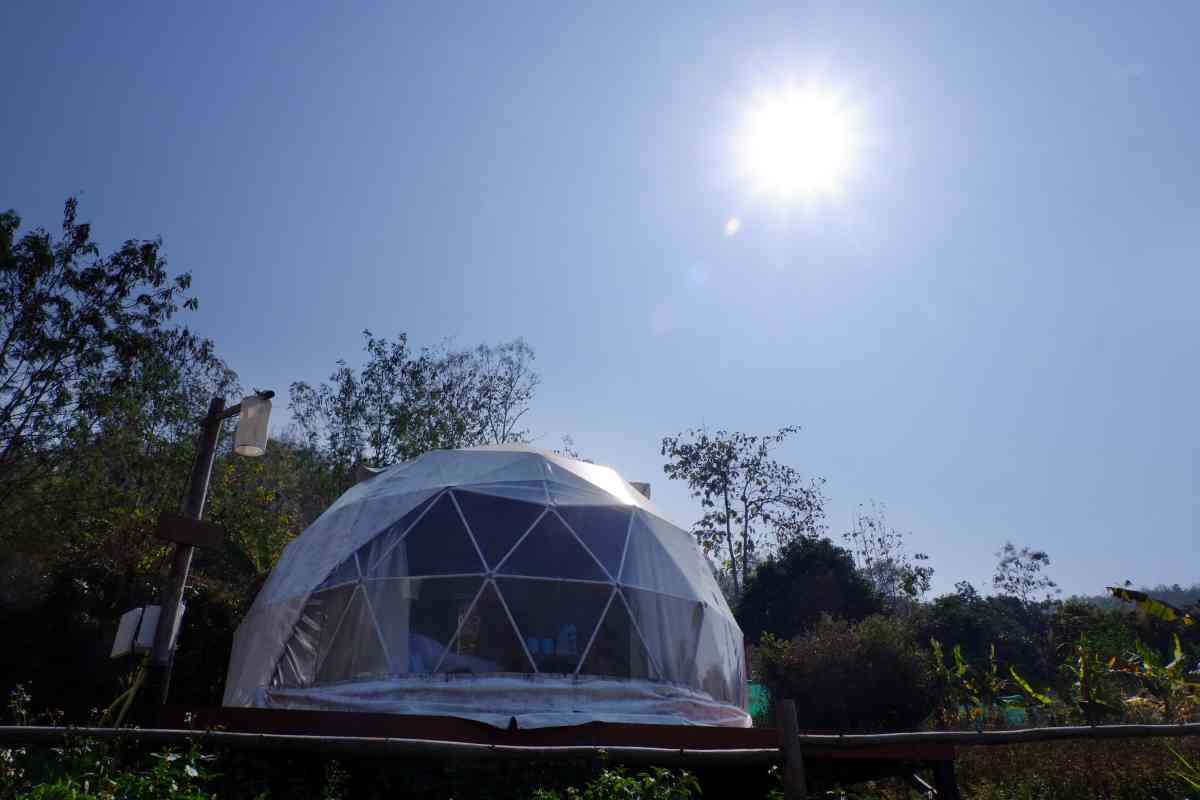 What's a dome tent?
A dome tent is a type of camping tent that resembles the dome of a stadium when it has been set up. It comes with two poles, running diagonally through its top. Its shape provides protection against high wind, strong rain and other elements, making them ideal for family camping.
When you are shopping for a new tent, you will come across numerous options out there. And a dome tent is one of the options on offer. So, what exactly is a dome tent? Is a dome tent better than the other options on offer?
Well, if you are wondering what a dome tent is, how different it is from other camping tents or whether it's the right option for you, then you've come to the right place. In this guide, we will provide you with all the information you may be looking for regarding dome tents.
Dome Tents Explained
So, what exactly is a dome tent? A dome tent is a type of camping tent that resembles a dome like the one found on top of stadiums. Dome tents are among the most popular types of camping tents. And they have been around for several years.
Dome tents feature two flexible poles running diagonally through the top. These two poles will then be anchored to the ground on each of the four corners of the dome.
In most cases, the rainfly will be sitting over the poles. But in some cases, these two poles may be sitting outside the rain fly.
Some dome tents come with a small porch area, which you can use to store smaller items like wallets, keys, phones, and a diary.
While dome tents are available in a wide range of sizes, they are best suited to host a maximum of four people. As you may expect, the bigger the dome tent is, the more unstable it will become.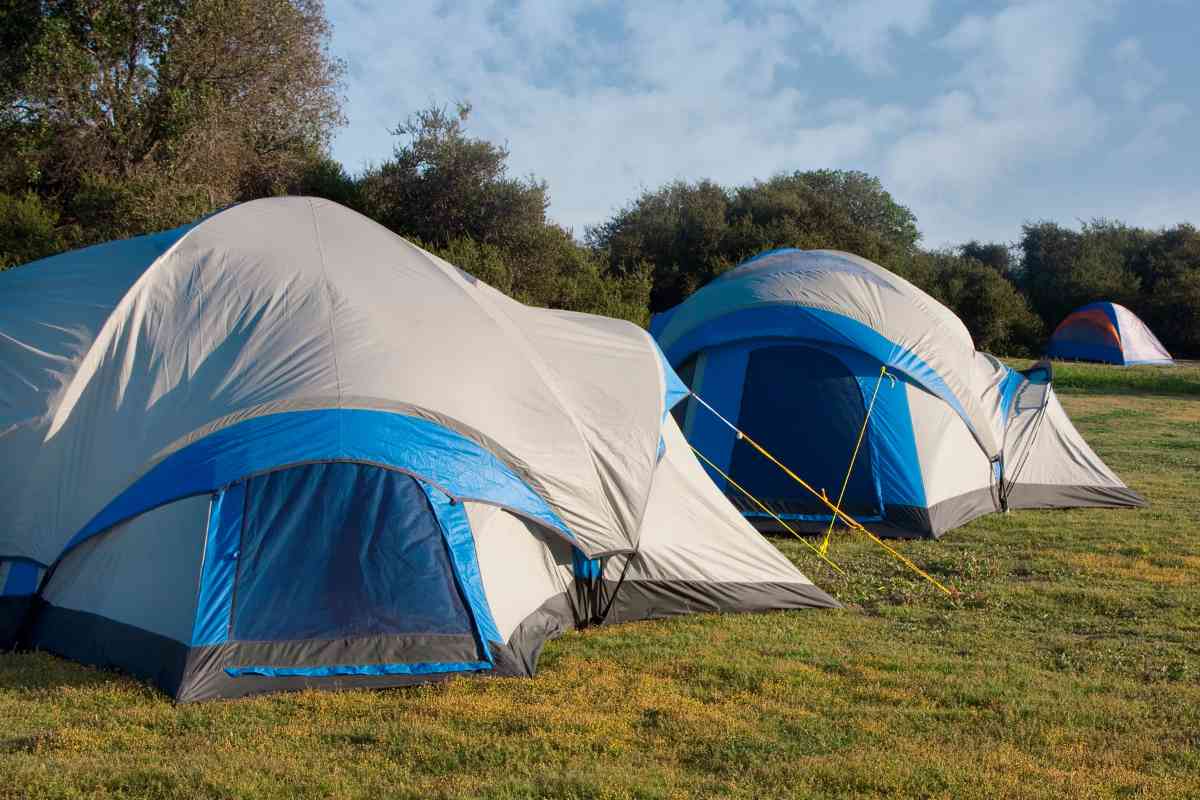 Why a Dome Tent is Ideal for Family Camping
As we've mentioned earlier, dome tents are among the most popular camping tents today. If you were to visit any campsite, there's a high chance the majority of the tents will be dome tents.
And there are several reasons why most people camping as a group of family or friends prefer dome tents to other tents.
First, they are stable and highly versatile. Here are some additional reasons why a dome tent is the best option for family camping.
Stable
One of the reasons why you should opt for a dome tent for family camping is its stability. Dome tents have outstanding stability against bad weather, strong rains, heavy winds, and storms.
Thanks to their dome-shaped design, these tents can resist strong winds, especially when they are securely anchored to the ground.
At the same time, their curved side walls will allow condensation to run to the ground, instead of collecting at the top. Therefore, whenever you are camping with this type of tent, you can be confident that high winds and rain won't be an issue.
Easy to Set Up and Disassemble
Another reason why dome tents are a great choice for family camping is that they are easy to assemble and disassemble.
The entire assembly process will only take you a couple of minutes.
Also, the disassembly process is equally easy. You simply need to pull its stakes off the ground, disassemble the poles and then roll the tent. From there, you simply need to store the tent inside its storage or carrying bag and you will be all set.
So, if you were to face an emergency during your camping trip that required you to pack up and leave immediately, then this type of tent will make your work easier. From my personal experience, you can disassemble this tent within five minutes or less.
Portable
Whenever you are going out on a family camping trip, you will have numerous items to pack and bring along. For instance, you will need to carry cooking gear, sleeping gear, and a change of clothes
Also, you will need to carry some entertainment for the children. And most importantly, you will need to bring along a tent.
And if you have a smaller car, then space availability may prove to be an issue. The good news is that a dome tent is highly portable. When packed in its storage bag, it will only consume a small amount of space. Therefore, it won't consume too much space in your car, to an extent of forcing you to leave some important items behind.
Highly Versatile
Dome tents are highly versatile. You can camp almost anywhere with this type of tent. Whether it's on the beach, in the jungle, on a hillside or grassy plateaus, this type of tent is ideal for almost all terrains and conditions.
And unlike other types of camping tents like cabin tents, dome tents cause minimal damage to the environment you will be camping. For instance, some dome tents are free-standing, meaning you won't have to stake them to the ground. Therefore, your damage to the surrounding environment will be minimal.
Provide More Space
When set up, dome tents have a rectangular shape. And this rectangular shape helps to provide ample space and shelter for the people living in the tent. Furthermore, this rectangular shape makes sleeping much easier.
Also, their dome shape provides greater headroom when you compare it to some of the other tents out there, like standard A-frame tents. Therefore, this type of tent will be the ideal choice for a family.
Key Takeaways
Dome tents resemble the dome of a stadium when set up
Dome tents are the most popular type of camping tents
Dome tents are a great choice for family camping trips