Anyone who likes to spend a decent amount of time tent camping may be wondering how to keep their tent cool even when they have no power source.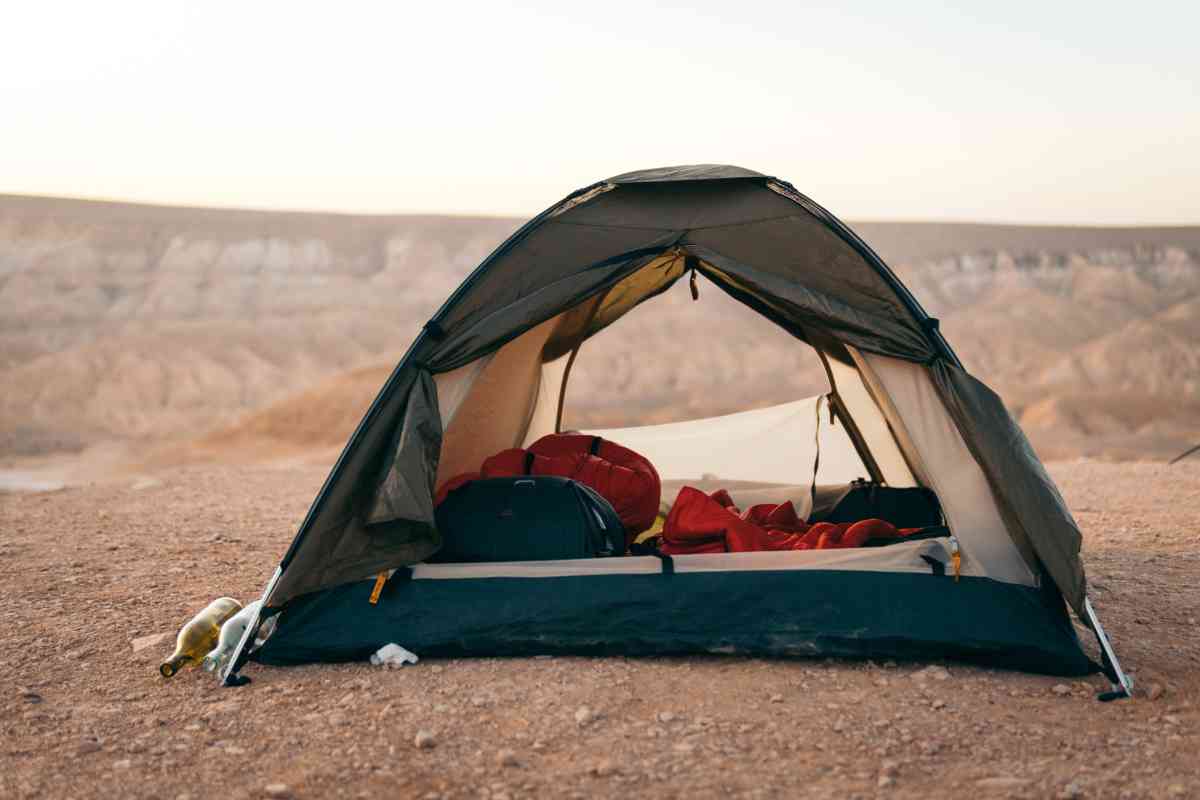 How can you cool down a tent without electricity?
Here are 6 ways to cool a tent without electricity:
use battery-powered fans
try a tent with lots of ventilation
set out ice or frozen water bottles
use a wet towel
use a wet t-shirt
stay away from the tent
I have always been a big tent camping fan. Even when the weather isn't prime for outdoor sleeping, I love nothing more than being inside my tent.
I've spent many nights listening to the pouring rain, grabbing for extra blankets because it was so cold, or throwing off blankets because of the heat.
I've experienced it all, and have come up with some practical and creative ways to tent camp even when the weather is too hot or too cold for most people's comfort. Cooling a tent is one of my best tricks, and it's not as hard as some people might think.
Here Are 6 Ways to Cool a Tent Without Electricity
Camping in tents has been part of our lives since the beginning of time, it seems. From the teepees of the Native Americans to the recreational tents that we use today, tents have long been a way for humans to seek shelter from the elements.
But tents have certainly come a long way. Today's tents are made of lightweight materials that are also waterproof, allowing them to be easy to carry and store, but also extremely durable and comfortable in all types of weather.
Tents also have more details that make spending time in them easy, safe and fun.
Many are made so that a person can fully stand in them, and storage areas inside the tent have become increasingly popular so that phones, cords, communication devices, and cards don't get lost somewhere beneath all the sleeping bags.
Many tents even have outside areas that are covered, so shoes can stay dry, or chairs can be placed underneath to provide shade and protection.
But – no matter how many modern conveniences a tent has, one thing it can't do is provide us with electricity. And that means that trying to stay cool on a hot summer day is still not always easy.
One of the reasons why many people would prefer to stay in a cabin, an RV, or simply not camp at all is because of the fact that many things – like air conditioning – are not possible when you're in a tent.
But for those of us who love a good tent camping weekend, we have to devise ways of staying cool that don't involve electricity.
Getting cool requires some creativity…and isn't creativity what camping is all about?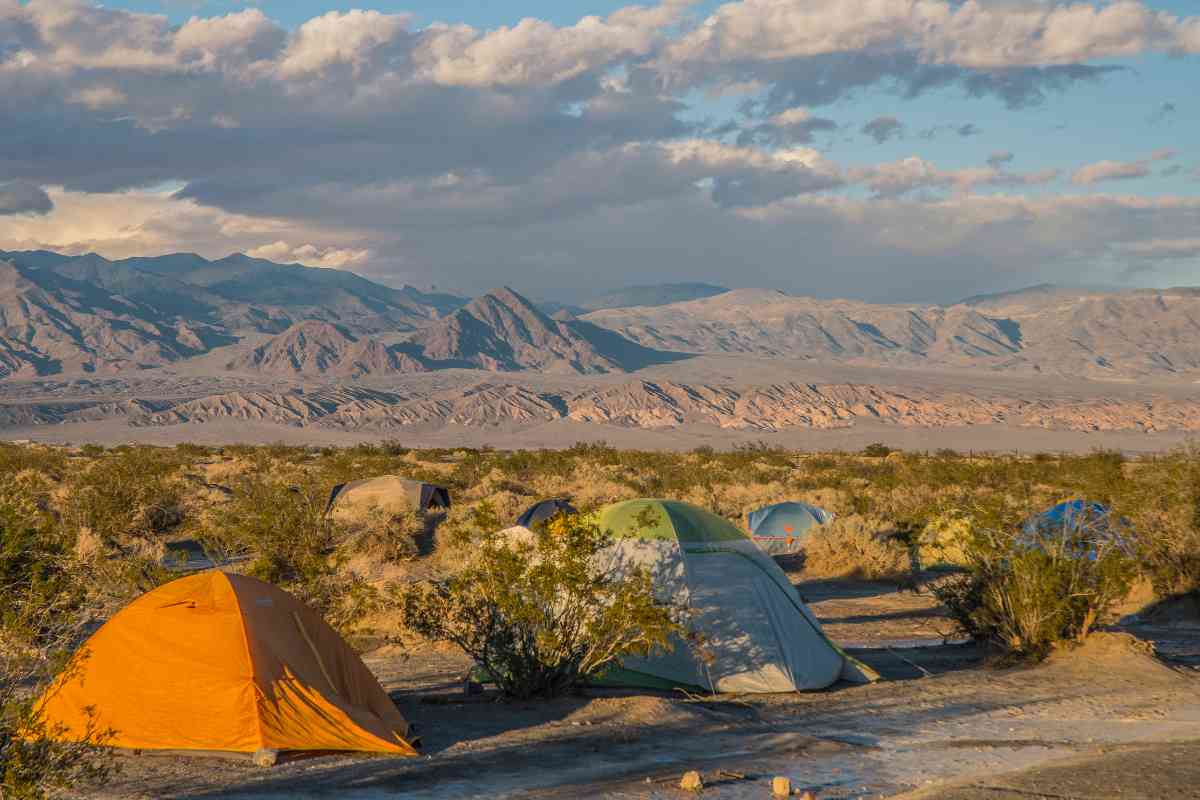 1. Use Battery Powered Fans
Okay, for some of the more avid campers, this one may feel a little like cheating. But hey – I'm still out here in 100-degree heat in my tent, so that's better than nothing, right?
Battery-powered fans are the perfect hack for finding a way to keep cool while hanging out in a tent during a hot and humid summer evening.
The awesome thing about battery-powered fans is that they come in all sorts of shapes and sizes, so they can be used in all sorts of different situations and sizes of tents.
Some battery-powered fans clip onto a tent pole or a backpack. These are perfect if space is limited, or you really just need to create a bit of a breeze.
Larger battery-operated fans are great for bigger spaces or when there are multiple people in the tent. They may need more space to transport as well as a bigger place to be set up, but for those exceptionally hot nights, consider battery-powered box fans to keep the square footage inside your tent cooler and more comfy for everyone.
And – if you're worried about batteries and the environment, consider using rechargeable batteries to power not just your fan, but other devices as well.
2. Try a Tent With Lots of Ventilation
If you are a big fan of tent camping, and plan to spend a significant amount of time camping in the warm summer months, it's worth investing in a tent that has plenty of ventilation options built into it.
Opening the door flap is obviously going to allow some air to get in, but if you have a tent with a window, you'll be able to create a nice cross-breeze when those are open as well.
Newer tents also often have areas on top of the tent that can be opened…a nice added feature for stargazing at night.
Of course, "hot and humid" also usually means "buggy" as well, so you'll want to make sure whatever you open for ventilation has a mesh covering so all those little pests don't try to come to join your fun.
3. Set Out Ice or Frozen Water Bottles
Here's a clever idea…
Most of us will pack a cooler when camping and we will use ice, especially when the temperatures are climbing.
You'll need a tent with plenty of space for this one, but why not drag that cooler into the tent with you at bedtime?
Similar to standing in front of an open refrigerator when it's hot in the house (remember when our moms used to yell at us for that?), opening the cooler lid and letting some of that cold air circulate around your tent may help to keep things a bit cooler.
Of course, it means your ice is going to melt faster, so this may only be a good trick for those who are packing up and packing out the next day…and heading back to the land of air conditioning.
Another cool trick would be to freeze some water bottles ahead of time, then place those under your pillow or at the foot of your bed. (I've been known to sleep with a frozen water bottle right on top of my stomach when the temps really climb!)
Frozen water bottles can be a great way to keep you cool, and the bonus is that by morning, they may be thawed enough to drink.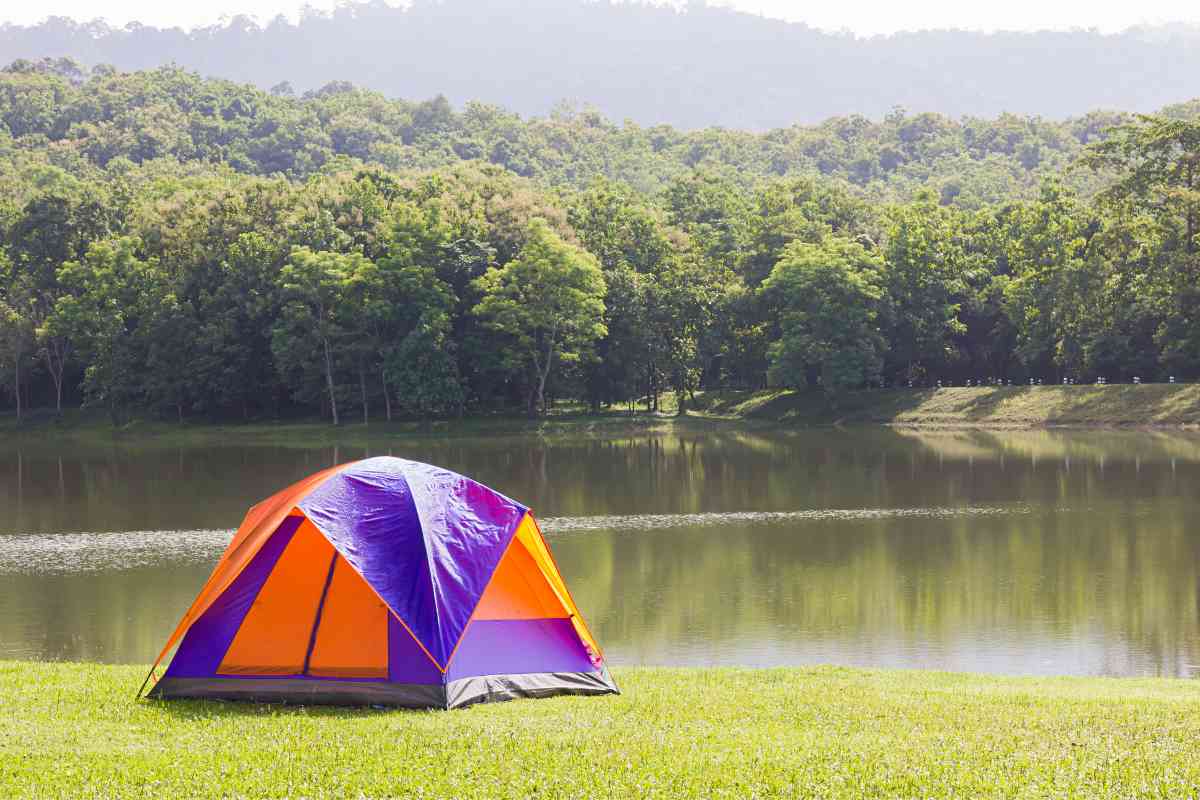 4. Use a Wet Towel
Another fun trick to try!
Wetting a towel and hanging it in the doorway or over a window of your tent is going to act in a similar manner to an air conditioning unit.
Wet down a towel (preferably a thin one, since towels can get quite heavy when full of water) and hang it over the door of your tent. Assuming there is a bit of a breeze, the air will flow through the towel, and cooler air will enter your tent.
As the towel dries out, you'll need to wet it down again for the effect to continue to happen.
This may not work great in places that are super humid, as the air is already too saturated with dampness.
And – it won't work great when there's no breeze.
Still, it's a trick to try when you're starting to run out of other ideas.
5. Use a Wet T-Shirt
Sometimes when the weather outside is so hot and stuffy, we are compelled to take off as many clothes as possible in order to try and get a better night's sleep.
The problem is, sleeping with nothing on means your body tends to keep its own heat trapped, and there's nothing to absorb your sweat.
So though you may be tempted to strip it all off, a better plan may be to wear a loose-fitting 100% cotton t-shirt to bed as well.
Cotton is a great fabric for absorbing your body heat. It also does an excellent job of soaking up and moving your body's sweat off your skin.
Another thing to try is getting the cotton t-shirt slightly damp before you turn in for the evening.
Sleeping in something that's sopping wet is probably not going to be very pleasant, but making the cotton t-shirt just a bit damp may aid in cooling down your body's temperature while you sleep.
6. Stay Away from the Tent
When all else fails and you just don't have the energy or the resources to find ways to get the tent's temperature to a level where you can get at least a few hours of sleep, you may want to consider ditching the tent altogether and sleeping outside.
If wild animals concern you, try a hammock up off the ground. And if you're worried about rain, there are rainflys that are made specifically for hammocks.
Sleeping in the great outdoors may bring with it other issues than heat, but being outside on a warm summer evening can have its own sort of magic as well. You might still be hot – but now at least you have the stars to keep you company while you lay awake, daydreaming about a nice cool breeze.
Key Takeaways
Tent camping is a great outdoor activity that has gained in popularity in the last few decades.
Tents are designed to be waterproof and adjust to the elements, but keeping them cool can be a challenge during warmer weather.
The best six ways to cool a tent without electricity is to use battery-powered fans, try a tent with lots of ventilation, set out ice or frozen water bottles, use a wet towel, use a wet t-shirt, and stay away from the tent.