Today, almost everyone in the world is trying to find the perfect house in a great location with the best view. Yet, a growing number dream about living their life on the mooring and perhaps move location when they feel like it. Not all countries allow citizens to live on canals, but in the UK this is not just a dream, it's very much doable.
Note that in the UK, there are two very distinct types of liveaboard lifestyles. One is living by the sea; the other is living on a canal boat (usually a narrowboat or a widebeam) on the British inland waterways. In this article, we will be focusing on the latter, which is more regulated but also more common.
To live on a canal boat in the UK, you will need to consider three things:
What kind of boat do I need?
What is my budget?
Do I want to line on a moring or move around?
Taking the necessary steps to live on a canal boat may seem a daunting task. And, while this is a big leap, it really only takes a few basic steps. It is certainly less complicated than buying a house.
1) Understanding the process
The first step towards living on a canal boat is to know the rules and regulations, as well as knowing what kind of paperwork is involved. Luckily there is surprisingly little paperwork, and we will go through it all in this article.
2) Consider requirements and budget
Before deciding to live on a boat, it is important to take note of the requirements. You need to decide which boat to go for, where to go, and if you're ready to give up on land.
Although it is cheaper to live on a boat than in most houses or flats, you do need to keep in mind the overall budget and how you will be able to afford it.
3) Coming to an informed decision
The final step is coming to a proper decision. Boat life may seem like an amazing life, but you will also need to sacrifice many luxuries and even some things that some would consider necessities. So, always research before you finalize.
But enough warnings. This article is intended to guide you through things to consider before buying your canal boat. By the end, hopefully, you will be able to make a fully informed decision.
So, let's get to it!
How to Live On a Canal Boat in the UK
One of the most important requirements of living on a boat in the UK is to have a boat license. Despite its name, this is not like taking a driver's license, and it does not involve passing an exam. It's simply an annual fee paid to the Canal & River Trust for maintaining the waterways and related expenses.
A boat license allows you to live and cruise on the inland waterways legally. It's also required that you register your boat and display your boat's registration number on both sides.
The Canal & River Trust offers three types of licenses:
short term license: for tiny boats and outside visitors
long term license: If you are always on the water. The fee is lower if you stay on the rivers only and don't use the canals.
gold license: Provides access to the entire Canal & River Trust network as well as all Environment Agency navigations (such as the Thames).
A full-time boater will usually have to pay £500 to £1,700 per year depending on the boat's length and width, and whether they want access to all waterways, just the Canal & River Trust network, or the rivers only.
In order to get a boating license, all you need is boat insurance and a boat safety scheme certificate (BSS). The BSS certificate is similar to the MOT as it sets some construction standards regarding safety, environmental standards, etc. The BSS certificate is valid for four years after which the boat has to be checked according to a list of procedures.
Home Mooring vs Continuous Cruising
Some liveaboards prefer to cruise continuously. If this lifestyle is to your liking, it will save you a lot of money. Permanent mooring fees can be quite high, whereas you can legally stay for free at the many short-stay waterside moorings along the canals for a maximum of 14 days at a time (with exceptions allowed, such as health issues or mechanical breakdowns).
Do note, that you can't just move between the same few waterside moorings as you will have to do bona fide navigation which means you should cover at least 20 miles per year and in general "stick to the spirit of the law".
Thus continuous cruising can be difficult if you have a fixed workplace or school. Many liveaboards have more flexible work locations which are often made possible because of this low cost of living lifestyle.
Winter Mooring
Suppose you prefer to stay put during the winter while cruise continuously during the summer, you can get a winter mooring. Winter moorings are temporary moorings that can be rented for one to four months. Prices vary significantly depending on location – from about £7 to over £20 per meter per month.
Home Mooring
If you do not wish to cruise continuously, you will need to get a residential mooring. By securing a mooring, you're allowed to stay indefinitely at your location whenever you are not "cruising the cut". Some obvious benefits of mooring are security, land amenities, and some socializing due to having neighbours.
A residential mooring will be your registered UK postal address. The downside is that long-term mooring means you may be liable for council tax.
A good mooring has proper water services, fuel and power, and sewerage facilities. However, good moorings can get (very) expensive and are often hard to get due to high demand. Also note, that far from all long-term moorings are approved for residential mooring. While this might not always be a problem, living permanently on a non-residential mooring may cause trouble with local planning authorities.
So, before you buy a boat, make sure your mooring needs are met. This will save you a lot of trouble going forward. Also, be aware that mooring agreements are personal and can rarely be transferred with the boat purchase.
Added Costs of Living on a Canal Boat
Living on a boat may seem like an inexpensive option – which it generally is. However, there are several hidden costs that you should be aware of.
The fixed costs of owning a canal boat are:
BSS fees: Every four years, your boat needs to renew the boat safety scheme certificate. There is no fixed price for the BSS examination, and you may save some money by getting questions from several examiners. Expect to pay around £150 every four years depending on the boat, location, etc.
Boat license: Depending on boat size and canal reach, expect to pay between £500 and £1,700 per year.
Boat insurance: You may have to pay for boat insurance for covering any damages. It can cost around £200 or more for a year, but smaller boats or less comprehensive coverage can keep your insurance costs lower than that.
Mooring fees: Unless you plan to cruise continuously, mooring fees will make up a significant part of your budget. Expect to pay from £2,000 and up to £18,000 in mooring fees, depending on where and how long you intend to stay put.
Blacking: As canal boats are made from steel, the hull needs to be treated to avoid rust. 'Blacking' includes lifting the boat out of the water and painting the hull with bitumen or epoxy. Bitumen and epoxy need to be recoated every 2-3 and 5-6 years, respectively. Expect to pay about £6 per foot for bitumen or £7 for epoxy plus about £200 to slip the boat in and out of the water. Plus materials, new anodes, labour etc. As a rule of thumb, you will be paying about £10 per foot.
While living on a canal boat is very affordable, I recommend that you keep these costs in mind and budget accordingly.
Learn Some Skills That May Come Handy
Living on a boat isn't always easy. You should know certain things like repairing and maintenance related work. In some situations, you may even have to work all alone as there might be nobody around to help you.
If you're staying on your mooring, try to befriend your neighbours and help them with their work if you want the same in return.
So, before you start living, consider learning essential maintenance work to have a smooth-sailing journey.
Choosing and Buying a Canal Boat
There are a few things you need to consider before buying or renting a boat for making it your home. Perhaps the primary thing is what kind of boat you want and need.
You can either buy or rent your boat. For most liveaboards, buying is the cheaper option long term. However, not many traditional mortgage companies will be ready for lending – at least not at the interest rates that house owners pay. Mostly because of depreciation and the risks involved. Expect to pay at least 6% APR for a boat loan.
Another option is buying your boat outright, which of course depends on your finances and expectations. You can check out various brokerage websites and online marketplaces to find a boat that fits your budget.
Two Types of Canal Boats
While some canal cruisers to buy more "ordinary" boats, far most stick to the traditional, British barge-like floating homes, which come in many sizes.
Narrowboats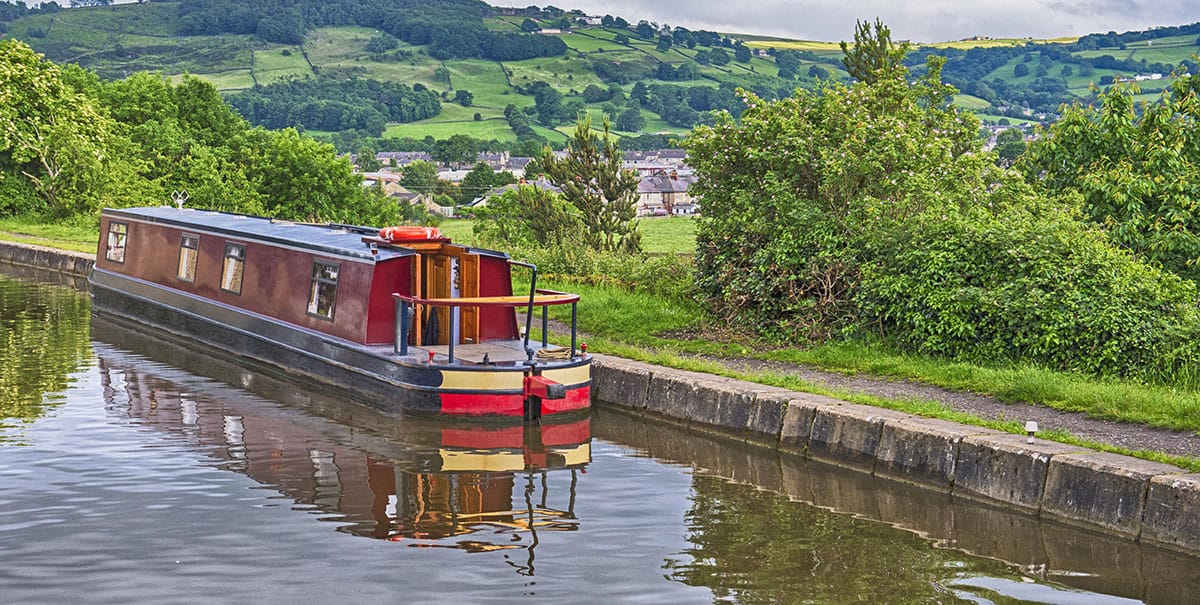 The most common type of residential boat in the British inland waterways is the narrowboat. Narrowboats are famous for offering a comfortable, simple, and casual life at an affordable price.
Narrowboats are available in multiple types in terms of designs, features, lengths, and prices. They come in lengths from 20 to 72 feet and they are all just 6 feet 10 inches wide. This is because some canal locks do not accommodate wider boats.
Widebeams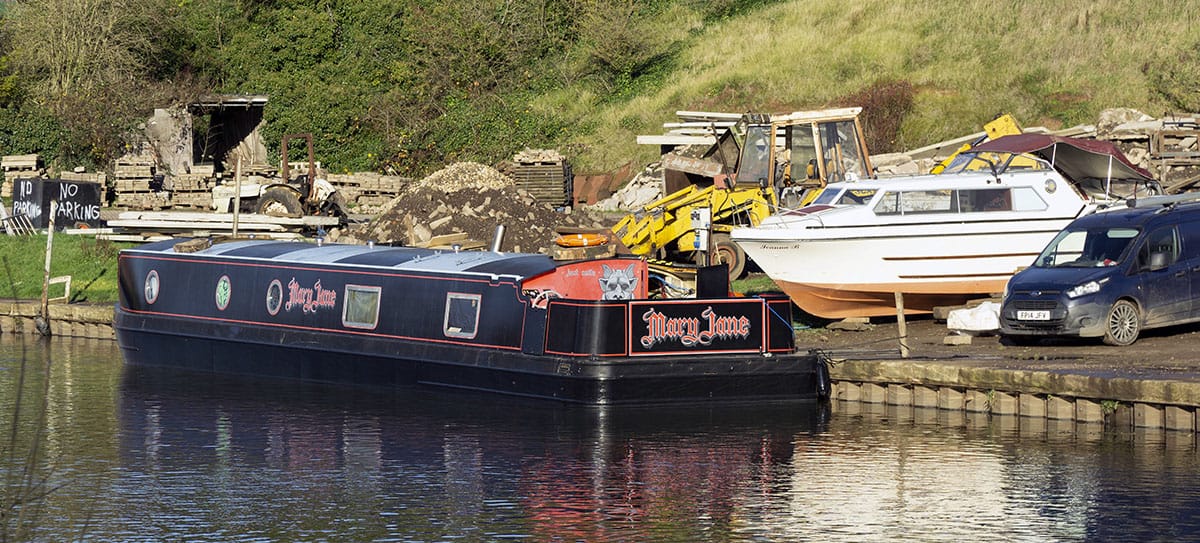 A related model is the widebeam. These are basically a wider type of narrowboat, which makes them more comfortable for families and others who require more living space. Their dimensions vary but they are generally 12 feet wide. Some are wider, but much abut 12 feet makes cruising very impractical.
Beware that widebeams are unable to enter some stretches of the waterways due to their size. They are also more expensive compared to narrowboats. So, choose wisely depending on your budget and other features.
How Long Should My Boat Be?
This is a big and important question. Perhaps you are considering buying the longest boat available to get as much space as possible, but there are practical challenges with getting a very long canal boat.
Price is a big factor since longer boats cost quite a bit more than the short models. Runnings costs will also increase with the boat's length since you will have to spend more on blacking, mooring, and licensing. If shaving down the budget is important, you may want to go with a smaller boat.
Another factor is accessibility. Long narrowboats can not access all parts of the waterway system, which is why most owners stick to 60 feet or thereabout.
You may want the extra space that a longer boat can provide, and surely it would not be great to buy a small boat only later to realize that it is not optimal for your requirements. But make sure to consider how much space you really need.
Buying Your Canal Boat
Since you're bidding your house farewell, it is important to set up a budget and adjust your expecations accordingly.
The costs of boats differ on the basis of various things such as the type of boat, location, and other amenities. Make a note of everything you want in a boat and what type of boat you're looking for.
If you are looking at used boats, make sure to check the hull and engine throughout. Also take note of the bort's general condition, as it is an indicator of how well the current owner has taken care of the boat.
When you find a boat that you like and can afford to buy, have a narrowboat marine surveyor go through the boat. It will be well worth the cost!
The price of narrowboats depends on specifications, styles, length, and condition. A small, basic second-hand narrowboat will typically cost from £30,000 while a larger and more comfortable model will run you around £50,000. New boats usually cost from £100,000 and up.
Narrowboats (like most other boats) depreciate very quickly. Unless you have particular requirements, buying a used boat will usually be the more sensible choice.
A Few Final Thoughts
Moving from your house or flat to a small-ish boat is a big decision. It requires a lot of meticulous planning, additional funds, and some skills as well.
So, before you set your foot in these unknown waters, plan accordingly to have the best boat life experience. I also highly recommend that you rent a canal boat for a month or two, just to see what it is like to live on a boat long-term.