What Is A Screen House Tent? Explained!
A screen house tent is a great addition to any camping enthusiast's repertoire. So, what exactly is a screen tent, what is it used for, and why do you need one?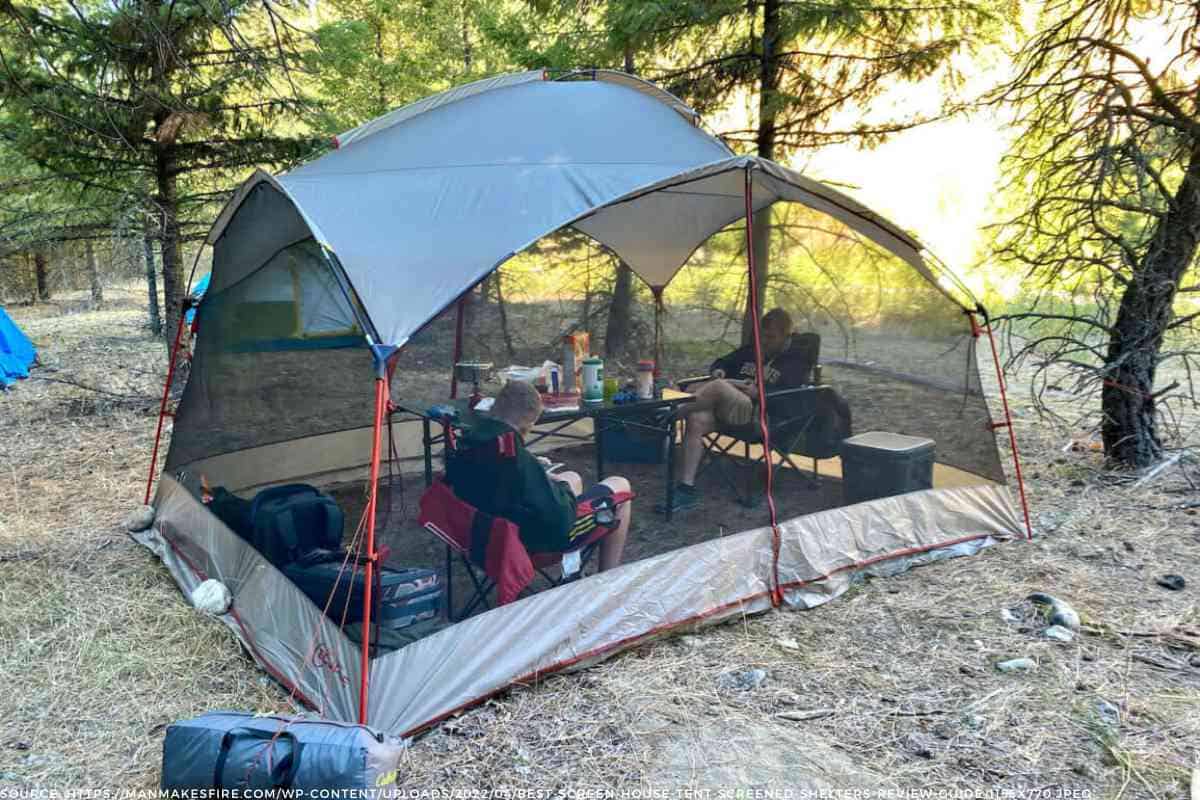 What's a screen house tent?
A screen house tent is a structure that comes with mesh walls and a solid roof. It is ideal for those times when you want to combine outdoor living with indoor protection. It comes with features that allow you to enjoy the outdoors while protecting you from bugs, the sun, and other weather elements.
We are committed to providing you with information that helps you enjoy the outdoors while protecting yourself and your family from insects and harsh weather. To this end, we have researched and reviewed the best screen house tents on the market and put this information together into a brief and accurate form for your consumption.
Why Use A Screen House Tent?
Apart from the harsh winter months or rainy weather that can make conditions uncomfortable, it is usually pleasant to be outdoors. Whether you simply want to go camping, enjoy a home-cooked meal, curl up with a good book or have guests over, the outdoors offers you a chance to do so.
However, scorching temperatures, mosquitoes, chiggers, and other insects, as well as a variety of unpleasant weather conditions, can make it difficult to do so. Fortunately, thanks to the availability of screen house tents, you do not have to forego your summer brunch, book club meeting, evening soiree, or other outdoor excursions.
Screen House Tents Demystified
Screen house tents are structures that are designed for outdoor use and specifically for camping, dining, reading, or entertaining visitors. They come with special features that protect you from insects or weather elements while providing you with an enclosed space within which to carry out a variety of activities.
Screen house tents are also known as shade tents or screen houses and come in a variety of shapes, sizes, and dimensions. They are constructed with different types of materials to ensure that they protect you adequately.
Some of these materials include; aluminum, steel or fiberglass poles, polyester mesh, and taffeta walls and covering waterproof roofs, and others.
Screen tents have a number of features that make them ideal for outdoor use. These include lightweight frames, compact size, easy setup and construction, vertical walls, portability, waterproof qualities and many others.
Lightweight frames
Screen tent frames are usually made from steel, fiberglass or aluminum. These ensure that the frames are sturdy enough to stand on their own as well as light enough to ensure easy portability.
Most screen tent houses are also collapsible, and their lightweight structure means that they can be collapsed and reconstructed easily without too much effort.
Compact size
Shade tents are compact in size to allow for easy setup and fit a number of average-sized adults and children. Tent heights can rise up to 8 ½ feet, and floor sizes range between ten and fifteen inches. This allows for easy entry and lets the tent sit up to eight people, depending on size. Their compact size also means that you can fit a few furniture items such as tables and chairs for taking meals or relaxing as you enjoy a drink or read a book.
Easy setup
A number of screen house tents are designed for easy setup and can be constructed in as little as one minute. This makes them ideal for those times when you want to set up camp quickly and with minimum fuss.
Easy setup screen house tents are also easily portable and can be packed in small bags or tossed into the boot of your car without taking up much room. They are, therefore, popular with people who are looking for a quick outdoor excursion such as a picnic or backyard lunch.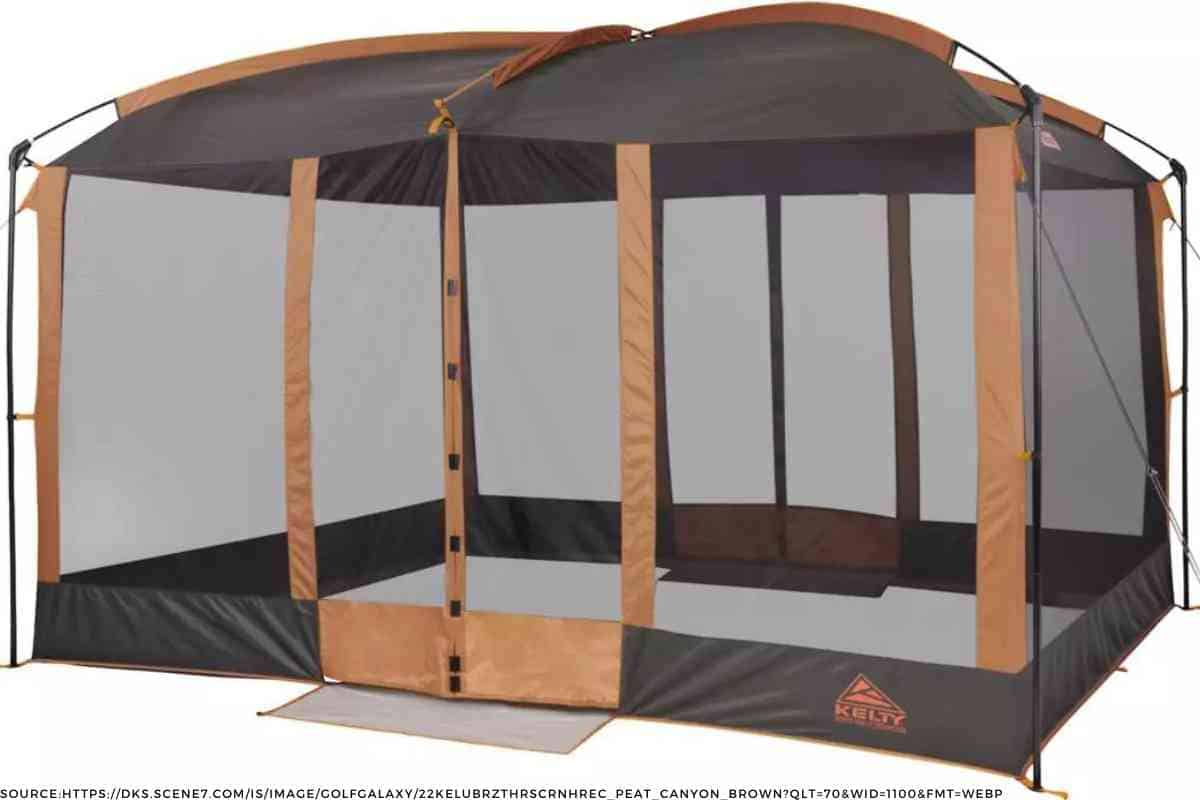 Waterproof qualities
Most screen tents come with waterproof roofs to keep out a light drizzle or even extended rainfall. However, some screen tents are designed specifically for use in rainy weather and come with features such as dome roofs, built-in rain gutters, and detachable rain flies.
Vertical walls
Screen house tents are designed to act as outdoor rooms and mimic the vertical walls found in regular houses. The vertical walls also facilitate the use of mesh as a protective cover and insect repellent, keeping you, your family, and your guest comfortable as you enjoy the outdoors.
The vertical walls also provide shade on hot days, keep out strong wind and help to prevent raindrops and storm water from entering your tent on rainy days.
Additional features
Many screen tents come with additional features that allow you to enjoy outdoor spaces and events even more. These features include: UV protection, extra large sizing, blackout fabric, groundsheets and others.
Screen tents designed for use in adverse conditions such as heavy rain or strong winds have features like extra stout stakes, extra guy line tie down points and extra long tent fabric.
Advantages of Screen House Tents
Screen house tents have many advantages to offer campers, homeowners, festival goers and other outdoor enthusiasts.
These include; protection from weather elements and insects, comfortable spaces within which to enjoy the outdoors, room to entertain your guests and easily portable accommodation for when you have to go camping.
They are ideal for short outdoor excursions that do not require long stays. If you are planning a garden party, overnight camping trip, festival attendance or other short trip, then a screen house tent is perfect for you.
Advanced ventilation features also mean that unlike in a regular tent, you can cook in screen house. However, you will need to take extra care in order to ensure that you don't set your tent on fire.
Other advantages include; quick setup, advanced features that offer additional protection from extreme weather, and portability.
Key takeaways
Screen house tents are temporary structures with solid roofs and mesh walls.
They come with features like lightweight frames, waterproof qualities, mesh walls, easy setup and others that provide protection against insects, the sun's heat and other weather elements.
Screen house tents allow you to enjoy short term outdoor activities such as garden parties, camping, festivals and others by keeping you comfortable and providing the shelter you need.