Airbnb is the best choice for people who are looking for affordable accommodation in a home that gives them memories. Mobile homes and modular homes are available in many parts of the countries in parks that visitors will surely enjoy. But can you have a manufactured home listed as Airbnb.
Are Mobile Homes Good for Airbnb?
Yes, mobile homes are good for Airbnb. Airbnb allows people to place RVs and motorhomes up for rental and mobile homes are no different.
However, you need to understand the laws and requirements that you have to meet to get approval for Airbnb. You will also need to post several photos of your mobile home so that those vacationing will understand what they are getting into. Your mobile home will attract tenants who want to experience a different form of accommodation.
Many people going on vacations will love homes that are near tourist spots and if your home makes the cut, it will appeal to them. Read on to learn more about mobile homes and Airbnb.
What Makes Mobile Homes Good for Airbnb?
Most people vacationing on a budget will love mobile homes. These homes are more affordable to rent as the rent ranges between $200 and $700 per month.
The mobile home comes as a great alternative for people who want to downsize and still enjoy life while on vacation. Its space is not so tiny when you are on vacation, and you will have a great outdoor space in a community. When you live in a mobile home, you will enjoy more privacy compared to living in an apartment or hotel room.
Unlike a condo or apartment, the neighbors in a mobile room community are far apart and that makes it a cool place to enjoy a vacation. You will still have the commodities and access to the amenities you need to enjoy your vacation.
Because a mobile home is a standalone home, you can bring your pets. The pets will have sufficient outdoor space, making it easier to take care of them. If you are lucky, you might vacation at a time when there are several community activities, such as parties and festivals.
However, if you rent the mobile home for a month, you will need to pay lot fees. This fee is mandatory for all manufactured homeowners living in a manufactured home community. It covers water, sewer, living in a communal space, and use of private roads among others.
The lot rent is not the same in all communities. It varies based on the amenities provided at the community. For communities with the best facilities, best neighborhood, and security, you will have to pay a higher lot rent.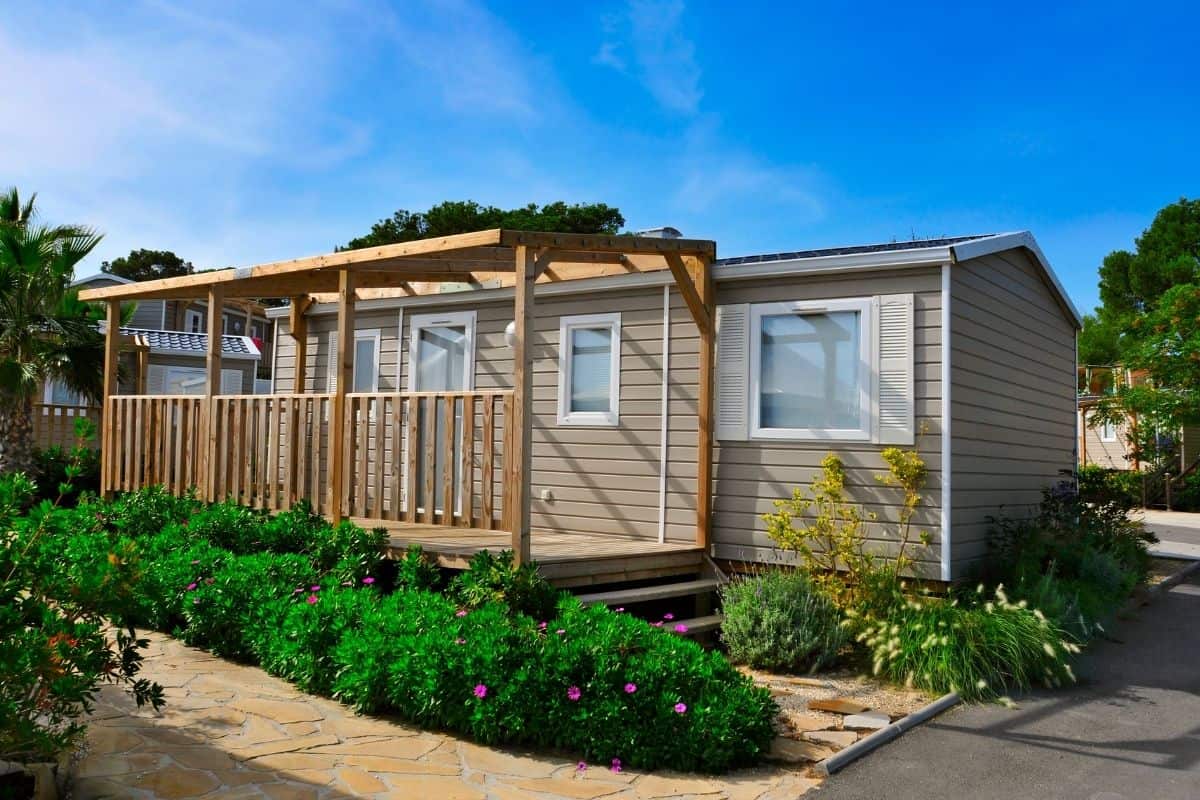 Another issue is that you may have to pay other expenses, such as pool amenities and maintenance of the home if you live for longer than a few weeks. While you vacation at the mobile home, you will need to follow the park rules, such as maintaining cleanliness and keeping your pet on a leash at all times.
If you choose to rent a mobile home, you need to read all the rules in the agreement. This way, you will avoid disputes and make your stay worthwhile.
How Do You List Your Mobile Home on Airbnb?
The process of listing your mobile home is the same as listing any other home. You need to present your mobile home in a way that it sells to interested vacationers.
The first step is to create a profile on Airbnb. Your profile needs to be authentic and precise. Provide as many details as possible about your home and the surrounding areas to woo vacationers into picking your home. You need to set the price right and set your calendar in a way that vacationers find it easy to book.
Vacationers love the smallest details, so ensure that you provide all the details as if you are a real estate agent. If there are views from the house, the weather in the area, attractions near the area, and so much more. Go into details about the mobile home, including the facilities, the beauty, the space, and everything else the home offers.
Your customers should feel free to leave reviews to help you grow.
Once you have a profile, do your research on the cost of similar homes in your area and any other requirements. Research on whether you need to pay taxes on the income from the home, the kind of insurance you need, the fee payable to Airbnb, and several other requirements.
Get your home ready for visitors by removing clutter and stocking it with basic supplies. You need to make sure that the home is habitable before you place it on the Airbnb directory. Ensure every part of the home is clean and that you are accessible whenever the visitors need you.
You have to be ready for all types of people. If you are lucky, you will have the best guests who will make the process simple. In other instances, you may get awful guests who make the renting out process complicated and regrettable. You should connect with other mobile home hosts and learn from their experiences.
Should You Rent Out Your Mobile Home?
Because of the inexpensive nature of mobile homes, some real estate investors find them the best homes to rent out. If you already have a home, renting it out can be a great way to earn up to $700 every month on the side. If you have a larger home with several amenities and facilities, you can earn even more from your home.
The appeal of a mobile home to vacationers depends largely on the location of the home. If the home is near tourist attractions, it will likely get several people willing to rent it out. Again, if the home is in good condition, most people will want to live in it.
When you create your profile on Airbnb, you will need to take professional photos. People will look at the condition of the home and the surroundings to determine if they want to take your home. As such, you have to make the room as appealing as possible.
If you choose to invest in a mobile home, the first thing is to choose between a new or used home. A used home may be the best option if you need an inexpensive investment, but a new home may appeal more to vacationers.
Is Buying a Mobile Home the Right Investment?
People looking for a simple and affordable real estate investment will find a mobile home a good idea. These homes are mass-produced in factories, which usually brings the cost down compared to other rental properties.
The rental home will also offer several luxury options. Thanks to the lower cost of investment, you can afford to add granite countertops and better lighting fixtures in the home to impress the guests even more. These homes do not require expensive repairs and maintenance to stay in good condition, and this saves you on labor costs.
As an investor, your home is safe as it is built to meet the regulations set by the Department of Housing and Urban Development in the U.S. This means that it will not break down from low wind speeds. Again, if you place the home in a park or community, you will be safe from theft.
Closing Thoughts
Airbnb allows mobile homeowners to list their homes for rent. The fact that mobile homes are different doesn't make them special. Your home will be competing for customers with condos and apartments and RVs and several other homes.
As such, you have to prepare the home thoroughly to make sure that it appeals to the customers. Be sure to take good photos that highlight the best features of your home. Again, take photos of the surrounding area to sell the mobile home even more.